George Ayling: Sergeant Major and Test Umpire
Martin Chandler |
Published: 2021
Pages: 32
Author: Jones, Michael
Publisher: CricketMASH
Rating: 3 stars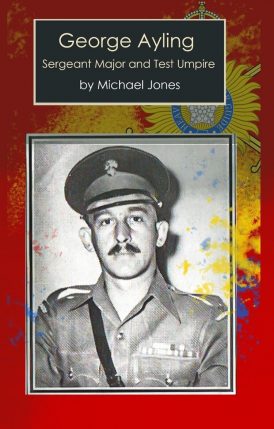 I do not suppose this little book will appeal to too many, its subject matter being a man whose only real claim to fame is to have taken the umpire's coat in a single Test match in Calcutta in 1956. For anyone with half an hour to spare however it is certainly an interesting read, and an impressive piece of research into some unusual sources.
The book is introduced by the recently retired ACS Chairman Keith Walmsley, a man with considerable experience of delving into the lives of men of but one appearance, who pointed out a statistic I found remarkable right at the start of his foreword. That there have been almost 500 men who have stood in Tests did not surprise me, but that as many as a third of them have done so only once certainly did. It would seem therefore that there is much scope for future projects for Michael Jones, his unknown collaborator and his publisher, CricketMASH.
The match that career soldier Ayling umpired took place in Calcutta, as it then was, in 1956 when India hosted Ian Johnson's Australians, still a little bruised from their 'Lakering' in England a few weeks before. Ayling had no playing career to speak of, and umpiring was his only role in the game at its higher levels.
From a standing start Jones has traced Ayling's army career through military records and uncovered something of his subsequent career at Eton College during which, sadly, he died of a heart atttack at the tragically young age of 44. There is also an account of that single Test, and a look at the other eight First Class matches (all of them taking place in India) in which Ayling officiated and, after twenty years in the Army, his six years at Eton.
I have to say that I much enjoyed reading George Ayling: Sergeant Major and Test Umpire, although there are one or two frustrations. Three men who played in Ayling's Test, Neil Harvey, Nari Contractor and Prakash Bandari are still with us, as is another member of the Australian party, Alan Davidson. None of them seem to have been approached. I wonder if they remember Ayling? I suppose the ultimate compliment would be if they couldn't recall him at all.
Similarly whilst there must surely be Old Etonians around who recall Ayling again none have been spoken to. He left no descendants so there are therefore no first hand recollections of him from any source. In addition some interesting photographs might have been more sharply reproduced and in a larger format. At the end of the day however if this sort of quirky topic appeals the booklet is certainly recommended.