Ebley Street Boys
Martin Chandler |
Published: 2019
Pages: 106
Author: Bonnell, Max
Publisher: Bonnell, Max
Rating: 4 stars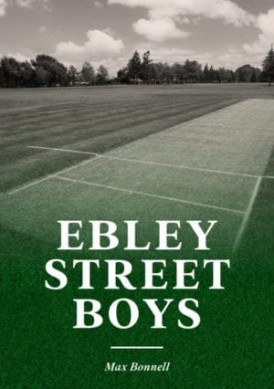 I hadn't realised until very recently that Max Bonnell's day job is lawyering, but that recently acquired knowledge explains a great deal. I now understand why his books are always so meticulously researched, well written and, most importantly of all, hold a reader's interest. Previous publications have shed light on the lives of some fascinating and less well known Australian cricketers of years gone by. Ebley Street Boys adds two more to that oeuvre, as Norman Callaway and Frank O'Keefe join Jack Marsh, 'Horseshoe' Collins, Tom Garrett, Sammy Jones, Roland Pope, Reginald Allen and John Kinloch.
Between them Callaway and O'Keeffe played just ten First Class matches. Both were born in 1896, lived on Ebley Street in Sydney and, albeit in very different circumstances, both died tragically early, Callaway at 21 and O'Keeffe at 27. Most importantly both also displayed immense cricketing talent and have impressive records in the limited amount of cricket they were able to play.
Of those ten matches Callaway played just one, and he batted only once, so his 207 is his average. Others have since made a double century on debut, but all of them went on to play again. It was 1915 when Callaway made his runs and the First Class game closed down at the end of that season for the duration of the Great War. The innings was for New South Wales against Queensland, not then in the Sheffield Shield, but it was no run fest, the New South Welshmen being 17-3 when Callaway arrived at the wicket to, in company with his captain Charlie Macartney, the Governor General, rebuild his team's innings.
The book is a single seamless account rather than two separate biographies, the two men occasionally coming together. Bonnell was able to discover rather more about the history of the Callaway family than the O'Keeffes, so even if Callaway's story is short it is in some ways more satisfying. As with so many others Callaway volunteered for service in the Great War and his life ended shortly after he arrived at the Western Front. Bonnell has delved into military history to find out about Callaway's death, the only positive aspect of which is that at least the end was swift and painless.
O'Keeffe too joined up and fought, but fortunately for him he got through the hostilities without being wounded and was able to begin a First Class career when peace returned. He made a relatively modest start, but in six innings in 1921/22 he scored three centuries, including two in the match in Frank Iredale's benefit match against the attack that had demolished England in the 1920/21 and 1921 Ashes series, Jack Gregory, Ted McDonald, Arthur Mailey and Warwick Armstrong.
Unusually for the time O'Keeffe, who sounds like an interesting character, was a professional cricketer so, with no Test cricket scheduled for Australia before 1924/25 he decided to take a punt on playing in England. He spent the next two years in Lancashire, playing for Church in the Lancashire League and, a residential qualification having been secured, he signed for Lancashire for the 1924 season. Given that the county had signed McDonald as well there was considerable controversy created by the move. Tragically however O'Keeffe never got to debut for his new employers. A long standing stomach problem turned out to be severe peritonitis and O'Keeffe died in March of 1924
The early chapters of Ebley Street Boys, which include Callaway's story, are an absorbing read but for this reviewer at least, even acknowledging his red rose tinted spectacles, the quality of the story goes up a notch or three after O'Keeffe moves to England. It is appreciated that local newspapers are, in this online world, available everywhere at any time, but I remain deeply impressed by an Australian writer's grasp of that part of the story and of the cricketing fabric of England and Lancashire in the early 1920s. It is a tale that is superbly told.
In terms of the book's production the author, perhaps wary of my gentle teasing on the subject of missing page numbers in my review of Swift Underhand, told me that a glitch in design omitted the title page so you open straight onto the contents page, which is not ideal, before adding that some of the illustrations are tiny, because the quality of the originals isn't great. I have to say I was not troubled by either, and indeed the fact that are as many as twenty five illustrations in the book is one of its strengths. All in all Ebley Street Boys, particularly its latter chapters, is highly recommended. For those interested in purchasing the book it is being distributed by Ken Piesse, and is/will be available in the northern hemisphere from Boundary Books.