Duncan Sharpe: Unsung Hero
Martin Chandler |
Published: 2022
Pages: 42
Author: Battersby, David
Publisher: Private
Rating: 4 stars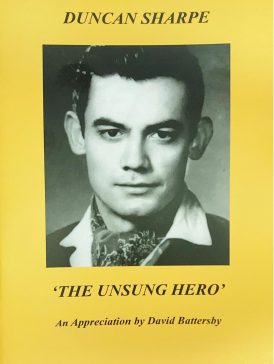 Something worth celebrating a couple of weeks ago was the coming of age of David Battersby's series of monographs, which began appearing back in 2016 and which now number 21 in total. To reflect that increasing maturity this one has increased a little in girth (no bad thing) and its presentation (without seeking in any way to criticise its predecessors) has had a bit of a makeover and, to me at least, has an air of sophistication about it.
Based on his past efforts it will come as no surprise to anyone to learn that Battersby's subject is Pakistan, even if the name of the man concerned does not at first blush suggest a batsman who, having been born in Rawalpindi in 1937, went on to play in three Tests for his country against Australia in 1959/60.
That of Duncan Sharpe is a story that has rarely been told before, and is made particularly suitable for a Battersby monograph by virtue of the fact that Sharpe himself, now 85 and living in Melbourne, was happy to lend his support to the project. Add into the mix the assistance of, as in other recent monographs, the curator of the Cricket Museum in Lahore, and the good old British Newspaper Archive now carrying digitised copies of The Lahore Military and Civil Gazette and Battersby was onto a winner before he so much as opened his laptop.
Before I started reading the fruits of Battersby's labours I had heard of Duncan Sharpe, but that was about it. I certainly had no idea that he was one of the most stylish and highly rated young batsman in Pakistan in the late 1950s, that he scored an unbeaten half century in his first Test, nor that he was only 22 when he was selected for those three appearances.
Why did Sharpe not play international cricket again after 1959/60? He should have been selected for Pakistan's tour of India in 1960/61, and a sense of despair at being overlooked was clearly a significant part of the reason for his decision to relocate to Australia, and that was that. There were a few games for South Australia but Sharpe was only 28 when he played his final First Class match.
The thorough descriptions of the matches that Sharpe played in Pakistan that appeared in the Military and Civil Gazette, including those three Tests, form the basis for the monograph, but the gloss put on those reports by the man himself and other sources lift this monograph to a level that is right up there with Battersby's splendid recent efforts on the subject of the Pakistan Eaglets.
How good a cricketer might Sharpe have become? The useful couple of pages of statistics at the end of the monograph do suggest that concentration may have been a problem, with a lot of innings seeming to end unnecessarily early after a decent start. That said on the Eaglets tour of England in 1959 Sharpe was comfortably his side's leading scorer, managing 1,608 runs at an average pushing 50, so without the disappointment of being denied that trip to India perhaps he might have blossomed.
In any event the story of Duncan Sharpe, nicely written, well researched and containing a goodly number of illustrations, is a thoroughly worthwhile read. As with the previous twenty monographs the best way to secure a copy of this one is to email Battersby at dave@talbot.force9.co.uk. With just 100 individually numbered and signed copies at a very reasonable £7.50 a pop including UK postage and packing it is probably a good idea to get in soon.