Do They Play Cricket in Ireland?
Martin Chandler |
Published: 2021
Pages: 349
Author: Townsend, David
Publisher: Pitch
Rating: 4 stars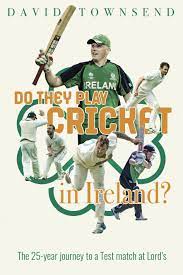 Do They Play Cricket in Ireland? is a question I remember asking my father as a child. His response was that they did, but not a great deal, and he showed me where in Wisden I could find the scorecards of the few First Class matches the Irish did play in those days.
The reason I asked the question was because I had been listening to a report on the radio about something of a furore the Irish cricket team had caused in beating the West Indies. I was well aware that the men from the Caribbean were a great side, the remarkable feats of Garry Sobers in 1966 being one of my earliest memories of watching cricket. The 1969 combination that Sobers brought to England was not as strong as their predecessors, but even so their dismissal by Ireland for 25 was a shock of seismic proportions.
I watched Irish cricket with some care for a while after that, but nothing else really happened for many years and by the time it did I no longer consumed all cricket news with quite the voracity that I did as a child, so beyond the scorecards and watching the progress made by some of the Irish players in county cricket I did not know very much about the reasons for Irish cricket's inexorable rise over the last twenty years or so.
My first thought therefore on opening Do They Play Cricket in Ireland? was that the history of Irish cricket that I had been expecting ever since the country were given Test status back in 2017 was upon us. In that respect the book did not live up to expectations, something that initially disappointed me, but it only took a few pages for the realisation to dawn that David Townsend's book is much, much better than a straight history would have been.
As for author Townsend he is the only man who could have written this book, so it is just as well that he has. A career journalist it seems that, effectively by chance, he was given the opportunity to travel with the Irish side that went to the 1994 ICC Trophy in Kenya. Only too happy to accept the offer he found that being a freelancer his contributions were much in demand by the many news sources that, understandably, saw no financial justification for sending their own representative. Ever since then he has been a major source of news regarding Irish cricket.
Townsend clearly much enjoyed the company of the Irish side and followed them round the globe for the next quarter of a century and, in doing so, got to know the country's players well and was clearly a trusted member of their group. I dare say as a result there are a few incidents where Townsend has chosen to keep matters to himself, but even if he has Do They Play Cricket in Ireland? is still a much more open account of a journalist's time with players than I have seen elsewhere.
Over a quarter of a century players have, inevitably, come and gone but Townsend is the common thread. Much has changed over that time as well. Going back to that ICC Trophy in Kenya the Irish began with three first round matches from which they emerged with wins over Papua New Guinea and Gibraltar and a defeat at the hands of the Netherlands. That was enough to get them to the second round, but there each of UAE, Bermuda and Canada beat them comfortably enough. A quarter of a century later Townsend was watching Ireland at Lord's, bowling out England for 85 in a Test match, something that puts in context just how remarkable the country's rise was.
The book is in the form of a diary, but whilst the dates used in the chapter sub-headings do reference particular matches the book is a long way from a collection of match reports, and indeed descriptions of games of cricket in the traditional sense are scarce. This is much more of a 'behind the scenes' analysis charting not only the fact of the progress made by Irish cricket but also the reasons for it and the reactions of those involved.
Townsend writes, in the main, of people he regards as a friends and there is much humour within his narrative, although rarely for its own sake. Some may find the frequent use of nicknames irritating, something I have on occasion complained about myself in books, but I do not do so here. Townsend's account is also notable for an abrupt ending, as it does not go beyond the end of that England first innings at Lord's, but then I suppose it was only right to end an uplifting story on a high note and, of course, leave a point at which Townsend's second book can begin. It probably won't be quite as good as this one, but at least by the time the sequel is published there won't be any 9 year old cricket fanatics turning to their fathers and asking, Do They Play Cricket in Ireland?