Dizzy: The Jason Gillespie Story
Stuart Wark |
Published: 2007
Pages: 339
Author: Colliver, Lawrie
Publisher: Harper Sports
Rating: 2.5 stars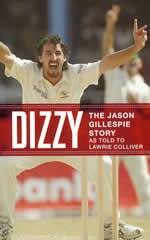 'Ghosted' autobiographies of cricketers are a dime-a-dozen. One of the unfortunate trends is for these biographies to be released whilst the subject is still a current player. This naturally means the content is usually bland and prescriptive, with the media restrictions enforced by the governing authorities removing any content of real interest. The books are usually recitations of match statistics, each slightly slanted to reflect the individual performances of the book's 'author'. Dizzy – The Jason Gillespie Story, largeley conforms to type, however, there are just enough new strands of information and insight to raise it above the average.
As a reader, I am interested in the psychology and history of the cricketer in question. Gillespie's youth cricket is covered in extreme haste, and by page 16 of a 334 page book, Gillespie is into the South Australian team. The coverage of his early life and junior performances is perfunctory, and it seemed like Lawrie Colliver, who wrote the 'autobiography' for Gillespie, couldn't wait to get onto international cricket. This was disappointing, as much of the book's content then becomes a series of match and tour diaries through the late 90s and 00s, with Gillespie's performances highlighted over this period. A lot of the book is familiar territory, with Steve Waugh's tour diaries (amongst others), having already covered the matches of this era in some detail.
Much of the book left me feeling that an opportunity had been missed. However, what managed to raise the book above the average was Gillespie's occasional insight or perception into the Australian cricket team's psyche. The fact that Gillespie's career is as good as over at international level has possibly helped, as he reveals more than most similar books. Gillespie is quite honest at times, and expresses his true feelings about the Australian team carrying Mark Taylor as captain, his disillusionment with Steve Waugh at times, and his personal disappointment at how Ricky Ponting handled Gillespie's axing from the Test team.
There are also some funny anecdotes and stories that I have not come across before. One of the best tales relates to Shane Warne, and his desire to look 'manly' in front of some AFL players. Gillespie recounts that after a day's play Warne sat in the corner of the dressing room, grabbed a smoke and conspicuously opened up a beer. The rest of the Australian team were puzzled, as he never drank beer after play, with Glen McGrath commenting by saying "Mate, I've never seen you with a beer." The general feeling was that Warne was trying to play up to his 'larrikin' image, as some of the Brisbane Lions AFL players were visiting the dressing room at the time. In true form, at the end of each day's play for the rest of the season, the other bowlers proceeded to place a beer in front of Warne and make him drink it, evidently very reluctantly.
Gillespie also provides some brief profiles of both recent and current cricketers. Whilst short, this section does provide some new information that I haven't seen elsewhere. Gillespie spills the beans on a fan letter that Greg Blewett received on the 1997 Ashes tour. This letter was from a homosexual man who said that he particularly liked it when Blewie bent over to field at short leg. I am sure that this letter was naturally the source of many jokes at Blewett's expense for the remainder of the tour. Gillespie's ideas about training are also interesting, particularly in light of the many injuries he had over his career. His comments on Shane Watson reflect Gillespie's belief that sometimes players need to spend more time getting match fit than simply being gym junkies.
Jason Gillespie is the first player with aboriginal heritage to represent Australia (Sam Morris, who was the first 'black' Australian cricketer in 1885, had West Indian parents), but this receives little coverage in the book. Gillespie points out, somewhat legitimately, that he is an Australian first and foremost. He is, nonetheless, proud of his ancestry, and it is a shame that the sterling work he has done with aboriginal communities is not fully covered or recognised in this book.
Autobiographies of even slightly famous cricketers are now just expected as par for the course. In its favour, this book does cover the entirety of Gillespie's international career (assuming that there isn't a comeback of Lazarus proportions). It is not revolutionary, and doesn't provide many significant insights, but it does offer enough to raise it above the level of other similar works. My overall feeling is that it is a missed opportunity for something really good, but Dizzy is still enjoyable in its own right.