Cricket's Burning Passion
Archie Mac |
Published: 2006
Pages: 205
Author: Berry, Scyld and Peploe, Rupert
Publisher: Methuen Publishing Ltd
Rating: 3.5 stars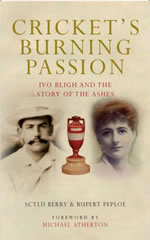 Almost every Ashes history book, tells the creation of the Ashes story; the mock obituary, the quest of Ivo Bligh to recover the Ashes, some ladies burning a bail (or stump, or ball) and Bligh marrying one of the ladies and becoming a Lord. The Ashes being then bequeathed to Lords on Lord Darley's death, where they have remained ever since (except for a couple of trips Down Under).
I can recite it in my sleep!
That is why I love cricket books even after reading 600+; just when you think there is nothing else to learn about a subject along comes a new book.
This is such a book, featuring a previously unsighted diary and other correspondence from Bligh. The authors have performed a great job in bringing not only the Test series to life but also the romance between Ivo Bligh and his sweetheart Florence Morley.
A serious collision between the English tourist's ship the Peshawur and the Glenroy in the Indian ocean on the outward voyage almost resulted in the sinking of both ships and the end of the Ashes legend before it had begun.
As it was, one of the tourists Fred Morley suffered a broken rib, and the injury almost certainly resulted in his death at the age of 33 in 1884. The accident also meant changes to the tour itinerary as the Peshawur had to tow the Glenroy back to Colombo.
The series itself seems strangely organised to the modern cricket follower; for one thing the Tests were to be only played by the English tourists and the Australian players who had toured England in 1882, and were to arrive back in Australia after Bligh's team.
This has led to some confusion, for although England won this three match series 2-1, a fourth match was played involving Bligh's team and an Australian team selected from all available players. Australia won this match, and thus to some people levelled the series 2-2.
So did England actually win the Ashes? Or was it a draw?
This debate has raged for well over a hundred years, not surprisingly the authors hint towards the belief of England winning the Ashes.
The only criticism of the book would be the authors disparaging comments on the captaincy of the Australian captain William Murdoch.
Not withstanding this one complaint this is a thoroughly enjoyable read, and should become standard reading for anyone wanting to know the history of that little urn.