Cricketers at War
Archie Mac |
Published: 2019
Pages: 330
Author: Growden, Greg
Publisher: ABC Books
Rating: 5 stars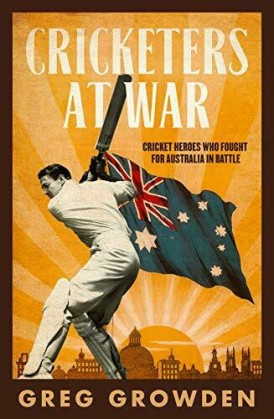 Simply magnificent! That's the way this book will be described by everyone who reads it. It had me so spellbound, and I was enjoying it so much, I read a couple of pages during ad breaks on the Box.
The online digitalisation of newspapers has made a world of difference to the cricket historian, and author Greg Growden has certainly taken advantage of this technology. Some unfamiliar newspapers such as: The Winner; Naranderra Argus; The Singapore Free Press; The Preston Leader, etc, add little snippets that were simply too time consuming to consult previously. Growden certainly hasn't just relied on newspapers, the bibliography lists more books than some cricket book prolific authors use in a lifetime of writing. Growden also managed to speak to a few of the people featured in Cricketers at War. 
The book is divided into four sections. The first and last sections on the Boer War and Vietnam conflict are brief affairs. The Boer War part features Jack Ferris, and even if you have read Max Bonnell's seminal biography on Ferris you will still be engrossed by Growden's take on the tragic figure of Australia's first great left-arm trundler. 
The last part on the Vietnam War describes former Test Cricketer Tony Dell and the impact of war on his mental health and ability to function in society. Growden had interviewed Dell for this chapter and it's pretty close to the best in the book.
The other two parts make up the majority of the book and cover cricketers in the Great War and the Second World War. Growden doesn't just confine himself to Test players. First class players are covered extensively.
A stand out theme from the Great War coverage is just how shabbily the families of missing or dead soldiers were treated by the War Office. Families had to write a number of letters, and when the authorities could be bothered to reply it was usually brief and rarely of assistance. The sheer waste of so many talented young men makes you melancholy, although their stories keep you engrossed.
The Second World War, takes up the most space in the book and devotes a couple of chapters to The AIF Cricket Team. The coverage of these members, including Keith Miller, is fascinating. While the Miller story is well known, Growden still finds new information and addresses the Miller and Bradman feud. Some of which was based on Bradman's lack of military service.
One of the most interesting stories in Cricketers at War is about Bruce Dooland and his time as a Commando. Due to the secret nature of his missions a lot of Dooland's war story will be unfamiliar to most.
You occasionally see best cricket book lists. Cricketers at War will now be a lock for a place in any Top Ten Cricket Book list, and for my money it should be pushing for numero uno. Do not miss this one. 
Unfortunately, Greg Growden has since passed away, and due in part to his love of Rugby Union this is one of only a handful of books he wrote on cricket. We have reviewed a couple of his books on CW – Jack Fingleton and Bowled by a Bullet.