Cricket on the Continent
Martin Chandler |
Published: 2016
Pages: 254
Author: Brooks, Tim
Publisher: Pitch Publishing
Rating: 4 stars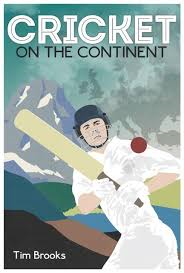 There are a few tables and statistics at the back of Tim Brooks' new book on the game on the continent of Europe. It is a good place to start, and sets the scene for what the book is trying to achieve. Back in 1934 there were estimated to be 3,100 cricketers over on mainland Europe. Not very many. Over the next three decades that figure doubled, and increased by half again by 1984 to a total of 9,500, so still not a huge number.
Growth was slower over the next twenty years until, between 2004 and 2014, the figure for active participants goes up from 12,310 to around 22,000, but if you add in those who attended an introduction to cricket event or a coaching session and that figure ends up north of 54,000, a statistic that would suggest the game is taking off.
Curiously, and rather disappointingly, the two countries where the game has traditionally had a presence and where locally produced players have on occasion succeeded in the English First Class game, the Netherlands and Denmark, are the only nations which in that time have seen participation remain constant. Only Finland has seen a fall of any significance, 18%, although cricket seems to have become extinct in Switzerland. The 'winners' include some striking examples where the game has become established from a standing start. There were no players at all in Bulgaria and Russia in 2004, but 555 and 435 respectively ten years later. Slovenia, Hungary, Romania and Estonia are other nations where the game is played now but was unknown a decade ago.
Germany and Italy have seen increases in participation that now see them having more active players than Denmark, and Norway and Spain are two more countries with very substantial increases. In percentage terms the biggest rise is by 500% in Czechia, although there are still only 90 players there.
The last book published on this subject appeared in 1968 so, fine account that it was, The Story of Continental Cricket, co-authored by Dutchman Piet Labouchere, Dane Tom Provis and New Zealander Peter Hargreaves, was in need of updating. The early part of Brooks' book reprises his predecessors' account of the early days of European cricket before concentrating on events after that and, inevitably, taking a trip round each of the nations in turn. The section on Andorra, only one cricket match ever, is just a single paragraph, but the more complex stories of the other countries I have mentioned are dealt with at much greater length.
Brooks' narrative is more about solid history than biographical details of individual players, but he occasionally takes a break from his main task and includes an entirely self-contained pen picture of an important individual. From days long gone the leading German cricketer from between the wars, Felix Mendel, is dealt with in that way as are men like Denmark's Charles Buchwald and the Dutchman Carst Posthuma, both of whom date back even further. From the few Europeans to have graced the county game there are features on Derbyshire's Great Dane, Ole Mortensen, as well as Hampshire's fleetingly successful Dutchman PJ Bakker. Later on a some names that will be familiar to the more casual reader appear, notably Dutchman Tim de Leede and Dane Michael Pedersen. A few more of these digressions wouldn't have gone amiss. Some biographical information on Andre Van Troost, Roland Lefebvre and Soren Henriksen would certainly have found favour with this reviewer.
The bare statistics at the start of this review strongly suggest that cricket on the continent of Europe is wider spread and stronger than it has ever been. That simple statement is surely true, but the outlook is not quite so bright. ICC funding has been responsible for the growth, but is on the wane, and the majority of participants in the 'new' countries tend to be from the ex-patriate community rather than indigenous Europeans. Brooks, who knows as much about his subject as anyone, is clearly concerned about the future. He does manage to find some positives however, so let us hope that this time we do not have to wait for 47 years for the story of European cricket to receive its next update.