Cricket, I Just Love It!
Archie Mac |
Published: 2021
Pages: 34
Author: Nicholson, Alister
Publisher: Allen & Unwin
Rating: 4 stars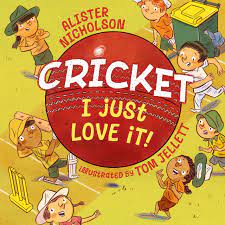 This is a children's book. I only wish there was a book like this when I was youngster. Despite my advancing age, as I perused the pages of Cricket, I Love It!, I could feel the adrenalin and anticipation that I felt when playing the game as a kid. The book also fires the imagination for playing cricket at the highest level and features the heroes of the current generation. It is viewed through the eyes of both boys and girls and a few modern cricketing heroes receive a mention, such as Meg Lanning and Ellyse Perry.
The book is written mostly in slant rhyming style, which keeps it fresh and entertaining. Each page contains between two to four lines of text, which complements the wonderful artwork of Tom Jellett.
It is a credit to both Nicholson and Jellett how much information they pack into just over 30 pages. Field positions, equipment, cricket's pathway and even correct batting technique are all covered. I probably would have preferred they spelt test as in Test cricket with a capital 'T', however I am sure none of the target audience will care less about that.
As I am probably not the target audience, I also had my nine year old daughter read Cricket, I Just Love It! – not being much of a cricket fan I was surprised by her response.
My daughter thoroughly enjoyed it and was particularly impressed that it is the little girl in the book hitting the ball out of the park. My daughter also noticed that one of the small images in the book was a drawing of a picture we have on the wall. She said, "the 'drawer' is very good, it looks just like your *photo of that Bradman man".
It would be great if this book was picked up by school libraries and at the very least by Milo Kanga Cricket (Milo Kiwi Cricket in NZ) clubs in Australasia. As they say – 'you give me the seven year old, and I'll give you a cricket fan for life".
There is no doubt that this quality publication will inspire every child that reads it. It should be in the Christmas stocking of all kids that parents want to be active. I have no doubt if Cricket, I Just Love It! was around when I was a kid I would have read it until the covers fell off.  RRP is AUD $19.99 and there is a QR code included which allows kids to listen to the author reading his book.
*We have three pictures in the dining room – W.G. Grace, Victor Trumper and Don Bradman. I am confident that my dsughter is the only one of her age that can recognise and name all three.