Cricket and the Church
Martin Chandler |
Published: 2022
Pages: 10
Author: Cardwell, Ronald (editor)
Publisher: The Cricket Press Pty Ltd
Rating: 3.5 stars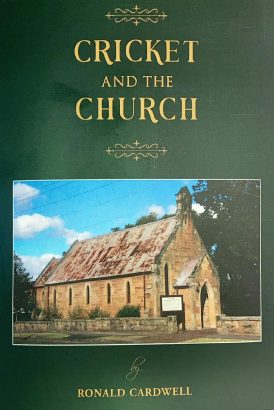 This one is another slim limited edition from the Cricket Press Pty Ltd. It is not a single monograph, rather there are three separate contributions. The first is from Ronald Cardwell, and if it were that one in isolation the booklet might be better titled Cricket and a Church, but then the second, by a Dr Cyril Latimer*, makes the use of the definite article more appropriate. Finally, briefly, there is a short poem from Norman Gale, first published back in 1894.
Cardwell's own essay contains a few general observations on cricket and the church, and more particularly some of the literature linking the two, but its main purpose is to tell the story of a church building in the Sydney suburb of Carlingford. At one stage earmarked for demolition in 1980 the church was bought by a book dealer and sympathetically restored and converted into a bookshop which trades as The Old Church Bookshop to this day. It is also worth pointing out that, for in my experience the first time, the Victorian concept of 'muscular christianity' is explained by Cardwell with admirable clarity within two sentences.
As for Latimer's essay that is entitled Cricket, Charity and the Church, which sounds like serious stuff. In a sense it is, but I can see why Cardwell chose the essay as it is an engaging read, particularly the description of a game that Latimer played as a young chorister, Pulpit Cricket – it is something I wish I had read years ago, as the rules could easily have been transferred to a game called Courtroom Cricket, which would have at least given me something amusing to do during those many tedious hours I spent as a young lawyer, sat at the benches waiting for my cases to be called on.
An entertaining collection Cricket and the Church appears in a limited edition of 172 copies. I believe that most have been given away, but there are a few copies available from Roger Page.
*There is no biography of Latimer in the text but there is a thorough footnote to do that job – an academic psychologist and grade cricketer in Sydney he attracts the memorable description from former Australian leg spinner turned commentator Kerry O'Keeffe of the world's slowest fast bowler.