Bob's Boys
Archie Mac |
Published: 2019
Pages: 71
Author: Piesse, Ken and Browning, Mark
Publisher: cricketbooks.com.au
Rating: 3.5 stars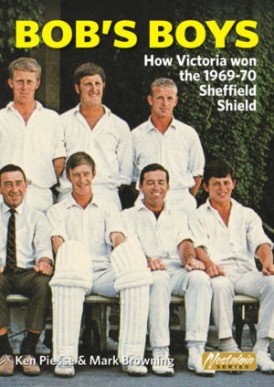 In 2016, these same authors released Against All Odds which, similarly to Bob's Boys, is about a successful Victorian Sheffield Shield winning season. When we reviewed Against All Odds we expressed the hope that it would lead to more books released on Australian domestic cricket.
There are a lot of similarities between the two stories. The Victorian teams in 1966-67 (Against All Odds) and 1969-70 (Bob's Boys), saw the Victorian team depleted due to an overseas tour. Bob's Boys saw Victoria missing players such as Bill Lawry, Keith Stackpole, Ian Redpath, Alan Connolly, Paul Sheahan and Ray Jordan. In the end Bob Cowper, who had retired from Test cricket, led a largely inexperienced team to an unexpected Sheffield Shield victory.
For some reason, perhaps travel, the Victorians played their first six matches at home followed by six away. The Vics took full advantage and jumped out to a strong lead on the ladder, which they never surrendered. 
From this distance it seems an amateur production. The players were given just $7.00 a day for matches and nothing if the match finished early. There are no support staff and at one stage a player misses matches as he's on honeymoon. The players appear to have lived on soft drinks.
One player who appears to have drunk Fanta almost exclusively was Alan 'Froggy' Thomson. It didn't appear to hurt him as 'Froggy' had the summer of his life as he claimed 49 wickets, three times as many as any other player. Thomson's performances eventually led to him playing Test cricket although he couldn't recapture his first class form, claiming just 12 wickets at over 50.
The authors have interviewed all of the surviving Victorian players and to a man they mention what a great time they had during the summer, and what a fine captain Cowper was. The authors have also quoted freely from contemporary press reports.
This was a different time and the day of the multi talented sports star. Two of the Victorian team also represented Australia at baseball, and there were some talented Aussie Rules footballers too. One, Peter Bedford, went on to win the Brownlow Medal (the highest award in Aussie Rules) in 1970. An all rounder Bedford scored his only Shield century doing this 1969-70 season. 
Reading about some of the younger players coming through, such as Greg Chappell and Dennis Lillee, is always of interest. It seems even at this early stage Chappell was considered the wicket most bowlers wanted, while Lillee is described as fast but raw. Throw in Rod Marsh and the Australian side, which was simultaneously copping a four nil thumping in South Africa, was about to enter a new era.
Probably the only oversight in this otherwise charming little book is the lack of interviews from players from other states. Still this is a minor bugbear in an otherwise very enjoyable read. Bob's Boys will be available from Ken Piesse, although the book is not due for release until October 2019. It will appear in a limited edition of 307 copies (Cowper's highest Test score) and be signed by many of the victorious Victorian team.