Black Swan Summer
Martin Chandler |
Published: 2022
Pages: 224
Author: Bonnell, Max and Sproul, Andrew
Publisher: Pitch
Rating: 5 stars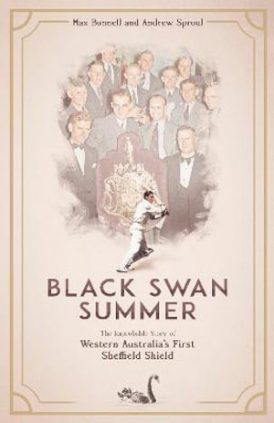 It comes as no surprise to me that this book has been published, although it struck me as a little odd that a UK publisher would be the one to pick it up. After all is there that much interest in this country in a book subtitled The Improbable Story of Western Australia's First Sheffield Shield?
On the face of  matters the answer to that one must be probably not, but I would urge all readers of cricket books to dwell on this one a little before dismissing it as being of interest only in Australia. At the end of the day it is a fascinating story that has been thoroughly researched, and is very well told.
Prior to the 1947/48 season Western Australia had played First Class matches, 66 of them over a 54 year period. There had even been three victories, but all of those came before the Great War and none were against opposition that was anything like full strength. Against that backdrop as they began their first Sheffield Shield campaign nobody expected very much of Western Australia. It was a situation not entirely dissimilar to that faced by Durham when they became the eighteenth First Class county back in the 1990s. In that case too the new boys did well, eventually, after finishing in the bottom three in each of their first five summers.
None of the men who turned out for Western Australia in that 1947/48 summer would ever play for Australia, and whilst one or two factors in the schedule played to their advantage the newcomers' success was still a remarkable one. Nonetheless turning what amounted to a four match campaign into a 224 page book is still quite an achievement.
And of course there is rather more to Black Swan Summer than just four match descriptions. It begins with a brief history of the game in the state, and indeed of Western Australia itself. There was much in here that I did not know, not least that in 1933 as many as two thirds of the Western Australian electorate voted to secede from the Commonwealth, not that that went any further. Other things I did know, but had never really put in context before, mainly on the subject of the sheer size of Australia, and the huge distance between Perth and the eastern states.
There was other cricket going on in Australia as well as the Sheffield Shield in 1947/48, that being the first ever tour by a side from India, and Black Swan Summer tells the story of that as well, and not just in terms of the tourists' two appearances at the WACA.
As is only to be expected all of the Western Australian players get a thorough introduction, and the matches they played in 1947/48 are fully described. There was plenty of contemporary newspaper coverage for Bonnell and Sproul to consult, and they had the priceless bonus of being able to access the memories and impressions of the three survivors of that summer 75 years ago; Neil Harvey (then of Victoria), Queenslander Ken Archer and Western Australian Basil Rigg.
Cricket is not a sport that is played in a vacuum, and there is much that goes beyond the game in Black Swan Summer. The fear of the spread of communism is a recurring theme, and another is the sort of industrial unrest that is currently being seen in the UK. I learned that the Labour Government of Ben Chifley tried to nationalise the Australian banking industry. I have spent most of the last forty years trying to keep out of law libraries as much as possible, but I might well have to abandon that policy in order to dig out the Privy Council decision that endorsed the finding of the Australian courts that the relevant legislation was unconstitutional.
If communism was a great threat these were also the days of a 'White Australia' policy and, in the same way that recent times have brought a critical re-examination of UK history in the light of the Black Lives Matter movement, I learn we are not alone in having a cupboard full of skeletons. The deeply distressing story of the eventual deportation of black boxer Clarence 'The Alabama Kid' Reeves regularly interrupts the cricketing narrative of Black Swan Summer.
There are other fascinating digressions as well. On a sporting theme the career of the versatile sprinter Shirley Strickland comes up, as does that of the one of the most gifted, and least mentioned, all-rounders in Test cricket history, Betty Wilson. Moving away from sport and in some ways in more light hearted vein there is also the disturbing account of a looming beer drought, but there is no way in which a mere review can really do justice to how absorbing this account of cricket and life in Australia in the late 1940s is.
Max Bonnell does of course have an extensive rap sheet when it comes to high quality contributions to the literature of cricket, and for one of those he worked with Andrew Sproul. In that sense therefore it is no surprise that Black Swan Summer is one of the best books I have read this year. It is also noteworthy that Max has moved on from the eras of his past contributions, so I am asking myself whether this indicates a general willingness to move onto more modern times? Having made a suggestion to him in the past that was acted on I will therefore do so again and simply mention one name that crops up in passing in Black Swan Summer and who I would like to learn more about, Bruce Dooland.