Bert Kortlang: The Globe-Trotting Cricketer 
Archie Mac |
Published: 2022
Pages: 179
Author: Franks, Rob
Publisher: The Cricket Publishing Company
Rating: 4 stars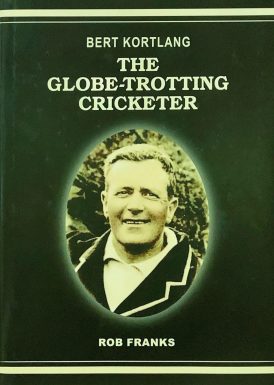 Only a few readers will have heard of the Australian cricketer Bert Kortlang, although no doubt he has been mentioned in any number of cricket books. After all, he was close to a place on the controversial 1912 Australian tri series team to England.
This was the tour where six (known as The Big Six) of Australia's best pulled out of the team due to an ongoing battle with the still fledging Australian Board of Control (ABC). This mass exodus suddenly meant that peripheral players like Kortlang had a realistic chance to tour after a strong couple of domestic seasons for Victoria. In the end we learn that Kortlang probably missed out due to his cautious batting style, when the team already had plenty of this type.
Apart from the 1912 team, it seems Kortlang was a candidate for New Zealand's first tour of England in 1927. The only reason Kortlang appears to have missed out on a birth in this inaugural tour was his age – 46.
Perhaps I am going too fast. The reason Kortlang was almost a member of both an Australian and New Zealand XI is rather straightforward. Kortlang, before plane travel, was probably the most itinerant cricketer there ever was. Born in Australia, Kortlang travelled and lived all over the world. When younger he spent a lot of time in New York, Bermuda and Canada, with the occasional visit to Australia. Later Kortlang spent several summers in New Zealand, although rarely a winter as he appears to have loved the sun.
No matter where Kortlang went he managed to find a cricket team to play for. His grafting, watchful, defensive technique appears to have been adaptive. No matter the conditions or level of cricket, Kortlang nearly always made runs. 
As a cricket fan I thought what a waste of talent. If only Kortlang had settled down in Australia for a few consecutive years when at his cricketing peak he may have played Test cricket. That might well be true, but it may not have satisfied the wanderlust of Kortlang and certainly wouldn't have provided such an entertaining tale. 
Author Rob Franks certainly appears to have signed up for one tough biography to write and research. The ever evasive Kortlang doesn't help his biographer by often telling the newspapers one thing and then doing another, especially around his travel plans. He was also somewhat of a lovable rogue in that he would often exaggerate his sporting achievements or adventures. This wasn't helped as Kortlang appears quite happy not to correct spurious comments written about him in newspaper articles.
One example of Kortlang's capacity to exaggerate is the apocryphal story he writes for the newspapers about the previously mentioned Big Six controversy. Kortlang states that he was in the office of ABC Secretary William McElhone when the deadline was reached and the players did not accept their invitations to tour. He further claimed that at three minutes past the deadline the players' spokesman did attend and tried to accept the tour on behalf of himself and the other five, only to be told the offer had been rescinded. I have not previously read this story.
The strength of the book is the great research, and the way the author keeps the reader informed about the road blocks he encounters. The Kortlang biography must have been a tough assignment and Franks' intimate writing style is well suited to presenting his subject in the most positive light. Even when Kortlang was chastised in the press for embellishing his sporting achievements, Franks is still firmly on his subject's side.
The Globe-Trotting Cricketer is a quality read. As with all the books from this publisher it is well presented, printed on quality paper and features copious illustrations. Add to this the quality writing of Franks, and this book will be enjoyed by all cricket fans.