Ashes to Ashes
Stuart Wark |
Published: 2005
Pages: 210
Author: Fletcher, Keith
Publisher: Headline
Rating: 2.5 stars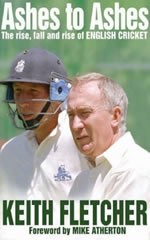 Remainder bookshops are a wonderful place to pickup some great bargains on less popular titles. Whilst they often have a wide range of Tibetan cookbooks, teenage novels about shape-shifting werevampires and obscure manga collections, cricket lovers can also often find some real gems hiding on the shelves as well. I have picked up a number of interesting cricketing remainders over the years, paying less than $5 for biographies of Sachin Tendulkar and Lord Hawke, as well as a complete set of the Australian Wisdens for $2 each. One of my recent purchases from a remainder bookshop was a copy of 'Ashes to Ashes', the autobiography of Keith Fletcher originally released in 2006. I had read and heard lots of positive comments about Fletcher?s love of cricket and immense knowledge of the game, so I was very interested in reading his reminiscences about his life. The sub-title of the book, 'The Rise, Fall and Rise of English Cricket' also hints at a comprehensive examination of both the county and international scene from a highly qualified source.
Fletcher played for England for fourteen years between 1968 and 1982, including captaining his nation on a tour of India in 1981. He also led his county side Essex to three championships during the 70s and 80s and coached England during the 1990s. Derek Pringle, the former England all-rounder, describes Fletcher as 'the best, most successful and influential captain I ever played under, winning untold riches for his adopted county'. The forward written by Michael Atherton comments on Fletcher's standing on the game by labelling him as 'cricket's most loyal and highly regarded of men, having a deep knowledge of the game and a tactical grasp bettered by few'. The book cover further informs me that Keith Fletcher was the first man to both captain and coach the England cricket team.
This duality of focus as both a player and coach over the past three decades would appear to place Fletcher into an ideal position to comment upon the evolution of cricket in England over the past three decades. Sadly, all of these positive factors are largely irrelevant as the book is an almost non-stop whinge fest. To his credit, Fletcher doesn?t avoid discussing controversial issues, however, he fails to adequately explore his own role in these events and instead simply blames everyone else for everything that went wrong. His relationship with Chairman of Selectors Ray Illingworth is discussed in some detail, but with no real insights into how communication and interaction could be improved between the coach and selectors.
Fletcher comments and reviews his peers and opponents over the past thirty years. Once again though, there is little in here that is either new or surprising. As an example of this, Graham Gooch?s commitment to training is discussed, as is Ian Botham?s aversion to it. Fletcher was clearly scarred for life by his experiences in the 1974/75 Ashes series, and he reveals an underlying antipathy towards Australia throughout the book. Some sections of the book do show Fletcher?s genuine insight into the players and the game, however, the book is characterised more by Fletcher?s insecurities and bitterness. Overall, this is a shame because there was considerable potential for this autobiography to be a very good work.
I remember being pleasantly surprised by Duncan Fletcher?s autobiography. I had a strong negative perception of Duncan being a whinger and complainer. His autobiography managed to convince me that there was far more to him. However, Duncan?s predecessor as English coach and his namesake, Keith, has managed to achieve the exact opposite in his autobiography. I went in expecting an interesting review and analysis from a widely respected and knowledgeable cricketing guru. Essex team-mate Pringle, in his review of this book, commented that 'There is, to those who don't know him, a danger the book could be seen as an extended whinge'. I do not know Keith Fletcher, and I agree, the book is a little more than an extended whinge. Very disappointing.
2.5 stars (when it could have been so much more).