Arlott and Trueman on Cricket  
Tim Dale Lace |
Published: 1977
Pages: 280
Author: Phelps, Gilbert (Editor)
Publisher: BBC
Rating: 3 stars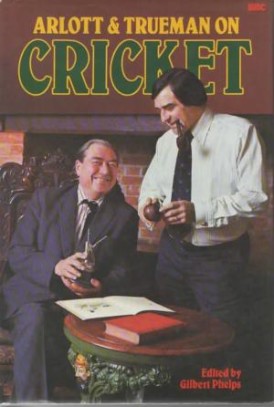 This book consists of three disparate sections; cricket history, a literary anthology and cricket anecdotes cobbled together by three people who have had various associations with the game.
It seems that the editor leaned on Arlott for the biggest contribution both in volume and quality.  For example, in the first section which is written by Arlott, there is a cricket reference to the 17th Century when Oliver Cromwell went to London to play cricket.  Arlott also includes fascinating chapters on WG Grace and the period between the Wars with the two greats of the game, Jack Hobbs and Don Bradman as the backdrop of the chapter.  He also talks about other legends of the game as well as great matches around that time. Economics, politics, sponsorship which covers everything from the abolition of the distinction between the amateur cricketer and the professional cricketer, the end of international competition for the SA national side for 22 years and the emergence of ODI cricket and what that has meant for the game's future are also included. The similarities with what Arlott describes as future problems for the game then are remarkably similar now, and most fascinating as a result. After reading this section I will happily read anything written by Arlott that I come across in the future.
Compared to the information in Arlott's section, I found the second chapter tedious as it is a selection of poems, epitaphs, songs and short stories about either the game or individuals in the game. Cardus, Arlott and A.A. Thomson are all included and there is a selection of short stories and paragraphs taken from books like Tom Brown's School Days, Neville Cardus' Second Innings and John Nyren: The Young Cricketers Tutor and Cricketers of My Time (all of which I had already read).
Notwithstanding these excellent extracts, this second chapter feels a little forced.  The book is called Arlott and Trueman on Cricket and that pair can stand on their own merit without chapter two and it really ought to have been omitted.
The third chapter follows the well-used format of picking a well-known player to talk about players he played with or against. Well-known names do not guarantee successful reading but because it was the gregarious Trueman writing it was entertaining reading and Trueman picks his subjects well; most are people who have had lived colourful lives and like him, are open and outgoing.  He regales stories from when he was batting against Alan Davidson, when he batted with Len Hutton and how Hutton helped him reach his first test fifty.
I did not know the editor before I read this book but he does cover around about 200 years of the game which is impressive. He does not go into much detail, which is a shame, and the book is uncomfortably compact because of it. The historical accounts are fascinating and could have been extended and without John Arlott's contribution it would have been an awfully boring read.
This is more of a bedside book than a Cricket Almanac, but despite the few gems contained in the book, as a history it feels incomplete and as it is more anecdote than either history or anthology I can only give it 3 stars.