A Tall Story
Martin Chandler |
Published: 2020
Pages: 132
Author: Hignell, Andrew
Publisher: ACS
Rating: 3.5 stars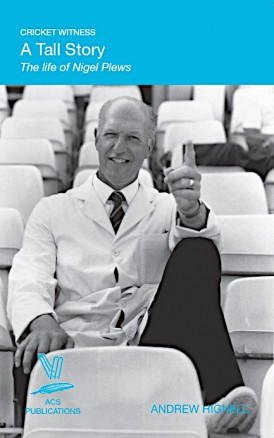 Other than the work of a rather well known gentleman from Barnsley, the not inconsiderable volume of books that have been published by or about umpires over the years have never been best sellers. I don't suppose this life of Nigel Plews will change that, but it is nonetheless a most enjoyable read and one which should be widely read, and not just amongst the umpiring fraternity.
The man who is the subject of the book was, unusually for a top level umpire, not a former county cricketer, and indeed in his playing days, which did not last beyond his twenties, seems to have been no more than a modest performer. Part of the problem was a 6'6'' frame which gave rise to back problems and, always keen on umpiring anyway, Plews decided early on that the best cricket wear for him was a white coat rather than flannels.
In his first career Plews was a policeman, an occupation that allows retirement after 25 years thus enabling Plews to 'start again' at 45 with a decent pension to back him up. Years of umpiring outside the First Class game prepared him, as no doubt did his many years on the Fraud Squad, an area of policing that calls for a methodical approach, patience, diligence and a thorough understanding of the ways of the confidence trickster.
The author of A Tall Story is Andrew Hignell, another man who has had two careers. Initially a teacher Hignell now manages the Museum of Welsh Cricket at Sophia Gardens in Cardiff and has been writing on cricket for many years. Amongst his many publications are a collection of pen portraits of umpires, and undertaking the writing duties for Barrie Meyer's autobiography*. Once it became clear that Plews had kept notes and scrapbooks during his career, and that his widow and two children were happy to assist with the project, Hignell was clearly the ideal man to write A Tall Story.
So what do you get with the Nigel Plews Story? First of all there is just enough about his background and life before umpiring to introduce him and to paint a picture of the sort of man that Plews was. In some ways that does not necessarily augur well for the rest of the book as Plews was a skilled diplomat who did not court controversy. Not for him the style of the likes of Bill Alley or Cec Pepper, or indeed that gentleman from Barnsley.
In fact however the lack of sensational incidents serves only to enhance the book, which is essentially a collection of stories from Plews' years as an umpire. By their nature few are well known, although at the same time many will strike a chord with anyone who has done any umpiring. There are tales of flashpoints, knotty legal problems as well as the many humorous situations which we all know crop up in games of cricket, not to mention the way cricketers, amateur and professional, try it on sometimes!
And Plews did have his moments. The story of ordering Wasim Akram out of the Lancashire attack for bowling too many bouncers is one I had forgotten, as indeed was that unfortunate incident against India at Lord's in 1990 when Graham Gooch caught Kapil Dev at second slip. The catch was low down but, to those of us watching on television, clearly taken cleanly. The problem Plews had was that, following through, Gus Fraser had obscured his view, and although Plews went to speak to him his colleague at square leg, that gentleman from Barnsley, couldn't clarify. The result, when as he had to Plews gave Kapil the benefit of the doubt, was an unhappy England captain.
For a non First Class cricketer to become a Test umpire was in itself testament to Plews' skill and reliability, and once the international umpires panel was created he found himself elevated onto that as well, so there are tales from all over the world in A Tall Story.
Quite why the book appears in the ACS Cricket Witness series, rather than its Lives in Cricket series is something of a mystery to me, but A Tall Story remains a splendid addition to the ACS catalogue and to Hignell's oeuvre. It also, amongst a decent selection of photographs, has one particularly good one. In it you see Plews and three others. Despite Plews' very considerable height Worcestershire captain Tom Moody is comfortably taller than he is, and although I never thought of fellow umpire Vanburn Holder as a small man I hadn't realised he was around the same height as Plews. I felt rather sorry for the fourth man in the picture, Moody's opposite number from Glamorgan, Tony Cottey, who presumably may well have ended the four way conversation with a stiff neck.
*Gloucestershire's wicketkeeper throughout the 1960s Meyer went on to be a respected umpire who stood in 26 Test matches between 1978 and 1993