A Strange Bastard
Martin Chandler |
Published: 2019
Pages: 107
Author: Smith, Rick
Publisher: Apple Books
Rating: 4 stars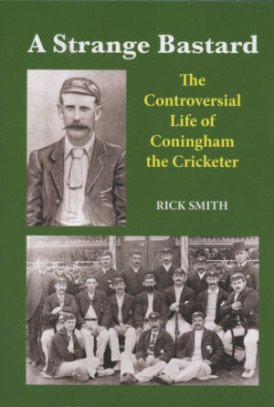 Here we have a biography of a man who played in one Test for Australia, back in the 1894/95 Ashes series. The man concerned, Arthur Coningham, gave himself a permanent place in the record books by, according to author Rick Smith, becoming the first man to take a wicket with his maiden delivery in Test cricket. In fact I think Smith has overplayed his hand slightly there in that my understanding is that Tom Horan was the first to accomplish precisely that feat, more than a decade earlier. That said unlike Horan's effort, which came in the second innings of his tenth Test, Coningham's achievement was on debut, and with the first ball of the match.
That much about Coningham I knew before opening A Strange Bastard. I was also aware that Coningham had never played another Test and, as almost inevitably follows from that, his overall First Class record is, whilst creditable, nothing remarkable for a man who was viewed as an all-rounder.
It might be, in the circumstances, considered that a life of Coningham is very much a book for the hardened tragics amongst us, but in fact nothing could be further from the truth. The tale of Arthur Coningham is a fascinating one, the more so as it unfolds after his First Class cricket career ended.
The first part of the book involves Smith explaining the background of the Coningham family, how Arthur came to be an Australian and running through his cricket career. To do so he has to deal with the relative failure of his subject when called up as a late addition to the 1893 party that toured England.
As well as looking at that trip to England Smith has to spend some time on Coningham's life outside cricket in order to deal with his regularly moving from club to club and state to state. After the passage of so many years no definitive explanation is possible, but it seems highly likely that Coningham was not a particularly pleasant individual. That said in some ways he was clearly as much sinned against as sinning, particularly in terms of his relationship with the, it would seem, at least equally difficult George Giffen.
By page 47 of A Strange Bastard Coningham's career in First Class cricket is over. I did know that he had been involved in a sensational divorce case, but not just how much of a cause celebre the litigation was. The central issue was Coningham's suit against the Catholic church. He alleged that a Catholic priest had conducted a clandestine affair with his wife, and further that the priest, and not Coningham was the father of the youngest of her three children.
To fully understand the case it is necessary to have a grasp of the extent of the sectarian divides that existed in Australia at the time, something that Smith explains very well. From there the issues were seemingly straightforward. Either there had been an affair as Coningham alleged or, given that Mrs Coningham did not dispute the adultery, the whole case was a conspiracy between the husband and wife to extort the equivalent of around a quarter of a million dollars from the deep pockets of the Catholic church.
The case was heard by a judge and jury and there was plenty of skullduggery on either side which, eventually, caused Coningham's Counsel to feel compelled to withdraw from the case thus leaving the former Test cricketer to conduct his own case. The jury could not however make up its mind and a date for a retrial had to be fixed. The new judge was less helpful to Coningham than the first one had been and he did not come out of the continuing chicanery that characterised the build up for the second trial very well. This time Coningham lost, perhaps not by an innings, as there were no further proceedings, but he seems not to have done very well.
What I had not realised was the extent of the public interest in the trial and how widely it was reported. In addition, and because of that interest, the case has been thoroughly researched by others before Smith and he is therefore able to explain all the nuances of a saga that, in an age when undefended 'quickie' divorces have been the norm for a couple of generations, is a remarkable one.
The trial over Coningham decamped to New Zealand where he was to be imprisoned following his being convicted for a fraud on an employer. There were civil cases as well and, eventually, another divorce case, this time at the suit of Mrs Coningham. As ever Coningham represented himself and, sadly for him, he continued to lose. After his various travails he eventually returned to Australia from when he lived a low key existence for many years prior to his death in 1939 at 76. For the two years prior to his death he had been detained at the Gladesville Mental Asylum although the reasons would not appear to be sinister ones.
Having got to the end of Coningham's story Smith, as any good biographer should, then follows through the lives of Mrs Coningham and her three children. Coningham's older son, also Arthur, was a highly decorated airman who played significant roles in both World Wars. He was to lose his life in a mysterious air accident over the Bermuda Triangle in 1948. Mrs Coningham, her daughter and younger son also led interesting lives. The last resting place of all three of them is in the UK, at Bicknoller in Somerset, the birthplace of one of cricket's most troubled souls, Harold Gimblett.
A Strange Bastard appears in a limited edition of 150 copies, of which 140 are for sale. Ordinarily I would expect that to be plenty to go round, but this is such a good story that I suspect it will sell rather well so early ordering from one or other of Messrs Page or Piesse is recommended.