A History of Test Cricket
Archie Mac |
Published: 2016
Pages: 503
Author: Hauser, Liam
Publisher: New Holland
Rating: 3 stars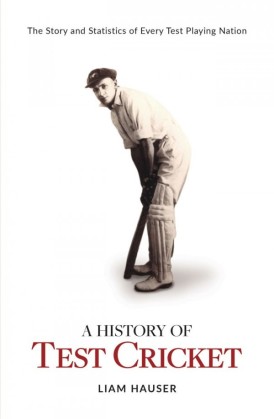 A History of Test Cricket, is a must have for all cricket fans. Author Liam Hauser has delved into the history books to present a brief history of every Test series player by all the Test nations.
Conveniently Hauser, to save confusion, doesn't just wade through each Test series as they occurred. Instead he focuses on each country starting with England and finishing with the newest ICC member Bangladesh.
The author breaks the matches down into decades. So for instance England Vs Australia for the period of the 1890s, gives a brief summary of all the Test series played between the Ashes combatants of that decade. For an Australian reader, and the author is an Aussie too, it was frustrating, and surprising, just how dominant England were, especially in the first 20 years of Test cricket.
Books of this type can become a heavy slog if the author just lists match results. Thankfully Hauser provides an informative narrative of all the Test series he covers. You meet all the greats of Test cricket from W.G. Grace and Don Bradman to Sachin Tendulkar and Younis Khan.
Hauser also provides a synopsis on the controversies of Test cricket; the infamous Bodyline series and the call for chucking against Murali. The throwing controversy is a common theme, with Ian Meckiff's career ended for Australia after he was no balled against South Africa in the 1960s. At least Murali was able to recover from the extreme pressure of accusers and we learn from Hauser eventually to have his name, and that of spin rival Shane Warne, enshrined on the trophy that Australia and Sri Lanka now compete for.
After each countries' Test histories are summarised, the author than provides a section titled "Notable Test Players" in which he presents short bios of some of the stars for each country. Hauser provides a short stats section on each player featured too.
The author shows a sense of history in the choices for the "Notable Test Players" with, for instance, W.G. Grace featured despite the fact he only played 22 Test matches. Hauser rightly justifies the inclusion of the 'Doctor' "while his Test statistics were nothing special, he was an automatic selection in this list of all-time greats due to his legacy in the sport".
Finally A History of Test Cricket finishes with "Test Results and Records" which highlights both countries and players. It was interesting to see that England are closing in on a thousand Test matches played and are almost 200 clear of the other founding member of Test cricket Australia. This is not surprising as we learn from Hauser that on one occasion England were engaged in Test series against two different nations at the same time.
The mind boggles when trying to consider just how many hours of research and preparation went into this book but the cricket fan will be grateful that Liam Hauser took the time. A History of Test Cricket will be a welcome addition to any cricket fan's library.