A False Stroke of Genius: The Wayne Larkins Story
David Taylor |
Published: 2001
Pages: 159
Author: Wallace, John
Publisher: Tempus
Rating: 3 stars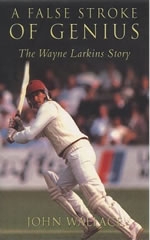 Recently an autobiography of Doug Walters appeared on this site, and it set me thinking of Wayne Larkins, perhaps the nearest England have produced to a Walters in recent years. Unlike the Australian though, the hard-drinking, chain-smoking Northants and Durham batsman undoubtedly underachieved in a curious Test career that saw him make just 13 appearances between 1979-80 and 1990-91, seven of those following a surprise recall at the age of 36. In a sense he was picked both too soon and too late, but not at his peak, and this book explains why.
That Larkins was highly regarded on the county circuit is not in doubt.. Jonathan Agnew, in his 1988 'diary' work Eight Days a Week, explained that an assault by Larkins was known as a 'Nedding', after his nickname, Ned (given to him early in his Northants days, supposedly by David Steele). Agnew wrote, "he plays every shot in the book from the word go, particularly when I am bowling. Last year at Grace Road he smashed my first ball, the first of the match, for four, and the second for six over cover!" And Graham Gooch pretty much hand-picked him for tours of the West Indies in 1990 and Australia in 1990-91, when, as Cricinfo put it, he was the worst possible room-mate for the young Phil Tufnell. An innings by Larkins was keenly anticipated by the county followers who saw him at his best, but they knew that he was just as likely to hole out at long-off in the last over before lunch.
The book is an efficient and sympathetic telling of Larkins' story, culminating with Durham terminating his contract in 1995, and consigning him to the backwaters of Minor Counties cricket. Wallace explains that it was his disappointment at missing out for selection to the tour of India in 1981-82 which led to Larkins joining a rebel tour of South Africa, which in turn led to a three year ban when he was at the peak of his powers. Perhaps a more canny individual would have turned it down, realising that if such a tour were being planned, it would create vacancies at the top of the order for England. Ironically it was his longtime opening partner at Northants, Geoff Cook, who made his debut in the first Test of the 1982 season. The following season Larkins took out his frustration on county bowlers by hitting 252 at Cardiff and 236 at Derby.
Apart from referring to his subject as 'Wayne' throughout the book, as if he were either a child or a close friend (writer and subject met only briefly, while the book was in its planning stage) and sharing his outrage at being banned for going to South Africa, seemingly disregarding the wider issues involved, this is a worthy portrait of one of English cricket's 'might have beens.'