Ashes Cricket 2013 Announced
James Nixon |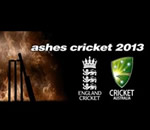 Trickstar and 505 Games have today announced a new cricket game, Ashes Cricket 2013 to be licensed by Cricket Australia and the ECB.
The full press release is below:
505 Games, has today announced it will be bringing a brand new gaming experience to cricket fans all over the world in 2013. Celebrating the most intense and long standing international test cricket rivalry, the game launches in time for the unique double header Ashes Series that takes place in England and then a few months later in Australia.
ASHES CRICKET 2013, currently in development at Melbourne-based cricket specialists Trickstar Games, promises the most authentic cricket experience to date and boasts exclusive licenses from both The England and Wales Cricket Board (ECB) and Cricket Australia (CA).
Due for release next summer on home consoles and PC, ASHES CRICKET 2013, will be the ultimate companion to the live action across the year. Other game modes will reflect all the nuances of the international game across its many formats whilst truly capturing the passion and excitement of live matches. National rivalries, venues and player personalities are perfectly captured in the most advanced simulation of the sport yet, as participants fight for the pride of their nation in either solo play or with up to three friends in local multiplayer matches or take on the world online.
Luke Bould, Head of Commercial Marketing – Cricket Australia said "The launch of the new Ashes Cricket 2013 is an important step in bringing fans closer to the game than ever before. Gaming is an important part of cricket's entertainment offering and plays a role in achieving our objective to be Australia's favourite sport. 2013 is a huge cricket year, with back to back Ashes series, and we look forward to seeing the tradition and excitement of the Ashes brought to life through Ashes Cricket 2013"
"2013 is another big year for International Cricket and it doesn't get much bigger than the Ashes Series" commented Ralph Pitt-Stanley, General Manager for UK & Export at 505 Games "The oldest rivalry in the sport recommences on 10th July 2013, with the back to back Ashes Series in the UK and Australia so it's a really exciting time to be working with the ECB, Cricket Australia and such a great development partner as Trickstar on this product and we can't wait to share more details with fans everywhere".
John Perera, Commercial Director ECB added: "The ECB is committed to bringing new fans into the sport, and the Ashes Cricket 2013 game will do just that in conjunction with the real thing – the Investec Ashes Series 2013. Most of the current England side are keen gamers, and will no doubt be spending a lot of time playing it whilst preparing for the real thing come the Summer."