Are England The Real Deal?
Martyn Corrin |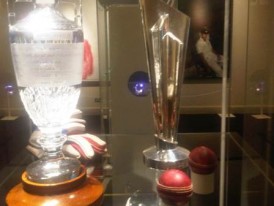 Are England the Real Deal?
While a rainy five days at Lord's meandered to a comfortable draw for Sri Lanka, England could take comfort in the fact that they secured their eighth successive unbeaten Test series. Just a little over two years ago, England were in complete disarray and now they have a chance to become the number one ranked team in the world.
But are they the real deal?
I first started putting some thoughts on the matter together on a rainy Bank Holiday Monday. The cricket had been rained off until 2pm, consigning a rain-sodden Test to an inevitable draw. With inevitable flat tracks at Lord's and the Rose Bowl surely to follow, a drawn Cardiff Test could have been a crushing blow to England's chances of going into the series with India with a useful victory under their belts.
In a couple of mind-blowing hours, everything changed.
You probably know what happened, but I'll remind you to stay on the safe side. Sri Lanka, who came to England with batting earmarked as their strength, were bundled out for 82 by England's attack. England's attack, minus its leader and undoubted star man, James Anderson.
Of course, the 24 overs of madness in Cardiff are neither conclusive evidence that England are the greatest team in the world and nor that the attack can cope without James Anderson. Tougher days at Lord's the weekend past showed everybody just how much the Burnley Express can be worth to England. The key message the second innings annihilation at Cardiff sent, though, was that England of 2011, under the Strauss-Flower axis, are not going to sulk about because a key player got injured. Compare that to the fall from grace between 2005 and 2007. England's Test side was never at full strength, and boy did they like to remind us of that. Before the series. During the series. And, of course, after the series.
Take another example, from the recent Ashes series. Stuart Broad was ruled out of the series following the Adelaide Test. Broad hadn't been having a productive time in Australia statistically, nonetheless having taken a lead in Australia, losing a player who had been a fixture in the side was the last thing England needed. Chris Tremlett came in, and while England fell to a crushing defeat in Perth, Tremlett was straight into the mixer and went on to take 17 wickets at 23.35. Similarly, Tim Bresnan came in for a struggling Steven Finn in Melbourne and was an instant success, providing both wickets and control, and dispelling plenty of doubters in the process, yours truly included.
The key point around these performances is that England are showing that they are not just an XI, but a squad that can adapt to the conditions and requirements. As the Ashes went on, a lot of discussion inevitably began to compare the current England side with the MBE-laden class of 05. Make your own mind up on which eleven is better, but the 2005 vintage didn't have a lot going on outside of the first choice players. Save for a heroic Freddie-inspired victory in Mumbai in March 2006, England would routinely full apart without the big names. England were a side in permanent transition, making few attempts to move on and waiting for the likes of Michael Vaughan, Andrew Flintoff and Simon Jones to return.
Contrast that with the fate of poor Graeme Onions; he let nobody down in his eight Tests but after a year out with a fairly serious back injury, he may face a long wait to get his place back. In his time away, Chris Tremlett, Tim Bresnan and Steven Finn have all definitely jumped the queue. Jade Dernbach seems to have, and you'd imagine Ajmal Shazhad is ahead of him as well.
Of course, adaptability and resilience are all well and good but they are useless without consistency, which is where the batsmen come in. It wasn't long ago that when Pietersen failed, England panicked, yet now find themselves in a situation where Pietersen's place in the side is being questioned from all angles. England have built a batting line-up around runs, runs and more runs from Alastair Cook and Jonathan Trott, and then good looking runs from Ian Bell later on. It is a formula that is posting routinely large scores, and makes England a very difficult team to beat. If there are weaknesses in the batting, Eoin Morgan is by no means proven yet , but his counter-attacking first innings at Lord's last Friday did him plenty of favours. Aside from that, any weakness appears to be in the replacements. Ravi Bopara would appear to be the next in line should a middle order slot arise, but his Test outings so far have been enormously underwhelming. There are young names such as James Taylor and James Hildreth who will be hoping to force their way into contention for a winter tour by the end of the year, but neither of these are guaranteed successes.
There are also few real challengers for a top order slot, should one of Cook or Strauss be unavailable. This is something which will need to be addressed because the last thing England would want is a repeat of the aforementioned struggled of the years between the 2005 and 2009 Ashes triumphs.
So, are England the real deal? They are certainly getting there. There are of course, questions to answer. The bowlers passed a huge examination with their success in Australia, but repeating it on the subcontinent would be evidence of class. The batsmen have hit big scores in most conditions, but have struggled on bouncier tracks such as Johannesburg and Perth, venues which both saw heavy defeats. The real deal, though, is a fairly ambiguous statement. The actual pertinent question is can they be the best team in the world?
This becomes a lot more measurable later in the summer when India visit for four Tests. Despite the mountains of runs Cook and Trott have to offer, the batting edge has to belong to India. On the other hand, despite the threat Zaheer Khan will undoubtedly offer with the ball, England's attack is a class above India's, especially at home. There will be some fantastic battles, as Khan and Cook will place their well-earned reputations on the line to try and outdo one another and Swann will be treated with a level of disdain he is not too familiar with on home soil. Taking twenty wickets will not be easy for either side, but for my money England start as favourites, based on the fact that it is likely to be bowlers who decide the series.
Victory against India would not automatically place England at the top of the tree. It might make it official – a victory by a few Tests could earn them the number one ranking – but it has generally been accepted since Australia fell into the pack, that this is a competitive era of Test cricket with no one dominant side. England may have claim to number one if they beat India, but that won't be enough. They will need to sustain the previous two years' form for quite a while longer. The winter presents challenges in the form of Sri Lanka away, and Pakistan on neutral territory. Victories away to both in 2000-01 under Nasser Hussain were England's finest away victories of this century until the winter just passed and will need to be repeated if England wish to stake a serious claim for the top spot.
Similarly, next summer will see challenges from the West Indies and South Africa. No disrespect to the West Indies, but they should be no match for England. South Africa, however, are currently ranked above England and, alongside England and India, are the only other serious contender to the Test cricket throne. The draw away in 2009-10 was a tremendous achievement at the time but England will need to do much better next summer. Dale Steyn will make his first visit to England since becoming the all-conquering king of fast bowling and should enjoy the conditions. The batsmen will need to keep firing for a long time to make a sustained push for domination.
Becoming champions in cricket is a long game, and to truly prove themselves, England would need to look further afield and win away to South Africa and India in the years to come. Limited-overs success is also a must. The ultimate objective should be to replicate the success the Australians had over the previous two decades, and not to simply be the number one ranked Test team.
To find the last time England could claim to be the best, I consulted Cricket Web's own Dave Wilson's retrospective rankings which he wrote about in Best of the Best. If you're an England fan, you might want to look away. Then again, why would you bother? You know the story. England were number one between 1978 and 1980 – this is a number one ranking which came about in the wake of the Packer exiles. So we go back further. England sat on top between 1970 and 72. Great! What's that? South Africa got the boot in 1970 and England gained the spot by default.
You have to go all the way back to 1967-69 to find England earning the top spot simply because they had the best players. You might have heard of the 60s, The Beatles were the biggest band in the world and The Rolling Stones were young men. England's oldest player, Andrew Strauss, was minus eight years old last time England were the world's best team.
As an aside, Dave did offer some revisions to the ICC's system in Improving the ICC Test Team Rating System. This system does give England a brief sojourn at the top in 1974 but that's in exchange for losing a few spells at the top earlier in the Twentieth Century. Either way, it's pretty grim for an England supporter!
England have a golden opportunity to set themselves apart from a few generations of cricketers. There have been many great England players in the last forty years, but they have never quite made that final step. I believe that England are the real deal, now it's time for them to show the rest of the world that that is the case.