Andrew Gale responds to your questions
Andrew Gale |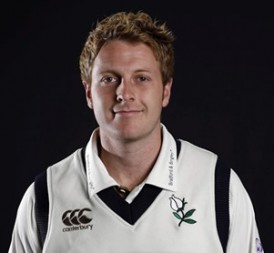 Andrew Gale has responded to the questions posed to him by various Cricket Web members and visitors bringing to the surface some interesting bits of information.
* What sort of breakfast do you guys have on the morning of a match? Light or Heavy?
It depends what sort of cricket I am playing. If it's a one day game I will have a big breakfast, as the start of the game is at 1pm it means skipping lunch. On a championship game I will have some cereal or fruit, followed by beans on toast or some scrabbled egg on toast.
* Who are your favourite cricketers?
Marcus Trescothick is someone who I have tried to model my game on a lot but also Michael Vaughan as I have learnt from him. I also admire Darren Lehmann and Jaques Rudolph
* Which innings are you most proud of?
Probably my hundred against Lancashire. It was a dogged innings but any roses hundred is very special.
* The English domestic structure has come under a lot of fire in recent times. Do the players see any inherent problems in the system and if so what are some areas for improvement.
I think there may be too many kolpak players within English cricket. Although I think kolpak players have improved the standard of the English game, every kolpak player is taking the place of a young English player. I think 2 kolpacks per team and 1 overseas would be fair.
* Who are some young players to look out for?
Gary Balance at Yorkshire is an exciting young player as is Adam Lyth. I think Adil Rashid and Joe Denly will represent England in the next year or so.
* Who should be wicketkeeping for England?
I think Matt Prior is the man for the job, he had a good series against S.A, he just needs to find his form more consistently. I also think Phil Mustard was a little unlucky to be left out, as I think he is a good one day player.
* How has the Indian Champions League and the Stanford competition affected day to day stuff in the dressing rooms in county cricket? Do guys talk about it a lot and is it always in the back of your minds?
Obviously all the players would like the chance to play for the money that is being branded about, but the Yorkshire lads are just trying to win some domestic trophies which leads to international exposure for ICL/IPL contracts.
* Are there any players outside of the current England squad that you feel should be regulars in the 1st XI?
I think Owais Shah has been a little unlucky not to play more, I think he is a great player.
* Who can hit the ball further between you two?
Ha, dunno, probably Chris, he's fitter!!!
* Who is the fastest bowler you have faced in County Cricket?
Steve Harminson bowled a couple of lightening spells at me this year, which I have bruisers to prove it!!
* As openers, how often do you or the coaching staff analyze your own batting technique? I know that there is a general tendency to only scrutinize your technique when you are going through a bad run of form but do you watch videos of yourself to analyze your own batting technique? If so, have you noticed any errors in your technique that have crept into your game over time?
Yeah I constantly watch videos of myself to analyse my game. Bad habits do creep in during the season so its important to work hard in the nets. As far as my own technique, there is always things to work on at the moment.
* Have you noticed any differences in the amount of swing with the Duke balls since your debut year?
The 2007 duke balls did tend to swing more than the 2008 ones, but a ball is a ball to me, see it, hit it.
* Do you have any superstitious activities that you carry out before or during your time at the crease?
I don't like odd numbers on volume controls, don't ask why. Chris is worse than me!!
* Who is the best bowler that you have faced in your career thus far?
Murali, he was so hard to pick.
* From talking to your overseas team mates at Yorkshire, how do they rate the standard of County Cricket compared to cricket in South Africa or Australia? And have either of you played club cricket abroad during your winter months? If so what is the standard like?
Jaques Rudolph tells me the English domestic game is far stronger than the SA one. I have played one season is Sydney and the standard of club cricket was far better.
* Andy, it is well known that Darren Lehmann is a well respected person both on and off the field and is quite knowledgeable about the game, how significant has his presence at Yorkshire been for you? The same for you Chris as well.
'Buffer' helped me significantly. His positive approach and attitude towards the game was awesome. His game plans for each bowler were very particular and he talked me through the game whilst batting with him.
* How much difference is there to playing cricket at day compared to night, with regards to batting, fielding etc? Does the ball swing a lot at night? And what is your preference and why?
It depends on the quality of the lights. Permanent flood lights seem to be far better than the temporary ones. I find it particularly hard to catch the high balls, it seems really hard to judge against the night sky.
* In the offseason, indoor nets aside, what is the main training routines that you take part in? (ie gym, running etc.)
I have had October off to relax and I went on holiday. I have just recently had an elbow operation that will kepp me out till after xmas. After Christmas I will begin to really hit the fitness hard and the nets, doing about 10 hours gym work and 10 hours net time.
* Where do you see yourselves in five years time?
I would like to see myself being a regular in the England side, I would also like to captain Yorkshire at some stage.
* If could go back in time to any era of the game to watch and play, where would it be and why?
I would like to think I am playing in the best era of cricket now. There is more money involved and some of the best grounds ever seen at cricket. Cricket is on the up and it's a very exciting time to play.
* How did either of you get involved with cricket? Was it family thing, or from your childhood friends or even school?
Grandfather played local league cricket, so I went to practice when I was 9 years old at my local club Gomersal, a year later I got chosen to represent Yorkshire u11's.
* If it wasn't for cricket, what you do for a living?
Probably running my coaching business full time, www.procricketcoachingacademy.com, I am passionate about business and really enjoy doing it.
* Outside of cricket what do you do in your spare time?
Like I said, I like to run the business along with Chris, I also have a season ticket at Huddersfield Town, so I try to get down to watch them as much as poss.
* Who is the practical joker amongst the team?
Probably have to say Anthony McGrath, he's always taking the mick out of someone, usually the Fizz!!
* Favourite meal, drink, book, movie, music?
Meal – Fish and Chips (don't tell the fitness coach)
Drink – Fanta
Book – Any James Patterson ones
Movie – Topgun
Music – Simply Red
* -What's the funniest sledge someone's given you?
Lets end this lads nightmare
* -Do you prefer 2020 or the longer one-day format & why?
I enjoy the 20's but I get more satisfaction from winning in the longer form. The best team always wins over 4 days, but that doesn't always happen in the 20's.
* -Which football/rugby teams do you support?
Huddersfield Town, Bradford Bulls
* -League or union?
Definitely League, hate all that kicking in union!!
* -Do you know of any players who sneak a look at CW or other cricket forums (no names, no packdrill)?
I am sure the lads check out the cricket sights from time to time.
* As an opener, do you find extreme pace or swing a more difficult challenge to face early in an innings?
The swinging ball is probably the hardest thing.
* Do you agree with Kevin Pietersen and Andrew Flintoff when they say that young players should try and play their natural game and do what feels right to them, rather than trying to learn an applied technique out of a coaching manual?
Yeah, if you have a natural attacking game, don't forget it. The best players are sometimes the most unorthodox ones as bowlers struggle to find the lines and lengths to bowl at them.
* From the players perspective is a 21st century Roses match just another fixture or is it still something different?
There is still a lot of prestige in playing in the roses game. it's the first fixture I look for when they come out.
* Would you like to see the amount of domestic cricket played reduced?
Less cricket, more training, I think this would improve the quality of the game and stop players from going stale.
* Other than Headingley, what is your favourite ground you've played at?
Scarborough
* Is Adil Rashid a better bowler or batsman?
Adil has the ability to be a genuine all rounder. At the moment I would say his bowling is better, but given time he has the attributes to be a top order batsmen.