Who is the Finest All-Rounder to have Graced the Game?
Martin Chandler |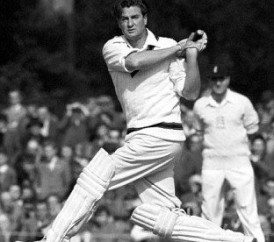 Our very own Dave Wilson wrote a fascinating feature about all-rounders a couple of years ago. It was all the more interesting because of the conclusion, more particularly the fact that none of Imran Khan, Kapil Dev, Richard Hadlee or Jacques Kallis really figured. Of course what Dave was trying to establish was a little different from the usual "who was the best all-rounder" question. And he chose a particular methodology, and doubtless he might have used slightly different but equally valid bases that would have produced slightly different results. But it certainly confirmed part of my views about the overall quality of the game's great all-rounders, more particularly that had Ian Botham's career ended around 1985 he would unarguably be the greatest ever, and that the bowling of my other personal favourite, Garry Sobers, does militate against him having a particularly high placing.
What surprised me most was the trio at the top, George Giffen, Keith Miller and Aubrey Faulkner, so I decided I would throw my decidedly unscientific approach at the three of them and have a look at their respective merits.
Faulkner is a fascinating, tragic figure who eventually took his own life at the age of just 48. He was one of the quartet of South African wrist spinners who perfected the googly in 1905/06 and with it stunned Plum Warner's MCC tourists, initially by taking South Africa to their first ever victory in the opening Test, and then going on to take three out of the other four to end up with a resounding series victory. But does he deserve to rank amongst the three greatest all-rounders in the game's history? I have to say that I think not. He played for his country 25 times, but ten of those were at home against England sides that were, realistically more of a second XI than anything else, and three were against Australia in the ill-starred Triangular Tournament in England in 1912 when the Aussies were missing six of their best players, including their leading batsmen, Victor Trumper and Clem Hill, their premier pace bowler Tibby Cotter, and also one of their greatest captains, Warwick Armstrong, who was also a good enough all-rounder to, I would think, not have missed Dave's list by very much.
So what of Giffen, a man who dates back to the very earliest days of Test cricket – is he top three material? He played 31 Tests over 14 years so again the sample size cannot really be criticised, but I do wonder just how far he would have slipped had Dave disregarded his stellar performances in 1894/95 when he scored 475 runs at 52 and took 34 wickets at 24. In England Giffen played as many as 13 Tests yet with the bat averaged just 17 and with the ball his wickets cost him more than 30 runs each. In the circumstances I have little difficulty in concluding that, fine player as he undoubtedly was, Giffen does not belong in the very highest bracket of all-round cricketers.
Which leaves just Keith Miller. Is he up where he belongs, or is he too only above the modern greats by a statistical quirk? Certainly his achievements in the game, however they are looked at, merit some serious consideration. Miller played in as many as 55 Tests and, using more traditional measures than Dave's, a batting average of 37 and a bowling one of 22 are mightily impressive. So I decided to have a closer look at his record.
Miller began his First Class career in February 1938 at the age of just 18. A young man who had, until he grew a foot in height in just 12 months between the ages of 15 and 16, wanted to be a jockey, scored 181 on debut. It is true that the opposition were Tasmania, and that the Victorian side he was playing for was very much a second string, but none of his teammates could score more than 62, and Tasmania were by no means pushovers, and comfortably drew the game.
There were 11 more First Class matches for Miller for Victoria in the following three seasons during which he batted pretty well, averaging 28. He recorded his second First Class century, in less than three hours, against Bradman's South Australia over the New Year of 1939/40. As the young man put an attack including Clarrie Grimmett to the sword Bradman took note, as did Australia's batting hero of a previous age, Clem Hill, who predicted then that Miller would play Test cricket.
After those 11 games there was just one more match before war service claimed Miller when he was selected for a side raised by Stan McCabe for a benefit. In the fourth innings of the match, paceman Jack Ellis being injured, Miller was pressed into service to open the bowling and took his first First Class wicket before Grimmett and Tiger O'Reilly took the other nine – in his twelve matches for Victoria he had bowled just a single over so his ambitions, at that stage at least, were confined to his batting.
Soon after that match was over Miller joined the RAAF where he became a pilot. In March 1943 he arrived in England but the call to a frontline squadron did not come until as late in the day as April 1945, and research carried out by Mark Rowe for his 2010 book, The Victory Tests discovered, contrary to the popular perception of Miller's war, that in fact he only ever flew two combat missions. Not that that really matters very much, as there is no doubt that Miller did all that was asked of him. For the game of cricket the significant moment in his war occurred when he was forced to perform a "pancake" landing in training when his engine stalled. The resultant back injury never completely cleared up and was to cast a shadow over the rest of his career.
Miller the batsman gradually developed his reputation in wartime cricket and, with England's most glamorous cricketer Denis Compton in India, he was the leading attraction in the five "Victory" Tests that were played by an Australian Services XI in the summer of 1945. He scored two centuries and averaged more than 60 in that series. In the third game Miller first gave notice of his all-round brilliance. Up to that point he had taken just three wickets all season but, by common consensus bowling at a greater pace than anyone else seen at Lord's that season, he produced match figures of 6-86 in Australia's four wicket victory. Later on in that first summer after VE Day, again at Lord's, Miller produced what was to remain perhaps his finest innings, 185 out of 336 for the Dominions against England at Lords. That bastion of the establishment Plum Warner described it as the greatest innings he ever saw.
Miller was a certain starter for Australia's first post-war tour, to New Zealand and that is where he made his Test debut in the one-off representative match scoring 30 in Australia's only innings of 199-8. New Zealand were ignominiously bowled out for 42 and 54. Miller did not bowl in the first innings but in the second took 2-6 in six overs as, for the first time, he opened the bowling with Ray Lindwall.
The first big Test of Miller's career was the 1946/47 Ashes series. He scored an unbeaten 141 in the fourth Test and averaged 76. His 16 wickets came in only 122 overs at a cost of just 20. In the first Test he took 7-60 in the England first innings, including six front-line batsmen, and in doing so demonstrated a Sobers-like versatility as, after rain, he did most of the damage bowling off spin from a much reduced pace.
Miller's figures for the 1948 tour of England suggest that he was one of the least successful of The Invincibles although the tour vividly illustrated one of his best known character traits, that being the difficulty that he had in motivating himself for an uneven contest. The best illustration of that was his innings against Essex on the day Australia piled up a small matter of 721. Miller pulled away from a straight one from Trevor Bailey to be bowled for a duck. It is said he was on his way back to the pavilion before the bails hit the ground. There were lots of those sort of days in 1948 as the Australians were seldom tested, but when they were Miller delivered. Early in the tour they looked at one stage like they might lose to Yorkshire. Miller the bowler took 9-91, and in a low scoring match in which no other batsman scored more than 21 he contributed 34 to Australia's first innings. Hampshire never looked like winning but, at one stage, it looked like they might get a draw. Miller came into the attack and took five quick wickets to put all such thoughts to bed.
The story was similar in the Tests where Australia cruised to victory in four of the Tests and drew the other. In the second Test, with Lindwall injured, Miller bowled as many as 44 overs and took four important wickets including Len Hutton, Cyril Washbrook and Compton. In the fourth Test, with his team in some trouble by the standards of the tour, it was Miller who came in and scored a solid half century to steady the ship, and see a young Neil Harvey to a century on debut.
Having made the point about Miller needing a challenge I will, for once, backtrack a little to the previous Australian summer of 1947/48 and the first visit to Australia by an Indian touring team. Lacking their two best batsmen, Vijay Merchant and Mushtaq Ali, the Indians were all at sea and lost three Tests by an innings and another by 233 runs. Bradman averaged 178, but Miller struggled to give of his best and his performances were moderate – a minnow-basher he was not.
Miller was not initially selected for the 1949/50 party that toured South Africa. The reason was, apparently, that he had bowled some short stuff at Bradman in a benefit match and the great man was not amused. Whether that is strictly true or not he ended up being called up as a replacement when Bill Johnston was injured and, his team dominant again, his returns were characteristically steady rather than spectacular.
In 1950/51 Australia beat England 4-1, conceding the final Test for their first post-war defeat. It would be wrong to suggest that the margin of victory flattered Australia but it was not, as in 1946/47 and 1948, all one-way traffic and Miller rose to the occasion this time topping both the batting and bowling averages for his country and making major contributions with bat and ball to his country's big wins in the third and fourth Tests.
It was much the same story in 1951/52. After West Indies unexpected and convincing victory in England in 1950 a series was hastily arranged and billed as the game's World Championship. Again it was 4-1 to the home side but, more so than in 1950/51, the games were competitive. Two of the margins of victory were by one wicket and three wickets. If the tourists had held on to a few more catches then despite the troubles that all of their batsmen had with Lindwall and Miller they might still have snatched a famous victory. Miller averaged more than 43 with the bat and his 17 wickets cost just 17 runs each.
The next phase of Miller's career involved a routine home series against South Africa in 1952/53 and then the Coronation Year Ashes series of 1953 when, amidst emotional scenes at the Oval, England finally wrested back the Ashes for the first time since Douglas Jardine's team had done so twenty years previously. By Miller's standards he played poorly but, had it not been for the epic rearguard action of Willie Watson and Bailey at Lords then Miller's century would certainly have brought his side the second Test and in the fourth Test, injured back or no injured back, he sent down 75 overs altogether and his four second innings wickets might, had Hassett sent him into bat in the Australian second innings, have led to a famous victory – as it was Australia ended up just 33 short of victory with six wickets still to fall and Miller sat in the pavilion.
Miller turned 35 during the opening Test of the 1954/55 series and it is fair to say that Frank Tyson and Brian Statham out-performed him and Lindwall during the series. With the bat Miller failed to make a half century, although it must be possible that had he been fit to play in the second Test he might have contributed the 38 runs that made the difference between England levelling the series and Australia going 2-0 up. With the ball he took just 10 wickets but twice burst throught the England top order. At the start of the third Test he ripped out Hutton, Compton and Bill Edrich at a personal cost of five runs and, as England limped to 97-5 to win the fourth Test he removed Hutton and Edrich again, as well as Colin Cowdrey in his first three overs to leave the visitors reeling on 18-3. At 49 Miller brought off a spectacular catch in the covers to dismiss Peter May, but in doing so damaged his shoulder and could not bowl again, much to England's relief.
Perhaps oddly Miller's best series statistically followed on just two weeks after that demoralising defeat by England as Australia toured West Indies for the first time, and won the series 3-0. There were runs aplenty for all and Miller passed his century three times on his way to a series average of 73. With the ball he averaged 32, his highest figure in any series in which he played, but in taking 20 wickets in a series where bat generally dominated ball that is a misleading statistic. It was a superb performance from the 35 year old.
In 1956 it was back to England for the third and final time and another England win, thanks in the main to the wonderful bowling of Jim Laker. Like all the Australians Miller struggled with the bat, averaging just 22 with a single half century, but the man with the dodgy back had one last and almost miraculous hoorah as he bade goodbye to Lord's with his only ten wicket haul in Tests, five in each innings, as Australia went 1-0 up in the series by virtue of a convincing 185 run victory – were the pitches at Headingley and Old Trafford deliberately doctored to make Laker all but unplayable and to deny Miller's heroics the reward they deserved? The answer is probably yes, but that is a story for another day.
Although the 1956 tour represented the last full summer of First Class cricket that Miller would play there was one Test left for him which, like his debut, was a somewhat unsatisfactory one-off match played on a difficult wicket. On their way home from England the Australians stopped off in Pakistan for their inaugural Test although the result was rather different from that in New Zealand a decade previously. Again neither side scored heavily but Australia had no answer to the wiles of Fazal Mahmood on the Karachi mat, and lost by seven wickets.
Miller never played a First Class game in Australia again but he did, in 1959, agree to play a few games for the MCC after he was made an honorary member of the club. Sadly there was to be only one truncated appearance as a torn calf muscle saw his career end with a whimper rather than a bang but he had, as a warm-up, guested for Nottinghamshire the previous week in their match against Cambridge University when he had taken a couple of wickets, scored 62 and 102 not out and, such was his appeal, attracted more than 5,000 spectators to Trent Bridge for an otherwise wholly unappealing fixture.
Having looked at Miller's career I now need to look at whether there any features of that which suggest his statistics might be misleading. It seems to me that there are several. Firstly Miller's international career did not begin until he was 25 because of the war. Did he miss his best years? The answer to that question is, inevitably, pure speculation, but by the time he reached the age Miller was on his Ashes debut Ian Botham's greatest deeds were already history, so perhaps they were.
What if Miller had had a Bradmanesque attitude towards the acquisition of runs and wickets, and had been happy to indulge in a bit of minnow-bashing when the opportunity presented itself? The testimony of his peers apart it is quite clear from Miller's career statistics that he found it difficult to raise his game against weaker opposition. It seems pretty clear to me that had Miller had a different mindset in those series against India and South Africa in the early part of his Test career then his Test batting average would certainly have been north of 40, perhaps even touching 50, and his bowling average less than 20.
I also find it difficult to overlook Miller's lack of enthusiasm for picking up cheap wickets at the end of an innings. Time and again it was the top order batsmen who were his victims. Of his 170 Test wickets 45 were opening batsmen and just 12 from ten and eleven. There is, I appreciate, a certain skill in knocking tailenders over quickly, but surely Miller had that and, had he chosen to court his captains' attention at the end of innings he would have picked up plenty more cheap wickets.
But perhaps most of all I bear in mind that Miller was never fully fit. In some Tests his back problems prevented him from bowling at all, and in others he was limited to just a few overs. He cannot ever have been quite the bowler he might have been without that injury, and lest it not be forgotten that applies to the entirety of his Test career, and I cannot believe that, although he never complained of it that I am aware of, his batting wasn't just a little hampered by the problem as well.
In 1977, in the lead-up to the Centenary Test, an Australian newspaper conducted a survey to establish which single player Australians would like to have transported forward in time to make up their eleven for that historic encounter. As an Englishman I think I can be forgiven for anticipating that the interest in the result would be in who came second which, I suppose, in a way it was, because it was Bradman who was runner-up to Miller.
Inevitably the way that Miller played the game would have contributed to that result. No one harvests runs and wickets in the quantities Miller did without taking the game seriously, but Miller was also a showman, and a man who tended to live each day as if it might be his last. David Frith summed him up rather nicely; His stride was that of the catwalk. His sleek hair anticipated Elvis Presley by some years. And his flashing smile showed admirers and adversaries alike that he was delighted to be there, privileged to be enjoying himself in the cause of entertainment. He was looking forward to swinging his bat, banging down a bouncer or plucking a catch out of nowhere.
There are several legitimate candidates for the title of the game's greatest all-rounder, and all have their supporters. In common with most such debates views that have been set in stone for years are rarely changed so the arguments go on. Unlike many I have never been totally convinced of who should have the accolade, but in the past have tended to ignore the sad decline and nominate Ian Botham. But having taken a long hard look at Miller I do now see him in a rather different light. What difference would it have made if he had been born six years later, had a determination to obliterate the opposition whoever they were, and a 100% undamaged spine? I rather suspect that the answer to that is that there really wouldn't then need to be a debate about who was the greatest all-rounder the game has seen, as the answer would be as plain as the one to the same question about batsmen. So having thought long and hard about the question I have decided the next time it comes up on the forums, as in one guise or another it will inevitably do sooner rather than later, my vote is going to go to Keith Miller – sorry Sir Ian.