Who Is India's Best Cricketer in 2023?
Richard Bradford |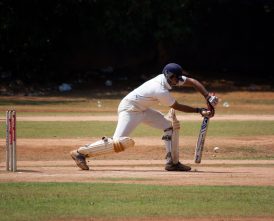 Currently perched atop both the men's T20 and ODI rankings according to the International Cricket Council (ICC), India are rightly regarded as one of the best (if not the best) cricketing side in the world right now. But who stands out at an individual level among their ranks?
Given that cricket is a sport played across three different formats (T20, ODI and Test), it's difficult to pinpoint a single player who outshines all others. Having said that, it's definitely possible to whittle down the list of candidates. With that in mind, we've compiled a shortlist of the men we think are India's best cricketers in 2023.
Suryakumar Yadav
Known informally as SKY, Suryakumar Yadav is currently the best T20 batsman on the planet. Anyone who likes to place a wager on cric live will be well aware that he is virtually unstoppable once he hits his stride, though he's unproven on the ODI stage (having only played 20 matches to date) and has never participated in a Test game so far. A late bloomer, he was only called up to the Indian team once he had already entered his 30s, but he appears to be making up for lost time right now.
Virat Kohli
In a career spanning more than 15 years, Virat Kohli has done it all. He has 8,195 runs in 106 Test matches, 12,809 runs in 271 ODI matches and 4,008 runs in 115, giving him one of the highest batting averages of any batsman to take to the field for his country. He is also a former captain of India and has one World Cup winner's medal with the team (from 2011), as well as coming runner-up in both the 2014 T20 World Cup and the 2019-21 Word Test Championship. At the age of 34, he still continues to be one of the leading lights of the sport domestically and internationally.
Ravichandran Ashwin
As the fastest Indian bowler to reach the milestones of 50-, 100-, 150-, 200-, 250-, 300-, 350-, 400- and 450-wickets in terms of innings bowled, Ravichandran Ashwin has a strong claim to be the best bowler the country has ever produced. Indeed, he currently sits top of the ICC's Test rankings for bowlers; alongside that considerable achievement, he's also a hugely accomplished all-rounder. He has scored five Test centuries and won nine Man of the Series awards for Test matches, which is the most of any Indian cricketer ever.
Jasprit Bumrah
Quite simply, Jasprit Bumrah is a fast-bowling sensation. With his unorthodox style, he can catch opponents off-guard through his short run-up, jerky elbow and incredible pace. All of these ingredients mean that he can deliver a pinpoint yorker or a torturous inswinger as the occasion demands – and it's this diversity in his abilities which makes him perhaps the most complete bowler playing the game today. Unfortunately, his career has been ravaged by injuries, but when he's fit and firing, he's more than a match for anyone.
What do you think? Have we correctly identified the best Indian cricketers playing the sport today? Or is there someone we've inexplicably missed out? Let us know your opinion in the comments section below.