Whinging Poms?
Martin Chandler |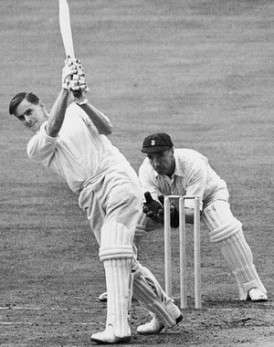 English cricket took a long time to recover after the Second World War. There were heavy defeats to Australia in the first three Ashes series, and a comprehensive defeat at home by the West Indies in 1950. But the game was as cyclical then as it is now, and by 1953 the recovery was underway and in that Coronation Year England's first professional captain, Len Hutton, finally wrested the famous urn back after 19 years.
By the time England, now captained by Peter May,left for the 1958/59 series in Australia two more Ashes contests had been won comfortably enough, and England had not lost a series anywhere. For once there was no controversey about the selection of the party. Former Australian opening batsman turned writer Jack Fingleton spoke for the vast majority when he described it as On paper at least, one of the strongest teams ever to represent England abroad.
The fast bowling was headed by the heroes of 1954/55, Frank "Typhoon" Tyson and Brian Statham. It is true that Tyson's career had gone backwards since his glory days four years previously, but he was only 28, and his selection was fully justified. Statham was the same age, and he was at the peak of his powers. Also selected were Fred Trueman, then
aged 27 and unarguably one of England's finest ever quick men, and Peter Loader,who lost little in comparison with the competition. At 29 Loader was a year older, and he only ever played 13 Tests, but in an era when there was less competition he would have played many more, and as it was his 39 Test wickets cost him just 22 runs each.
The Australians knew what was coming, so the wickets that greeted the tourists had had some of the pace taken out of them, making the spin department an important feature of the squad. The two men who had supported Tyson and Statham so well four years earlier, Yorkshiremen Bob Appleyard and Johnny Wardle were both missing. Appleyard was only 34, but he had lost form so badly that his career had ended in the English season that had just concluded.
As for Wardle he had been selected in the original party, but was removed from the side following his being sacked by his county for publicly criticising his captain. He too left the First Class game in 1958, but in his case the loss was an acute one, because he was still a fine bowler, 91 wickets at 15 being his reward for his season's work by the time of his sacking at the end of July.
The two spinners who did make the trip were the great Jim Laker, and his Surrey colleague Tony Lock. Laker was 36, and announced before the series began, surely injudiciously, that the 1959 season would be his last. He had long had problems with an arthritic spinning finger, and he had not toured Australia before as a result of the general view that it would not suit his bowling. Despite his injuries and perceived unsuitability he still topped the England bowling averages in the Tests. As for Lock he was 29, and a fine attacking bowler. For him though the tour was a huge disappointment, and after seeing himself on film during the New Zealand leg of the tour he finally saw the truth of what had been said about his action for years, and went off and remodelled it, to be fair to him completely successfully, but that did not help England in 1958/59.
Eventually the selectors did wake up and smell the coffee and called for another spinner, and this was the one area where few agreed with their choice. The man who got the call was Gloucestershire's John Mortimore, but although his unbeaten 44 in the first innings of the final Test meant he topped the England batting averages for the series, he was never going to succeed with the ball in Australia. If the selectors wanted an off spinner Roy Tattersall, Ray Illingworth, Fred Titmus or even Mortimore's young teammate David Allen would all have been a better bet, although what they really should have done was pluck Wardle out of the press box.
The batting did not look quite as strong as a few years earlier, Hutton, Denis Compton and Bill Edrich all having retired, but Peter May and Colin Cowdrey were of the highest class. Tom Graveney's best years still lay ahead of him but he, Peter Richardson, Raman Subba Row and Willie Watson were a talented bunch. After joining the party as a replacement a young Ted Dexter failed, as did double international Arthur Milton, but there was always Trevor Bailey, approaching the end of a fine international career, but still the best all rounder in the country. As for the wicketkeeping there were two top quality performers in the party, veteran Godfrey Evans and youngster Roy Swetman. Both featured in the series, but Evans' batting, never truly up to Test standard, was well on the wane, and Swetman simply wasn't an all-rounder. Between them they scored just 83 runs. For England this was perhaps a game-changing moment – within two years specialist batsman Jim Parks, pressed into service behind the stumps by Sussex in the summer of 1958, was doing the same job for England.
The average age of the England party was 29.17. The Australians who played against them were, on average, more than two years younger. Their batting was led, unlike England's, by two specialist openers, Colin McDonald, who had a superb series and Jim Burke. Neil Harvey and 21 year old Norm O'Neill also did well. Les Favell, Peter Burge and Bob Simpson also figured. Wally Grout kept wicket throughout the series and skipper Richie Benaud, Ken "Slasher" Mackay and Alan Davidson were a formidable trio of all-rounders in the middle order. Ken Slater and Lindsay Kline figured briefly to assist Benaud with his spin duties, but the main interest was in the pace attack which was made up of Davidson, Ian Meckiff, Gordon Rorke and, for the fourth and fifth Tests, 37 year old veteran Ray Lindwall.
Before looking at the off-field furore that, at the time, rivalled that which Douglas Jardine's "Bodyline" tour had generated a quarter of a century previously, it is worth looking at the Tests themselves. Of the first, as usual at the Gabba in Brisbane, trenchant English journalist EM "Lyn" Wellings wrote England lost the match. They richly deserved to lose it. As I left the ground it was with the feeling that the more often they could lose similarly the better it would be for cricket in England. Wellings acknowledged that England had the worst of the wicket, which was well grassed, but underprepared and dry, but was livid at the run rate of 1.68* that they achieved in limping to 134 all out in their first innings. Then in the second that already derisory rate went down still further to 1.24*, Bailey taking more than seven and a half hours to score
68 out of 198. The Australians were not a great deal better until, thankfully for the paying public, O'Neill got going in their second innings, and led them to an eight wicket victory. Quite apart from the turgid batting England were lambasted also, and quite rightly, for not even being able to manage 12* overs per hour. Benaud celebrated the victory, but said the match …produced some of the slowest and worst cricket imaginable.
Australia's winning margin was eight wickets in the second Test as well. England, and Bailey, were not quite so laboured this time, and there was a century for their captain May, but the first innings totalled no more than 259. Australia's lead was 49. Had it not been for one of the great Ashes innings, 167 by Harvey, then May's efforts might not have been in vain. As it was 49 was plenty as England subsided to 87 all out in their second innings.
The third Test at the SCG was drawn. On a lifeless pitch, had May been just a little more positive his side might have
clawed their way back into the series. England's first innings totalled 219, and while they were never going to get a lead, by the time Australia slumped to 208-6 in reply there was a chance to push for victory. Laker and Lock had taken all six between them, and if at that point they had been given the benefit of the field placings they enjoyed at home in 1956, then it must be likely that Mackay and Davidson would not have been able to add the 115 they did, that saw Australia to a lead of 138. In England's second innings, thanks almost exclusively to May and Cowdrey, they achieved their highest total of the series. That it was just 287 speaks volumes, although May did also have the luxury of declaring with seven down.
Due to loss of time to rain earlier in the match that left Australia to score 149 in 110 minutes. They never went for the runs and the game petered out, but there were two more wickets for Laker. Had the Surrey pair had a decent target to bowl at, and a day to work with, the result might just have been different.
Laker did not play in the fourth Test, and was replaced by Tyson, though the Typhoon of old was, as 1-100 testified, not the bowler he had been. Australia batted first and did well to get to 476. It was not quite enough for an innings victory, but was not too far short, England responding with 240 and 270, but the margin was ten wickets. For England all the batsman made one start, and May and Graveney did in both innings, but no major contribution followed.
The final Test was, sadly for England, virtually a repeat of the first two. Benaud gave them first use of the pitch and, remarkably, in doing so became the first skipper to win an Ashes Test after putting the opposition in for almost half a century. For England there was a decent innings from Richardson, but little else, and they were all out for 205. For Australia McDonald followed his 170 in the previous Test with another century here and although, as with Richardson, his fellow batsmen failed to support him, Benaud and Grout both made half centuries, and Australia led by 146. A dispiriting 214 followed for England and, May keeping an attacking field throughout, Australia, and McDonald in particular, found plenty of gaps and soon knocked off the 69 they needed for the loss of just Burke.
So why did a tour that began with such optimism end up as a rout? In truth there were several reasons but the only one on the lips of most Englishmen was the legality of the Australian bowling. Meckiff was seen as the main culprit, and he led the Test averages with 17 wickets at 17 in the four Tests he played in. His action was most certainly illegal, although unlike the manner in which some of the English press portrayed him, he was a thoroughly decent man. Rorke played in two Tests, and took 8 wickets at 20. He undoubtedly threw as well. So too did Burke and Slater, thus giving Fingleton the title of his book on the tour; Four Chukkas to Australia. Burke though was primarily a batsman, and took just a couple of (relatively) inconsequential wickets in England's second innings of the drawn third Test. His elbow had the biggest kink of all. Slater bowled off spin or medium fast, and again his action was unquestionably illegal.
Meckiff and Rorke compounded matters for the England batsmen by the "drag" that was a feature of their actions. In those days of the back foot no ball law a fast bowler could get at least a yard closer to the batsman than he can nowadays and Rorke, well over six feet in height, had the most pronounced drag of them all. Not that Meckiff and Rorke were the only offenders on that point. Lindwall, who famously described himself on recall as being the last of the straight arm bowlers, well understood the advantage that could be gained by dragging.
The furore came to a head after the second Test when Meckiff's 6-38 was the major reason for England's humiliating collapse in their second innings. Not only was Meckiff accused of throwing, he was accused of adopting Bodyline tactics as well. That would inevitably have sounded like squealing to the majority of Australians, but there was no getting away from the fact that Meckiff had three short legs and was bumping them down at Bailey when England's makeshift opener was persuaded by a vicious lifter to give
the leg trap a regulation catch.
One of the problems that England had, when it came to taking the moral high ground, was Lock, who all Australia believed threw his quicker delivery. Given that, as noted, just a few weeks later Lock was to remodel his action after seeing film footage taken on the New Zealand leg of the tour, that belief, shared by most of his own camp, was clearly correct. To add to that there were mutterings throughout Loader's career that he threw his bouncer and slower delivery. While Loader was never called his Surrey colleague Laker was certainly one who shared that concern. Many Australians, understandably, leapt to the defence of their own men, former skipper Ian Johnson being particularly vociferous. In his playing days Johnson's action (he was an off spinner) had been questioned more than once, and he was quick to raise the issues with Loader and Lock, although he did rather lose credibility by questioning the actions of Statham and Trueman as well. That said with the benefit of the 21st century hindsight that revealed a kink in Glen McGrath's action he was, technically, almost certainly correct.
And there were other factors at work as well. Team spirit was undoubtedly not the best. Laker had had an early season falling out with May in 1958 when the latter, his county captain as well as his Test captain, had accused him of not trying in a County Championship match. In protest Laker pulled out of the Ashes squad, and although sufficient oil was poured on the troubled waters to persuade Laker to reconsider, it did not amount to a full reconciliation between the two. There was also trouble when Laker declared himself unfit for the fourth Test, manager Freddie Brown's insistence on getting medical confirmation of Laker's indisposition understandably causing offence to one of England's greatest ever bowlers. In fact Brown was a problem generally. The man who had been the baby of the party when Jardine's men toured in 1932/33 was probably the least well-equipped, attitude wise, of English cricket's administrators for the rapidly approaching demise of the amateur/professional distinction. With the sacking of Wardle not helping, and even two of the amateurs getting some criticism in May's end of tour report (Subba Row and Dexter), the dynamics of the side clearly left something to be desired.
England could also legitimately claim to have been unlucky with injuries. There was the by now perennial problem of the Laker spinning finger, but Watson and Subba Row both suffered injuries on the voyage out and missed large parts of the tour. Milton and Evans fractured bones in their hands once the tour was underway, and May himself carried a knee injury for a time. Finally, as a side you know things are not going your way when, as happened just before the final Test, two of your pace attack (Statham and Loader) are injured in a car accident and unavailable as a result.
There were question marks too over the umpiring, and there can be no doubt but that plenty of mistakes were made, two involving Australian opener McDonald. In the fourth Test he, as already noted, scored a fine 170. On 164 there was a huge appeal for a run out which the umpire was unable to call because he had allowed himself to become unsighted. In the fifth Test, early on in his match-winning innings of 133, McDonald played back to Trueman and sent the ball to the fine leg boundary without either umpire noticing a bail had been dislodged. In the former case it didn't much matter because, satisfied he should probably have been given out, McDonald immediately threw the bat at everything he faced and soon succeeded in giving his wicket away, but in the final Test he didn't know what had happened either, so couldn't be expected to do the same. The umpires, on the other hand, could reasonably have been expected to do their jobs properly. There is and was no suggestion of bias, nor that England necessarily suffered more from umpiring errors than Australia but, prior to DRS, as all cricket lovers know, a lack of confidence in umpiring standards never made for an entirely happy series.
The reality of the series was that England didn't play well enough. Too many poor pitches at home had made the batsmen over-conscious about simply surviving, and they had forgotten what is was like to trust the surfaces they played on and play their shots. For the bowlers the opposite was true, and they had become a little complacent, safe in the knowledge that if overhead conditions did nothing for them that the pitch would. Class will out of course, which is why May and Cowdrey batted with some authority, and Laker and Statham gave the Australian batsmen plenty to think about, but you need more than four men to play well to win an Ashes series, and the simple truth is that for England no one else consistently did.
Some Englishmen were entirely realistic and behaved like perfect gentleman, May being a shining example. In the summing up in his book Fingleton wrote Peter May never made a single excuse in Australia. He was the most uncomplaining Test skipper I have known. As for the vocal majority were they just Whinging Poms? – On this occasion, probably, yes.
* Eight ball overs were bowled in this series. References to run rates are for the equivalent of six ball overs. References to bowling rates refer to the actual overs bowled