The 'Enigma' of the Prince
Angikaar C |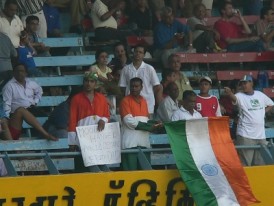 Somehow, something always has to give for Sourav Ganguly.
He was never the epitome of perfection ala a Tendulkar, nor an immovable 'Wall' like a Rahul Dravid. Not even a 'Saviour' ala VVS or a 'Destructive Dasher' like Sehwag.
Yet, as the curtains slowly close in on him with most of the IPL franchisees protesting Kochi's move to sign him, he still continues to invoke furious debate and argument. Even after two years of retirement, Sourav Ganguly can still set tongues wagging with what he does or what he doesn't.
On the day of the auction, the whole breadth and mass of India reacted in different ways. In Mumbai or Delhi, people were mostly uninterested. There were signs of shock amongst a few. In a lot of places, there was mostly derision for Sourav Ganguly. As someone I know from Delhi told me that day, 'Serve him right, arrogant little bugger.'
In Kolkata, there was complete chaos. In Behala (the locality where Ganguly stays), people took out rallies and blocked streets. There were furious demonstrations on the road. People walked the roads in protest with banners which read 'No Dada, No KKR' and 'Kolkata without DADA is never possible.' Within 24 hours of the auction, my inbox was filled with messages to the tune of 'Boycott all KKR's matches'. Another one told me that 'it's not Kolkata Knight Riders, more KARACHI Knight Riders.' (a jibe at Shah Rukh Khan's continued support for Pakistani players) There are Facebook groups by the dozen, all with a lot of members, imploring me to boycott everything that is associated with the glamorous Knight Riders film star owner, Shah Rukh Khan (his movies, merchandise, his franchisee, products he endorses etc).
It is weird in a way. All of this, after all, is taking place in one country. While Mumbai, Delhi and the rest of the country go about their work, Kolkata continues to sizzle with anger and rage. What is it about this one man who can provoke such extreme feelings on one end of the spectrum and complete disregard, even derision on the other?
To answer that, I would have to first put all my cards down on the table. Sourav Ganguly, for me, has been a role model since he first arrived onto the scene. Whether one would attribute this to the fact that I also hail from Kolkata, I would not know. Perhaps I can be called regionalistic. Yet the fact remains that Sourav Ganguly, Dada or the 'Prince of Kolkata' occupies a pride of place in my heart. When he has walked out to bat, I have been there on the crease, with him, nervously expecting the next delivery. I have willed him to perform, to hit that sweet cover drive and prove his critics wrong. I have exalted with him when he has hit a 50 and raised his bat. And I have had my heart broken with him when he just hangs his bat out and gets a nick to slip.
And along with me, so have thousands of other people in Bengal. Because that is where his appeal lies. He is the one current face of Bengal, out there, maybe as an ambassador of Bengal, displaying the might and the flaws of a region. When he fails, Bengal fails. When he succeeds, Bengal succeeds. His fiery temperament and outlook has probably even helped ignite his appeal. For a lot of people, he is the embodiment of Bengal today, forcing the world to look at them even when they might not be interested. And, of striking back when the chips are down.
The state of Bengal has passionate fans, but very seldom, have they produced sporting heroes. It is for this one reason that they idolize Sourav Ganguly. And even after his retirement in 2007, they are still willing to take up cudgels for him. Perhaps, it is a sad indictment of the cricketing scenario in Bengal nowadays.
What Sourav Ganguly's legacy will be to Indian cricket is again too controversial a question. A few people may label him as 'India's saviour', a few as 'an arrogant little bugger'. Probably, he will never invoke the kind of feeling a great such as Tendulkar or Kallis might. But to a lot of people in this region called Bengal, he will always be their Dada (affectionately, 'elder brother' in Bengali).