The Colossus of Roads
Cameron Burge |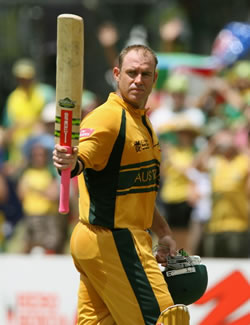 Glenn McGrath and Shane Warne took most of the wickets; Ricky Ponting and Steve Waugh scored more runs. But no player summed up the unbridled aggression and uncompromising self-belief of Australia's recent era of dominance more than Matthew Hayden.
In many ways, Hayden's career mirrored the rise, dominance and decline of the nation he represented. In the early 1990s, Hayden appeared a tentative, outsized novice – he possessed talent and was dominating the first-class scene, yet he appeared to lack the self-belief or edginess to take his game to the next level. He toured England in 1993 and was favourite to partner Mark Taylor in the Tests, but a disappointing start to the tour combined with the rise of Michael Slater led to Hayden's career as a Test regular being delayed for more than half a decade.
What little international cricket Hayden played during this period seemed to call into question his ability at the highest level. On Test debut in 1994, his footwork seemed stilted and the casual viewer got the impression Hayden himself did not believe he belonged. Mustering only 15 and five against South Africa, it appeared the tall Queenslander was well aware he had been promoted as a stop-gap measure for injured captain Mark Taylor. By the time of the 1997 Ashes tour, Matthew Elliot had usurped Hayden, who was not selected to tour. Taylor and Slater were still in the mix, and it seemed Hayden's chance may have passed him by.
I recall watching Hayden in the 1993-94 ODI series, and seeing him hole out to mid-on attempting a pull shot at the SCG, a mode of dismissal repeated several times that summer. Even by that stage, some pundits were muttering that his game was too limited – he could not play well enough off the back foot to succeed at the highest level. Hayden heard the comments, and his reaction was instructive – he went away and practised. Hard and long. Soon he had developed a strong pull shot and greater range of stroke off the back foot, whilst retainign his punishing front-foot range of shot.
Despite his trevails, in the late 1990s Hayden had some influential backers; most notably new captain Steve Waugh. When Elliott went off the boil and Taylor retired, Hayden joined Slater at the top of the order, and Waugh boldly predicted his new opener would average 50 in Test cricket. For a time the suggestion seemed laughable, until Australia toured India in 2001. In three Tests on that tour, having practised against spinners on wearing wickets for months in advance, Hayden belted 549 runs at 109.8. Suddenly, the leaden-footed trier of the 90s transformed himself, almost before our eyes, into one of contemporary cricket's most intimidating batsmen. Over the next seven years, Hayden would plunder attacks, setting the tone at the top of Australia's order, and putting into practice the team's stated aim of attempting to score at four runs per over in Tests. In an era of roped outfields, flat wickets and lack of swing, Hayden was the embodiment of bat's domination over ball. He turned himself into Australia's most successful opening batsman ever.
It was an approach which largely worked, though occasionally came unstuck. Most notably for Hayden, during the 2005 Ashes series he was troubled by the pace and swing of England's rejuvenated and mint-powered attack. By the last test his place was on the line. True to script, Hayden produced his most patient innings of the series and made a hundred. There followed a more circumspect approach for several seasons and a return to the production line of runs which he had previously produced.
In the one-day game, Hayden also had his ups and downs. On the verge of being dropped during the Australian summer preceding the 2007 World Cup, he grafted an unconvincing century in Perth to assure selection, then in the Caribbean went on a merciless plundering of all and sundry and earning the ICC's ODI player of the year award for 2007 and 2008. Adam Gilchrist often stole the headlines, but Hayden's 6,100 ODI runs at 43 with a strike rate approaching 80 runs per hundred balls are no mean set of numbers either.
As Hayden's career blossomed and Australia's juggernaut rolled on, the man himself presented as an enigma. A religious man, Hayden crossed himself when he scored centuries and was a charming dressing-room drinking partner at the end of a day's play; yet felt no apparent remorse at offering incessant and unflattering on-field commentary on opposing batsmen's ability and technique. In later years, his on-air impersonation of young Indian bowler Ishant Sharma also caused offence to many sub-continental followers of the game; whilst his giving evidence in the Harbhajan Singh race row inevitably divided opinions.
Hayden's muscular stroke play hardly evoked memories of Frank Woolley or David Gower, left-handers regarded highly for their elegance. But there was a brutal efficiency about him which rendered many attacks impotent. There were aggressive openers before Hayden, but how many of them walked down the wicket to opening bowlers? How many of them deposited new ball bowlers 12 rows back at the M.C.G. in the first hour of an Ashes test, as Hayden famously did to Craig White in 2002? Moreover, how many who could do so told their partner they were about to do it? How many could cause Steve Waugh to wander down the pitch and remark that Hayden was batting so well, Waugh himself felt embarrassed?
In 2006-07, when Hayden's great mate and prolific opening partner Justin Langer was playing his last Test innings, he told Hayden to end the 5th Test againsy England in Sydney as soon as possible, as Langer was getting emotional and feared he would be dismissed. With seven runs required, Hayden complied – belting the next ball for six then immediately stealing a single to grant his mate's request. The next summer against India, Hayden scored a century in each of the three Tests he played. It seemed he was unstoppable.
Alas for Hayden and Australia, age quickly caught up. An Achilles injury prevented him touring the West Indies and his return to the side for the tour of India was unsuccessful. Meagre returns against New Zealand then South Africa saw Hayden under increasing pressure, and when he was omitted from the one day series against the Proteas, Australia's most successful opening batsman announced his retirement from the game.
Matthew Hayden's legacy is not the number of runs (over 8,000 at Test level, with a then record highest score of 380) or centuries (30) he scored, but the manner in which he scored them, and what he went through to even make the team. On more than one occasion, Hayden re-built his game, set aside his disappointments and worked as hard as anyone in the game's history to make the most of his talent. In retiring, he paid special tribute to his brother; whom he credits with spending thousands of hours bowling tens of thousands of balls to him in the nets – for the patience and dedication he displayed in helping get Hayden to the top. His brother's keeper indeed.
Hayden turned the tables on bowlers. From the outset, he looked to be aggressive, and with his bulk and power he bullied attacks around the world. When he played it seemed as though the batsman was striking back: that after years of ducking and weaving, here was an opener who intimidated the bowlers with his physical presence, the force of his strokes and that of his personality.
Now, with Hayden gone Ricky Ponting is the last Australian player of this era who can rightly carry the mantle of greatness. Hayden joins Warne, McGrath, Langer and Gilchrist as contemporary giants who have left the national team within three seasons of one another. Despite the roles each of the others played over the past decade or more, in a way it is Hayden who defined the team's approach to the game, and the era.
So often he set the tone for Australian aggression; he nearly always took on the bowling in all forms of the game, usually from ball one. He was strong of deed and not lacking of word. He was big, he was fit and he was confrontational. Adversity made him strong, as Australia's adversity in the 1980s made it strong in the 90s and 2000s. He believed in himself and in his teammates, epitomising Waugh's "Back Yourself" approach to the game, and his name will always be rightly associated with this period of Australian hegemony.