The Case for Kallis
Gareth Bland |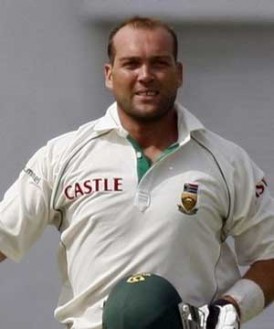 In the opening Test match of this summer's truncated series between England and South Africa, one of the most accomplished players the game has ever known compiled 182 in South Africa's only innings. Typically, the innings slipped under the radar, it being overshadowed by the brilliant triple century of its maker's compatriot, Hashim Amla. It was fairly typical that this technically accomplished, classically executed century should go largely unheralded, chiming with much of the career of this brilliantly talented cricketer. The biggest elephant in the room of the cricket world's commentariat is the record of Jacques Henry Kallis: so prolific, so consistent and fit to rival the very Gods of the game and yet it is largely unacknowledged. When the best of modern batsmen are discussed, arguments inevitably turn to comparisons between Brian Lara, Sachin Tendulkar and Ricky Ponting. The big South African, whose record is one which in most cases is at least their equal, rarely merits more than a cursory mention. Why should it be that the man whose all round record rivals that of the greatest of them all, Sir Garfield Sobers, remains so undervalued by the game's opinion formers? This is a player, after all, whom the late Peter Roebuck said was the first indisputably great African cricketer of the post-Apartheid era
Jacques Kallis is unfortunate in that he has had as contemporaries three genuinely star perfomers in the retired Lara, Ponting and Tendulkar. Just as the late 1970s and 1980s produced the age of the all-rounder and the ongoing face off between Ian Botham, Imran Khan, Richard Hadlee and Kapil Dev, so the later nineties, noughties and beyond have given the game four genuinely stellar performers with the bat, with the Trinadadian, Lara, having left the stage to his three rivals. It is undoubtedly Tendulkar who has become the most garlanded. The most runs in Test cricket, the greatest number of centuries and, of course, the most sought after recommendation of all: the acknowledgement by the greatest of all time, Sir Donald Bradman, that the Indian's modus operandi bears the most striking similarity to his own style. The sheer weight of his own country's expectations just as the locus of world cricketing power was transfered to India also makes us admire the way in which the dimunitive maestro conducts himself. Even now at the age of 39, his batting is still reminiscent of a schoolboy at the crease, eager to please, with his exaggerated technical perfection, side-on stance and the look of a man who dare not waste an ounce of his own precociousness. One shot has come to be his trademark, yet is also homage to his country's batting heritage. The whip to leg from middle and leg stump is pure Gavaskar, especially in its wristy flourish as the ball goes on its way.
If Tendulkar is a superabundant Gavaskar then the Caribbean genius, Lara, has a lineage which skipped a generation in the pantheon of West Indian heroes. For with his cocked wrist, high back lift and full, extravagent follow through with the toe of the bat reaching the small of his back, he bares more similarity to Sobers than Richards. Sobers himself has acknowledged the similarity and like Bradman with Tendulkar, emphatically passed the torch to the young pretender on that most famous of occasions in spring 1994 as Lara overhauled the Bajan's record score with his 375 against England. The secret of Lara's brilliance was simple, argued Sir Gary, "he plays with his bat" – the great man's tart criticism of too much "pad play" in the modern game. Despite the record scores of, first, 375 and then 400 a decade later, perhaps it was that shining moment in Barbados in 1999 when he carried West Indies to victory against Australia with 153 that cements his greatness. The sheer extravagance of his strokeplay on that occasion as he flayed the most exacting of opponents in a do or die situation was startling. His overall average at retirement, 52.88, belies the ups and downs throughout a controversy dogged tenure as captain and the weight of fame and expectations as his career took off in such dramatic fashion in 1994. For a time in that year as is world record Test best of 375 was augmented by the first class record of 501 for Warwickshire, he looked unstoppable. The sheer weight of runs was matched by the attractiveness in which they were made. At 25, however, the pressure must have been unthinkable. Despite the strain of being the region's hero, Lara managed to average above 50 in Tests in every calender year between 1993 and his retirement in 2006.
Ricky Ponting is now nudging 38 and the last remaining star performer of what Gideon Haigh referred to as Australian cricket's Green and Golden Age. Of the four, he and Kallis were the last to enter international cricket and his job when succeeding Steve Waugh in 2003 was akin to that undertaken by Viv Richards in 1985 when he inherited the leadership of the West Indies from Clive Lloyd. In a sense, Ponting had to oversee the beginning of the end of Australian dominance. When a team of mid-thirty somethings reclaimed the Ashes in 2006-07, it was to Australia what 1985-86 was to the West Indies: the last great hurrah of a fading team and fading era with startling similarities. On each occasion, a touring England, beginning to believe their own hype, were blitzed 5-0 by an ageing team who roused themselves for one last, great effort. As a batsman, Ponting is more difficult to place on the Australian continuum. With his punchiness at the crease and aggression he bears some likeness to Kim Hughes, although more consistent and with a record which far outstretches the Western Australian Golden Boy. He is more demonstrative than Greg Chappell, although his record is more akin to his and he does inherit some of the middle Chappell's neatness. Certainly Ponting possesses more finesse and style than Border and his batting average (52.75) and the rate at which he scores his runs (58.76 per hundred balls) illustrate both consistency and efficiency.
The mutual appreciation society that developed between India and Australia during the years 1997-98 and 2004-05 supplanted the Ashes as cricket's premier rivalry until a moribund England hit back in 2005. They were a series of contests that catapulted Tendulkar to a level of fame and popularity unprecedented for an overseas player in Australia. Against this backdrop, Ponting also made his assent to the highest rung of batsmanship with his World Cup winning 140* in 2003 being a prominent example of the level of cricket played between the two in both formats. In a recent roundtable Ian Chappell argued that Ponting was ahead of both Lara and Tendulkar, given that Lara had retired and Tendulkar, he felt, was on the wane. However, in recent times, as Gideon Haigh noted after the South African series, Ponting has failed to make any sort of compact with the ageing process himself and is, in the manner of Viv Richards in his twilight years, beginning to "play by mumbers" in Ray Illingworth's phrase. However,his Test saving innings in 2005 at Old Trafford as he shielded the tail must go down as one of the all time great innings of its type. His golden period between the ages of 27 and 32 and then his later resurgence following a lull, deserves to rank him up at the top table.
We have here three superstar contemporaries of Jacques Kallis who, in the eyes of the cognoscenti, tend to overshadow him. Each of the three has a natural flamboyance and in some way, each is the inheritor of a tradition in their country's batting heritage. All three have also outshone their progenitors in sheer statistical weight at least. Ponting, for good measure, led the most awesome cricketing unit of the recent age. Each is a champion batsman, although, uniquely Kallis has 279 test match wickets at 32.46 with 5 five wicket hauls to throw into the discussion, too. Although each year has seen a gradual lowering of the arm, at 37 he is still a more than useful alternative that Graeme Smith can call upon. At his best he was invariably sharper than expected and capable of bowling that "heavy ball". These days more medium-fast than fast-medium,this is an inevitable consequence of the sheer volume of three different formats of the game being fitted into a crowded international schedule. For in addition to Kallis' 153 Tests, he has participated in 321 one day internationals. Still, however, he failed to merit a mention in Ian Chappell's recent Cricinfo article identifying the best modern batsman, an essay which, once again, featured the three other protaganists discussed here. In 2005, Kallis failed even to make the shortlist of Richie Benaud's All-time XI as either middle order batsman or all-rounder. That, though, probably came just a little too early in his career. In that convivial blokeishness of the roundtable chaired by Sanjay Manjreker to discuss the best of the modern game, Ravi Shastri, Tony Greig and Ian Chappell each plumped for Lara, with John Wright declining to choose beween he and Tendulkar. Kallis, however, was merely a name thrown into the mix by Manjrekar and not seized upon or discussed seriously by the panel. Settling on a neat triumverate for the purposes of their discussion – albeit with one of them in retirement – commentators also ignore the claims of Rahul Dravid, a player who has spent almost his whole career in the shadow of his compatriot, Tendulkar. So why, then, can the claims of a player in Jacques Kallis with 12,524 Test match runs, 279 wickets and 183 catches behind him, in addition to 11498 runs in one day internationals, be given such scant consideration?
A common accusation levelled at Kallis is that he is a slow scorer in Tests. In comparative terms, at 45.77 per hundred balls, this may be so but it ignores his own role in the team and the fact that for all their plaudits earned as "attacking players" both Inzamam ul-Haq and Sourav Ganguly, dubbed "The Prince", each scored at a rate of only 2 runs greater . Furthermore, the sheer volume of one day internationals played and runs scored by Kallis at that level shows a player able to tweak his game to suit the format and situation. There are also those, Rodney Hogg among them, who argue that Kallis' record against the Australians, the strongest team of his generation, is a poor one; Hogg even going as far as dishing out that hoariest of taunts "the flat track bully". Jacques Kallis' record in Australia reveals 915 runs at 45.75 with two centuries and five fifties. True, this is short of his overall 57.18 but perhaps reflects the strength of the opposition. The other supposed weakness, that of a poor record against England is not uncommon among some Southern Hemisphere hard track players. In England an average of 37, with two centuries from 14 Tests does show a definite glitch in the Kallis system which is thrown into sharp relief by his 6 centuries crafted in 16 homes Tests against the same opposition. In 16 Tests against India spanning the years 2000-2011 he has scored 1585 runs at an incredible 72.04. He has also demonstrated remarkable consistency against Pakistan, both home and away, averaging 66.9 with 6 centuries from 15 Test matches. For all Hogg's talk of Kallis only being able to punish the likes of Bangladesh and Zimbabwe, these nations account for only 12 of Kallis' 153 Tests for South Africa and only 4 of his 43 Test hundreds.
Furthermore, when his worth to the team is scrutinised we see that Kallis averages 67.06 in the Test matches South Africa have won. In Test defeats, however, it is a different story where he averages a less flattering 32.83. In contests ending in a draw, Kallis averages a still higher 77.11, perhaps a figure which gives rise to his reputation as a man more capable of saving a game than winning one. Of his 153 Tests for the national team, however, only 38 have ended in a draw. Given the disparity in these averages it is safe to infer that when Kallis scores heavily South Africa at the very least do not lose. Moreover, 74 of his Test matches have resulted in a South African victory. This is a much higher figure than Tendulkar who has been on the winning side in 63 of his 188 Tests. Meanwhile, Lara's presence in the West Indies team accounted for just 32 Test victories in his 131 appearances, admittedly in a weaker team than any of the other three. Just as Kallis' perceived flaws in certain overseas conditions are put under the microscope, it is worth pointing out that Ponting averages a meagre 26.48 from 14 Tests in India with a token century, while Lara averaged just 34.55 in Tests against the same opposition throughout his career. Even the man from Mumbai, Tendulkar, boasts an average against Pakistan – 42.48 from 18 Tests with just 2 centuries – considerably below his overall average of 55.44. Furthermore, with a statistic that is bound to impress even Chappelli himself, Kallis has scored 2937 runs at an average of 81.58 in the 27 Test victories when his team has batted first, confirming the significance of that all important first knock.
In his native land Kallis was awarded a "Jacques Kallis" evening in March this year which coincided with a T20 contest between South Africa and India. The recognition was perhaps not before time. Graeme Pollock was formally acknowledged as South Africa's best player of the twentieth century and the shadow which both he and Barry Richards cast over South African cricket is a long one. Each is acknowledged as being among the greatest batsmen ever to have picked up a bat. Pollock is, according to Ian Chappell, the second best batsman he ever saw, coming only fractionally behind Sobers. Tony Greig also numbers Pollock among his top three, while John Wright rates it simply as being a case of: Greg Chappell, Barry Richards, Viv Richards, daylight and then the rest. The legacy of Pollock and Richards, for all their brilliance, however, is not backed up by the volume of officially mandated Test match runs that each deserved. With careers sawed off at 4 and 23 Tests respectively, Richards and Pollock remain somewhow unsullied by failure although tantalisingly unproven in many a "Best of" category. It helps that the circumstances of their estrangement from international cricket were beyond their control. It may also leave a degree of enmity among them now that a new generation of South African cricketers have forged full Test careers, far outstripping their pre-Apartheid brethren.
It may or may not be apocryphal but the comment made by Barry Richards to a South African journalist as he left the press box some years ago armed with copy proclaiming Jacques Kallis as the greatest ever South African cricketer,perhaps demonstrates the nature of a retired sportsman having to live with the burden of unfulfilled talent:
I think you'll find Graeme Pollock, myself and a few others might have something to say about that. True or not, for a batsman as great as Richards was to have played just 4 Tests must leave a sense of unfulfillment. That the contemporaries of Richards and Pollock who make up the current commentariat so consistently hail their untouchable brilliance also makes it doubly difficult for Kallis to stake his own claims to greatness.
In Joe Lovejoy's excellent George Best biography Bestie the tale is told of the night in spring 1997 when Best and a number of his fellow survivors of Manchester United's 1968 European Cup winning team assembled in a pub close to Old Trafford. Unluckily 1-0 down after a first leg in Germany, United needed to overhaul Borussia Dortmund in order to reach their first European Cup final for 29 years. An early goal from the visitors put paid to United's ambitions and they fell at the semi-final stage. The status of Best and his 1968 contemporaries was assured: they were still the only United team to have reached the European Cup final and that, for the time being at least, could not be bettered. Their was, however, something that grated about the former players' responses. Manchester United's defeat that night was not greeted with dismay or hurt by Best and his pals but something more akin to jubilation: Their status was safe and they were still part of the only Manchester United team to be crowned kings of Europe. This is not to say that former South African players whose careers were abbreviated due to Apartheid are actively, knowingly, less than fulsome in their praise of the current crop of Proetas. It might, however, explain why it is difficult for Kallis to gain the acceptance of today's cognoscenti – and yesteryear's players – when South Africa's legacy was unceremoniously chocked off with a potentially great side, the one that had thrashed Bill Lawry's Australians 4-0 in 1969-70, cut down in its prime, a side that contained the talents of Richards and Pollock. Whereas Tendulkar, Lara and Ponting all followed in the footsteps of compatriots who had enjoyed full careers, with records at the top level to match their talent, Kallis walks alone. The man from Pinelands, Cape Town is also reminded of this by former players around the cricket world who continue to extol the virtues of the unfulfilled twin pillars of South African batsmanship, Pollock and Richards.
Jacques Kallis can ill afford to concern himself with this too much, though, and maybe the tide is beginning to turn in his favour. Maybe, given his quiet demeamour and calmer presence at the crease, he simply does not elicit the kind of emotion that seems to make followers of Tendulkar become more disciples than mere fans. With his occasional unwillingness to press home the advantage when well set, Kallis bears more than a passing resemblance to a certain ennobled Englishman rather than a player from his own country's past. Inordinately gifted, Colin Cowdrey was similarly unique in having enjoyed a full career yet having left in his wake the suspicion that he failed to maximise his abilities due to an introspective nature. Kallis may not have stirred the blood as Lara did or become a national totem in the way that Tendulkar has, but these things do not preclude him from greatness. In his own understated way he represents a reassuring alternative to the corruption and hypocrisy of the Cronje years, with a sobering dedication to his profession for one in his seventeenth year as an international cricketer.
All things considered, however, perhaps the best measure of a cricketer is the opinion of his contemporaries, his peers. Former Indian skipper Sourav Ganguly argued earlier this year that Kallis was ahead of Tendulkar, Dravid and Ponting as "the most effective of the lot". Wasim Akram has spoken of his admiration for the big South African and eulogised him as "definitely one of the greats", and contends that he is second only to Sobers as an all-rounder. Moreover, Wasim, one of the great bowlers of the past quarter century felt that he and Waqar Younis detected no weakness in Kallis and that he always played me straight. It is difficult to imagine that a cricketer as prolific as Jacques Kallis can ever be thought of as anything other than truly great. Statistics can often be misleading and do not tell the whole tale, of course, but over the course of a seventeen year career at the top level they must give the greatest indication of a man's stature out on the field. His individual performances must contribute, of course, to the good fortune of the team to have real worth and Kallis' have achieved that, making South Africa the second ranked Test nation on earth and having ensured that he has ended up on the winning side in almost half of his 153 Test matches. The nature of his stature in the game was of no doubt to the seasoned Pakistani cricket writer, Qamar Ahmed, as he watched Kallis toy with his native Pakistan in the UAE. In an article entitled A Colossus Called Jaqques Kallis he argued:
From 1889 when South Africa played their first ever Test at Port Elizabeth against England to now, barring those isolation years men like Dudley Nourse, Bacher, Richards, Proctor, Pollock, Kirsten, Smith and Donald have all done them proud, but none more than the colossus of present called Jacques Kallis