The Bob Barber Story – Part 2
Martin Chandler |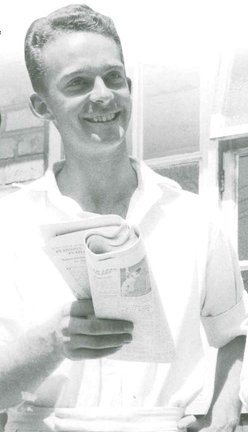 At the end of 1962 English cricket went part of the way to recognising society's new social order as the time-honoured distinction between amateurs and professionals was abolished. Blackledge went back to Chorley, and Barber took off to Edgbaston. The first Lancashire captain in the new age was, a little ironically, Ken Grieves, he who had inadvertently caused Barber to have to write that letter to Cowdrey in 1960. The Australian did bring about a slight improvement, which his successor Brian Statham built on, but it was the end of the decade before Jack Bond brought about the sea change that dragged Lancashire cricket out of the doldrums.
Popular opinion has it that, freed from the shackles of the captaincy, the dourness that had been evident in Barber's batting at Lancashire quickly disappeared under the leadership of Mike Smith. This is not, certainly in the opinion of the man himself, strictly correct; At Lancashire Alan Wharton and I were regarded as a fast scoring opening partnership, whilst I am told Geoff Pullar and I still hold the highest opening partnership against Pakistan, in Pakistan, some 190 at a run a minute on a very low bouncing and slow Dacca wicket in 1961/2. That much said he also concedes that two factors did inhibit me when I was at Old Trafford. Firstly the club decided at the end of 1960 to sack Alan Wharton, who in my opinion was vital to the team. This left an inexperienced batting line up. Secondly I have yet to see a writer examine the benefits of the changes in the "no ball rule" at that time. Look at a photo of, say, Fred Trueman during his bowling stride. His front, left leg was landing 18 inches over the batting crease, so where was his next step? He was not alone and we were playing on unprotected wickets which could get very muddy. Except when conditions were dry and the wicket firm a left hander could not hit through the ball towards cover and extra without taking a major risk
Another factor was the captaincy of Smith, who Barber was very happy to play under; I also give credit to Mike Smith. He respected players and within reason their views. I was never discouraged from expressing myself. Mike was different to the other players who captained England at that time. But there certainly was a change of emphasis after the move, Barber explaining that I only agreed to play at Warwickshirs on the basis that I could play as I wanted, and with the change to to the front foot "no ball rule" the bowlers were not scouring the left hander's driving area as they had. Indeed on occasions the damage that bowlers did to the area close to a left handers off stump was a lot worse than mere scouring. On many uncovered wickets the large heavy boots favoured by pace bowlers of that generation led to indentations that were often simply holes.
The great joy of Barber's batting was always his driving. Naturally therefore he was quick to punish the half volley, but then most good batsmen can do that. Barber had the priceless additional ability to drive the ball on the up. My late father always thought even that to be an understatement, and he used to speak of Bob Barber as the only batsman he ever saw who would drive the ball on 'the up and up'.
In the August of Barber's first season at Warwickshire they came up against Frank Worrell's immensely strong West Indians. For once against a county the tourists played both of their fearsome fast bowlers, Wes Hall and Charlie Griffith. Smith chose to bat on winning the toss and when Barber was eighth man out at 159 he had scored his first century for his new county. His 113 was a lone hand, and although Worrell's men were comfortable winners he got 40 more in the second innings. Apart from five overs from Worrell all the West Indian bowling had been done by Hall, Griffith, Lance Gibbs and Sobers, so there could be no question but that the attack who suffered at Barber's hands was as good as any in the game.
By 1964 the transformation of Bob Barber into the precursor of the likes of Virender Sehwag and Chris Gayle was complete, and his hundred before lunch against Australia, followed by his promising showing in the final Test ensured him a place in the party that travelled to South Africa in the winter of 1964/65 where, in the words of Wisden he confirmed that he is a cricketer of high international class.
Barber, opening with Geoffrey Boycott, averaged more than 72 in the first four Tests in South Africa before missing the last through injury. One might have expected Boycott to take against the public schoolboy from the other side of the Pennines, particularly as, at the beginning of their relationship, Barber felt obliged to "have words" with Boycott about selfish running between the wickets. Barber told Boycott that he would not stand idly by and watch him block out the first four or five deliveries of an over and then expect to take a quick single at the end, and that if he did try that he would refuse to run. When exactly that situation arose at the beginning of the first Test Barber repeated the message. Boycott was not particularly happy at the time, but after that unpromising start he accepted Barber's point of view, and from then on, in Barber's words, We ran well together. I ran to his calls, and he always ran to mine. Many years later, in his 1986 autobiography, Boycott wrote that he had, "the utmost respect and admiration" for Barber, going on to describe him as "one of the most genuine men you could ever wish to meet."
Moving from the man himself to the subject of his partner's batting Boycott continued "I was amazed at Bob's apparently cavalier approach to the game, even at Test match level. That is not to suggest for a minute that he did not take the game seriously – he was a thorough professional. But he rarely played cricket with a long face. It was obviously a source of pleasure and entertainment for him."
According to Boycott Barber was not above a bit of 'sledging' either. In his first Test innings in South Africa he repeatedly advised the home side's off spinner, Kelly Seymour, that he needed a fielder in some far flung location. Seymour, as any self-respecting Test bowler would, ignored him, until Barber had struck him to that area so often that he had to heed his advice, at which Barber repeated the exercise with a different location. His rapid 74 from an opening partnership of 120 put England on the road to victory. Barber himself cannot recall the detail of the incident, and stresses that any gentle teasing of the bowler would have been precisely that.
In the next Test Barber was out for 97, bowled neck and crop by a Seymour delivery that pitched a foot outside off stump and took a hard inside edge. He had, immediately prior to the delivery that dismissed him, said to partner Ted Dexter (who he had been comfortably outscoring) Right – six or out. Although he then walked off with what appeared to be an air of casual indifference he was, on Boycott's account, disappointed at missing what would have been his first Test century. Barber's reason for playing the shot was straightforward; Because I did not like selfish attitudes, players playing for themselves. There were big debates at the time about how to attract spectators. I was happy to demonstrate that a hundred was not important. What is important is that you contribute to your team's objective, usually to win. We were entertainers so should entertain and show the game was fun. For once Boycott misinterpreted what he saw, perhaps on this occasion the famously single-minded Yorkshireman being unable to be totally objective. For Barber the only disappointment was that a delivery that should have sailed over the sightscreen ended up dismissing him. His views on the subject are unusual, perhaps even controversial, but entirely in keeping with his philosophy about the game; I feel that it has been and still is detrimental to the game that so much weight is given to centuries. Why is 103 more important than 97, if the latter wins the match or conditions are more difficult? How many times do players get out shortly after reaching some personal target, 100/ 150/ 200? Doesn't that possibly tell you that for them personal milestones, prestige, perhaps selfishness may be more important than the result and the team?
New Zealand and South Africa toured England in 1965 and for the only time in his career Barber played through an entire home summer of Test cricket. He failed only once in eleven innings, but on the other hand only twice got past fifty with 56 his highest score. As ever though he pleased the crowds, and with a dozen wickets at reasonable cost secured his place in the party for Australia in 1965/66, once again under his county captain Smith.
Barber was immensely popular in Australia and on the tour as a whole he averaged over 50 and scored three centuries. His great innings at the SCG apart his record in the Tests would have disappointed him but Australia's skipper, Bobby Simpson, summed up his appeal, describing him as "positively dazzling. No bowler or field setting could contain him. I can think of no better adjective than electrifying to describe this fellow's cricket when he gets going. He didn't do so well with the ball, paying more than 87 runs each for his 10 wickets (three in the Tests) but, not a bad leg spinner himself, Simpson noted "I cannot understand why Barber is not bowled more. He is the type of bowler always likely to get a wicket. Faster than the average leg spinner, he gets more bounce than most bowlers of his type and I would give away spin for bounce at any time. His repertoire is varied – he can bowl a wrong 'un, a toppie and a flipper. Like all bowlers of his type Barber will sometimes give runs away. But he will also get batsmen out."
The first two Tests of the series were drawn. The opening match never looked like producing a result. Peter Burge played a very fine innings on a difficult wicket to salvage a draw for Australia, eventually comfortably enough, in the second. When Smith won the toss and decided to bat in the third Test Barber and Boycott started superbly, putting on 234 for the first wicket. When Barber was dismissed, late in the day after fractionally shy of five hours at the crease, he had scored 185 out of England's 303-2. Boycott wrote that "his driving on the off side was a joy and it did not seem to matter where they bowled at him." John Edrich, who was Barber's other partner during the innings said "He blazed away in all directions and had the crowd gasping at some of his powerful blows." Edrich added that even after Barber passed his century "Bob continued to attack, not caring in the least when his drives were lofted. His hits were hard and they defied interception."
The second new ball finally accounted for Barber when he cut the ball onto his stumps from a delivery by Neil Hawke. The dismissal was something of an anti-climax. Hawke pitched the ball short outside off stump and, given the form Barber was in, it was all but a gift of another boundary to him, but mental tiredness after his long innings doubtless played its part. Given the decisions he had already made a better chance to make a double century was highly unlikely to come Barber's way, and despite the fact that he would not have been concerned at missing the landmark, the rather soft nature of his dismissal doubtless meant that there were mixed emotions as he walked back in to the ovation he so richly deserved.
As to his future Barber had already told Warwickshire before going on tour that winter that the demands of business were such that he would not be available in 1966. He had already gone two years beyond his 28th birthday, the time at which he had originally intended to leave big cricket behind him, so it had not been a difficult decision to make. He had also told the selectors, so that they had the opportunity to withdraw their invitation to him to tour if they so wished. In the event the news made no difference at all to the desire to have him in the party and he was asked, in relation to his future intentions, to "keep it quiet".
After the tour Barber was put under some pressure, largely by the MCC, to continue 'for the good of the game'. His tactics had become an attraction and, with the introduction of some Sunday play in 1966 meaning that a three day match might only involve one day off work, he agreed to play some cricket, although he says now perhaps I should not have done so since my heart was less in the game and over time it became harder to be mentally committed..
The quality of Barber's innings at Sydney was underlined by the fact that after his dismissal Cowdrey, Barrington and Smith were also removed by Hawke in short order, and had it not been for Edrich's careful century and, coming in at the fall of the eighth wicket, exactly 50 from off spinner David Allen, England would not have got as many as the 488 they finally totalled. There would have been a few concerns in English hearts as Australia made their way to 81-1 in reply, but after that wickets fell regularly and England won by an innings and 93 runs. Sadly for them however Australia came back to level the series and retain the Ashes.
The summer of 1966 saw the FIFA World Cup won by England on home soil, but the nation's cricketers did rather less well against Sobers' West Indians. Barber barely played in the early part of the season, but he appeared for Warwickshire throughout July and, as the selectors looked for a winning combination, he was selected for the fourth Test. England slid to another innings defeat but a half century in the second innings, coupled with the fact that of the other specialist batsmen only Basil D'Oliveira had contributed more to England's cause, meant that Barber kept his place for the final Test. England won a remarkable game, in which her last three wickets totalled 351, by an innings. For Barber there were 36 runs but, perhaps more importantly in the context of the match, five wickets as well.
Although Warwickshire doubtless hoped that he might change his mind Barber stuck to his guns about his limited availability and was available for less than half the County Championship programme in his last three seasons between 1967 and 1969. England were not, understandably, interested in part-time players and Barber's record over the four summers that he was one clearly indicate that his form suffered somewhat, both with bat and ball. An eye injury in 1968 and the inevitable lack of practice were doubtless major contributory factors. But he did play one more Test, his second and last at home against Australia, when he was picked for the first match of the 1968 Ashes series. England picked an odd side. There was initially a squad of fourteen, of which Barber was not a member, but he was called into it when Barrington dropped out. The tale is scarcely credible, so is best told in Barber's own words; I had played almost no cricket. I was telephoned and asked if I would come to Old Trafford as a member of the fourteen, not to play but to make the Aussies think I might. I agreed on the understanding that I would not play. Half an hour before the start I hadn't changed when Chairman of Selectors Alec Bedser came into the dressing room and said, "We'd like you to play". I could hardly refuse in front of the team.. So England chose to go into the match with just three specialist bowlers, to be assisted by Barber and D'Oliveira. They lost heavily.
For the second Test Barrington was back, so Barber was gone, and a more balanced side eventually managed to square the series on a fascinating final day of the fifth Test at the Oval. Barber did not come back into the selectors' plans again, but with innings of 20 and 46, and three wickets, including both of Bill Lawry and Doug Walters after they had put on 144 on the opening day, he could not be blamed for England's defeat at Old Trafford.
Despite his limited appearance for Warwickshire after he returned from Australia an emissary was sent to Barber by Lancashire in 1968 enquiring as to his availabilty for a return to the county, as captain, the following year. The man chosen for the mission was Arthur Booth, an old friend of Barber's father and a man who in 1946 had enjoyed a remarkable single season in the First Class game with Yorkshire when, at 43, he had taken 111 wickets at 11.61 with his orthodox left arm slows. Booth explained that things at the club had changed, that the side was to be strengthened with Clive Lloyd due to join Farokh Engineer at the club. At the time all the newspaper speculation was that Garry Sobers would be going to Old Trafford as captain, but Booth explained that the county were not in fact looking in that direction. It must have been pleasing to Barber to be asked, and doubtless was a concession that much of what he had been saying to the committee when he was captain was correct, but he confirmed to Booth that his cricket career was indeed over and that his future lay elsewhere. He did however give the county one last bit of sage advice, that Jack Bond was their man, and in that he was very soon proved to be absolutely correct.
International cricket did not see Barber again after 1968 and indeed he took his leave of the First Class game at the end of the 1969 season, when he was just short of his 34th birthday. He did make a brief, and rather disappointing, comeback of sorts in 1971 when he appeared in seven forty over games in the old Sunday afternoon competition, the John Player League. It was a great shame because Barber was ideally suited to the one day game. In the days when the 60 over knockout competition, the Gillette Cup, was the only limited overs cricket played in England, he won four man of the match awards in just thirteen matches, including the 1966 final when Warwickshire beat neighbours Worcestershire to lift the cup for the first time. It probably should have been five, as looking at the scorecard almost half a century on it seems most odd that he didn't receive the same accolade in the semi-final victory over Lancashire in 1964. What must be certain is that had he been born a generation later Bob Barber would have been a great draw in ODIs and, one suspects, another couple of decades on, he might have done rather well in the shortest form of the game as well.
In the grand scheme of things the loss to English cricket of a full career from Bob Barber was probably the nation's gain. He left his first job in 1961 to work for a private holding company and that seems likely to be where any confusion about his background comes from. His father was the Managing Director of that company, but was not a shareholder. So Barber's job was one gained on merit, and not by birthright, and again it was a stepping stone, firstly to a manufacturing business of his own, which he spent 17 years building, before moving on again, to live in Switzerland and enjoy a new and very successful career in the investment world. So one way or another the UK Exchequer has done well out of him. Now in his 78th year, happily retired (but not completely – men like him seldom are) Barber acknowledges that I have been very lucky to have had three careers, and of course so he has although, unlike in the case of some, his appear to have been wholly as a result of his own talent and hard work.
As to the game of cricket Barber's views are, as anyone reading this will have gathered, forthright and in some ways unconventional. He is however always thought provoking, none more so than with his warning to the 'Statsguru generation' that Today's world is even more obsessed with what I call "irrelevant numerals" than my day. If on the good wickets Tests are played on you tell a decent quality batsman that as an opener he should average 40, that is what he will give you but how does that contribute to winning a match? Averages and skewed means only have significance if a player is unaware of them. If they affect their income, well ….! When I opened for England I wanted to try to dominate the bowlers quickly. If I scored 30 and upwards in this way then I hoped that our middle order, theoretically the strongest bats, could take advantage. Teams need a balance of skills. But he isn't always so blunt, and his final words from my correspondence with him will strike a chord with all cricket lovers; I was fortunate and privileged to be able to play at the time I did so I have many happy memories. I wanted spectators also to share the pleasure. Cricket was a game of fun to me. You played seriously but unless you enjoyed it how could a spectator?