The Best Cricketing Moments of 2009
Martyn Corrin |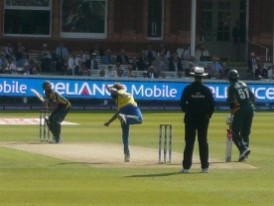 So another year of cricket draws to a conclusion. We saw three different teams sit on top of the Test rankings, Pakistan were crowned Twenty20 World Champions, Australia showed that they aren't rolling over completely by romping to Champions Trophy victory, England regained the Ashes. We saw the referral system implemented for good, or at least for now, there was controversy, pushes and shoves, there were flat pitches, there were dangerous pitches. There were runs, run-outs, wickets, long-hops, wickets from long-hops, catches, dropped catches. Those on the outside might not believe you, but the world of cricket is never dull. The Cricket Web team have picked a moment that they will each remember from 2009. We hope you enjoy reading about them as much as we enjoyed watching them unfold.
Will Quinn hails from Ireland but that hasn't stopped him becoming a cricket fanatic who stays up until silly o'clock watching obscure games involving Bermuda and United Arab Emirates' under 19 sides. Okay, I might be slightly exaggerating. That being said, given that he is an Irishman, if you've followed the cricket this year you may not be surprised by his choice.
I've really enjoyed the cricket this year, and picking one moment feels like I'm doing an injustice to many others. Honorable mentions go to the Sydney fans' reception to Graeme Smith walking out to bat at number 11 with his hand in a cast, Mitchell Johnson's absolutely terrifying spell on the second day of the Durban test and the Netherlands' thrilling victory over England at Lord's.
However, as an Irishman it's impossible for me to look past Niall O'Brien's fifth-over dissection of Mashrafe Mortaza at the World Twenty20 for me. The tension inside Trent Bridge was overwhelming, and after letting Bangladesh get to a defendable total with a huge final over, Ireland looked like the pressure was getting to them. Jeremy Bray scraped 2 runs off 10 balls before falling to a merciful umpiring error, while captain William Porterfield was bogged down at the other end. Mortaza and Hossain were looking a class above what the Irish batsmen could deal with, and O'Brien- Ireland's best T20 batsman- had picked up an injury in the Bangladesh innings and it was a surprise when he even made it out to bat. 138 to win was starting to look a seriously stiff ask.
When O'Brien limped out to the crease, the game changed. The pressure of the game seemed wholly lost on him as he promptly took apart Mortaza- who was still bowling extremely well- with three sixes in one over. Although he was eventually out for 40 from 25 deliveries, he'd turned the game on its head and put Ireland in a great position to take the game.
Bangladesh came back into the game, but never truly recovered. The level of intensity in the stands had died, the Irish fans had found their voices. Mohammad Ashraful turned to his three spinners in an effort to tie the Irish batsmen down, with some success. But there remained a confidence about the Ireland team and their fans; despite the match still hanging in the balance, we all felt we were going to pull through, and conversely, the Bangladesh fans always looked like their team was up against it. It was that sense of momentum- and another quality knock from Niall O'Brien's brother, Kevin, down the order- that eventually saw the team over the line for a victory that meant huge amounts to Irish cricket.
Exiled Englishman Dave Wilson would probably consider himself a fan of the game first and foremost, and this was apparent when he made his choice.
This year's world Twenty20 championship was as good as you could possibly wish for in the shortest form of the game. To see Pakistan go from complete chumps to world champs in two short weeks was an amazing turnaround, which I feel was jump-started by a spectacular piece of fielding.
To say Pakistan were bad against England is a gross understatement – five dropped catches, balls slipping through fielders' legs, even spin bowlers being no-balled, leaving skipper Younis shaking his head in disbelief. England, who had earlier in the week lost to lowly Holland thanks partly to their own inept fielding, thrashed them by 48 runs. That left Pakistan in a must-win situation from the off.
And the turning point for me came in the game against New Zealand. Umar Gul would go on to take a record five wickets for only six runs, but it was the fantastic running over-the-shoulder catch in his first over by Shahid Afridi to dismiss Scott Styris, which proved the catalyst for the Pakistanis and their fans, fired up by Afridi's exuberant celebrations.
A week or so later, Pakistan and Sri Lanka, both in the news for more tragic reasons earlier in the year, squared off for the title of World Twenty20 champions. Fittingly, it was Afridi who saw them home with a restrained (for him) 54 from 40 balls.
Cameron Burge didn't see too much cricket from August onwards, the tears that had been in his eyes since Stuart 'Ladyboy' Broad (his choice of nickname, not mine) skittled Australia at The Oval were obscuring his view. He seemed to just about recover his vision in time for the visit of the West Indies to Australian shores.
Few things in cricket are as exciting as the emergence of a talented, raw fast bowler. For that reason, my cricketing "moment" has been the arrival on the international scene of Kemar Roach.
To see a young bowler hurrying established Test players with sheer pace and a modicum of sideways movement is a great thing for the game. His spell to Watson and Ponting on day one at Perth, and Ponting's riposte of 4-6-4 in one over before retiring hurt, was as compelling a session of cricket as you're likely to see.
Of course, no one knows to what extent, if any, Roach will kick on at international level. But that only adds to the excitement in watching his development.
Cameron also included a line about Andrew Strauss which sadly cannot be printed on this page, alas I can inform you that it commented on how much he enjoyed the England captain's skilful catch to dismiss Phil Hughes at Lord's.
Ganesh Venkat is a follower of both Indian and West Indian cricket, and with India ending the year at number one in the world, and the West Indies seeming to be improving, it wound up a fairly good year for him. He particularly enjoyed the Twenty20 World Cup, most notably when the West Indies faced Australia.
What is better than a typical Caribbean marauder taking on the fastest bowler from Australia? Chris Gayle did exactly that in the T20 world cup in the group match against Australia. I went to the extent of predicting that he would take him apart like Yuvraj did to Stuart Broad in the 2007 Twenty20. However, this was even better.
Gayle had a method to his madness when he sent the first ball of the 5th over from Brett Lee in to the school beyond the boundary and followed that up with a block, and then yet another violent six, out of the stadium before calmly blocking the next ball. Lee had lost the plot by now and over stepped, the ball was promptly crashed over cover in to the boundary and the ensuing free hit was dispatched to the fence as well with Gayle's partner Andre Fletcher ducking for cover. Gayle completed the carnage with a massive six over midwicket. 27 runs came from that over, the score read 71/0 at the end of five overs and the match as a contest was effectively over. Australia found out that T20 is not exactly their cup of tea and the look on Ricky Ponting's face was priceless.
Martin Chandler is an Englishman with a huge interest in the history of the game. Refreshingly, his favourite moment of the year came away from the razzmatazz of the international game.
After years of preparation and amidst much anticipation Durham started their first season as a First Class county in 1992. The beginning was encouraging enough with two wins in their first six championship matches but after that it was all downhill and their team of, with the greatest of respect, has beens and never would bes collected the wooden spoon. Results were woeful for several years before the Durham side that won promotion in 2006 exceeded all expectations in 2007 by finishing as runners up to Sussex.
Amidst huge celebrations the 2008 side went one better and on the last day of the season took the title by eight points from Nottinghamshire. In 2009 the East Midland county were to be runners up again but this time they weren't remotely close. Durham won the title by more than 40 points with eight victories all by convincing margins. Eight times the weather or flat pitches prevented victory but in none of those eight draws were Durham at any time in any real difficulty.
The title was retained, fittingly enough, in a match against Nottinghamshire at Durham's home at The Riverside in September. Batting first Michael Di Venuto scored 219 and Kyle Coetzer, Dale Benkenstein and Shivnarine Chanderpaul also passed three figures as Durham moved to 648 for 5 before rookie skipper Will Smith declared. Notts worked hard but lost by an innings and 52 – it was entirely appropriate that the home side's first great player, Stephen Harmison, was the man to deliver the coup de grace as he removed Luke Fletcher and then veteran Mark Ealham in quick succession.
Durham's seam attack is high in quality and consists, with Harmison, of Graham Onions, Liam Plunkett, Mark Davies, Callum Thorp and young Mitchell Claydon, all of whom are fine bowlers. The addition last season of a rejuvenated Ian Blackwell seems to have been the final piece of the Durham plan. It is still not twenty years since their elevation but after 2009 those of us who thought the seven consecutive titles of the Surridge/May Surrey sides of the 1950's could never be surpassed are having to think again.
Martyn Corrin is a fan of England, and there were no attempts to be different here. There was a little series called the Ashes played this year…
As a hoplessly attached England fan looking back at 2009, it would be impossible for me to look anywhere but a successful Ashes series to find my favourite moment of the year. Whilst as a series it fell inevitably short of recreating the magic of 2005, it is still packed full of wonderful memories. It is almost tempting to roll these off one by one, instead I will just settle for saying that James Anderson and Monty Panesar's heroic defence on day five at Cardiff was a close second.
On Sunday August 23rd I awoke feeling fairly confident. There were beers in the fridge and friends coming round. The expectation was that we would drink the beers to toast the return of the Ashes urn to its rightful home. On the night of day four at Lord's (where Australia had faced a similarly huge total) I hadn't slept a wink through fear of Australia knocking off the unlikely runs that they required but despite a very uneasy final session for the England bowlers on the Saturday evening at The Oval, I remained confident.
Early in the day this confidence seemed to be shown to be relatively well placed as Graeme Swann trapped Shane Watson lbw, and Stuart Broad continued a fine performance by trapping Shane Watson. Of course, this brought Ricky Ponting and Mike Hussey to the crease, but I honestly felt that the two breakthrough wickets we had just taken meant that everything would be okay.
Alas, Ponting and Hussey are two of the finest batsmen of this young century, and they weren't going to watch England take away the Ashes without a fight. I would be lying if I didn't admit to feeling utterly bewildered as they stayed at the crease and ate away at the target. They had been together for nearly 40 overs and put on over a hundred when Hussey, facing Harmison, played the ball to mid-on. As they set off for a single, Andrew Flintoff picked the ball up, and launched it down to the striker's end, throwing down the stumps. As Flintoff stood, arms in the air, I launched myself out of my seat and started jumping around the living room. Sure, there was the trivial matter of the third umpire's decision, but Ponting was out, that was that. It was a moment that meant so much. All of the panic that had been building up inside of me disintegrated immediately, as far as I was concerned the Ashes were won, there and then. Clarke and North would be gone within the next ten overs, and whilst Haddin and Hussey put on another century stand, it didn't scare me half as much as when it was Ponting out there, because, well why would it? The best batsman of the last ten years had been launched out of England's biggest match of the year by my favourite ever cricketer, in his final Test match. Flintoff would later take a catch from his good friend Steve Harmison's bowling to remove Peter Siddle but by then things were close to being a formality. The run-out of Ponting was Flintoff's last significant act in Test cricket, and it was the moment that I knew the Ashes were coming back home. It was wonderful.
Sussex and England fan Tom Coghlin has had mixed fortunes in cricket in recent years; Sussex have won a fair few trophies on the domestic scene before suffering relegation from the top flight, and he was in Sydney in 2007 for the nadir of post-2005 English Test cricket. He, therefore, took more pleasure than most from the events of the summer of 2009.
Judging by the ultimate 2-1 scoreline, the 2009 Ashes were as close a contest as 2005, but in reality it was very different. In fact, in stark contrast with 2005, this was little more than a succession of one-sided encounters: with the sole exception of the resounding draw at Edgbaston, each game was comfortably one-sided: two games were thoroughly dominated by England, two by Australia. The game that ultimately decided the series was the First Test at Cardiff. After some thoroughly forgettable cricket from both teams in the first innings, the match was dominated by Australia, and yet Australia failed to win. Why? Well, as ever, there was a multiplicity of reasons, but it is hard to look past the final couple of hours of England's second innings and these were, in truth, decisive. Over the course of 69 balls Ricky Ponting was cruelly reminded of the inadequacy of the Australian attack in the brave new post-Warne world, as the notoriously-inept Monty Panesar, together with the scarcely more capable Jimmy Anderson, clung on to ensure the unlikeliest of draws and, as things emerged in the final analysis, the Ashes.
There were those who viewed the booing of Ricky Ponting, at Edgbaston, as an act of despicable boorishness. Not me. Like almost everyone else in that ground, I have spent a large part of my cricket-watching life watching my team being ritually humiliated by the Australian cricket team. And when I say ritually humiliated, I mean it. This wasn't just the result of a succession of drubbings; it was the overt Aussie modus operandi which was central to bringing about those drubbings. 'Mental disintegration', they called it, as if that was some kind of euphemism. And it was ugly. It entailed the calculated infliction of misery upon English cricketers and by necessary extension their supporters. And one of its chief perpetrators was Ricky Ponting. Not only was he a perenially prickly presence on the field, he was given to making deliberately incendiary comments to the press to belittle and irritate his oppenents: tactics straight out of Chapter One of the Handbook of Mental Disintegration. In so doing in 2009, he laid himself open to abuse from home supporters. And so, with his team going into Edgbaston 1-0 down, with his much-vaunted strike bowler an expensive embarrassment, and the aura of his once-invincible team decidedly slipping, he was finally, and joyously, derided by the home supporters in Birmingham. In a sense it was a tribute to his humanity: it is hard to imagine that English supporters would have found themselves able to boo the rather more mechanical Steve Waugh or Allan Border to the crease. And it should not be mistaken for true disrespect; far from it: having been booed to the crease, he twice received sincere standing ovations from the English crowd for passing both Test and First Class career run-scoring landmarks. But what it did show was the slipping of the aura of invincibility and, as every England fan hoped and continues to hope, the end of an era.
Whilst I described Martin's selection of a domestic event as refreshing, schoolteacher Neil Pickup has taken his selection from the deepest of grass roots.
Two days after England fell in a spectacular heap at Headingley, I found a way of pushing all thoughts of Stuart Clark far from my mind. I've been involved in cricket coaching for nine years, and August 11th gave me a moment as good as any I've been lucky enough to share.
I generally find that you can judge the resonance of something by the length of time it leaves you grinning like one of Lewis Carroll's felines. Streaky outside edge through the keeper's gloves for two, ten seconds until the next ball. Cathartic hoik-swish over mid on to score the winning runs in a staff match when it's half-dark, you were supposed to be on boarding duty and Year 5 haven't gone to bed yet, ten minutes until a ten-year-old points out it was a Twenty20 and you made 8* in 45 minutes. On August 11th I went to bed with my smile still firmly entrenched in place.
For the last two years, I've been tackling the mission of making Oxfordshire competitive at Under 10 county level. Just after taking on the role in early 2008, I did a little digging and was rather dismayed not to be able to find evidence of a single victory ever having occurred at that level. The lowlight of 2007, indeed, appeared to be being bowled out for 31 in 23 overs by Buckinghamshire. 2008, then, was very much about not getting beat, leaving 2009 to be the time that I could write "W" on the results list.
Or not, as it appeared, as we proceeded to produce a line in throwing things away that would only ever be rivalled by Australian batsmen approaching three figures. Match after match, we found a way to get ourselves on top, and then throw it away. Against Norfolk on August 11, we tried to do it again. Chasing 122, 62-0 became 63-3 and wickets kept falling. We were reprieved two run outs that looked dead and gone from the boundary, but our number 5 (who had started the season as a number 11) held his nerve to end on 25*, and with three overs left, our number 9 sliced his first ball to the point boundary, and it was over. It might not have been spectacular, but it was certainly special.
Finally, Richard Dickinson is another who would likely describe himself as a fan of the game moreso than his team (as a long-suffering England fan you can hardly blame him) – in fact he is very generous when picking his top cricketing moment of the year…
As an England fan, it's impossible to look back on the Sabina Park Test of 2009 and, overall, regard it as aught bar a substantial debacle. Although just how bad England's batsmen were in the match's third-innings has been rather exaggerated by the confident, some might say arrogant, UK media's perception of England's standing relative to West Indies prior to the series, there can't really be much doubt that it was an extremely poor performance.
Somehow, though, despite the fact that the overall impression of the match as an England fan is one of enormous disappointment, there is one moment in that match which stands out above most mundane moments in the year. As a lover of the art of fine swing bowling, Jerome Taylor's exocet to dislodge Kevin Pietersen is difficult to better. There is something uniquely appealing, regardless of patriotic allegiance, to the spectre of the best batsman (and let's be frank – by a long way) in a side being ripped out by a delivery which Don Bradman, Jack Hobbs, George Headley, Sachin Tendulkar and anyone else you care to name would have no realistic hope of keeping out.
That phenomenal delivery from Taylor has hindsight on its side – it is impossible to look past the fact that it was the moment match and series inexorably turned towards West Indies. But unless one is a West Indian fan, this is a relative irrelevance. It is impossible to conceive that anyone could wish to see a better delivery. Yes, there will have been many as good; but if you want to find one better you have a fair task on your hands, or one so aesthetically pleasing. Taylor's run-up alone is a sight for cricket's pairs of sore eyes – feet pawing the turf so softly you imagine there will be barely a mark made, he sleeks toward the crease with none of the menace that his fellow Jamaicans once observed in Michael Holding, but every bit of the apparent effortlessness. Taylor is a natural athlete, and that athleticism too manifests itself in the smoothness which he moves through his classically almost-perfect action (Holding, Fred Trueman or Dennis Lillee may better him but not many others could).
Taylor is a far from perfect bowler in terms of his accuracy (and height) and has endured ups and downs aplenty through his still relatively young Test career, but he cannot hope to better this delivery however many times he tries. Beginning the opening over after lunch, Taylor had no shortage of expectation on him. From characteristically close to the stumps, the ball angled just everso slightly in to Pietersen, pitched on perhaps the inside of off-stump, drew the batsman into an attempt to work the ball through mid-wicket as he has done so devastatingly so many times (and will do so again many times in future) and then moved away at a very sharp angle at just about the last possible moment. Smashing into the off-stump alone with sufficient force to send it cartwheeling toward wicketkeeper Denesh Ramdin, who raised his arms in ecstasy and rapidly begun racing into the circle which soon enveloped Taylor, the ball achieved perhaps the ultimately satisfying result for a bowler.
As an England fan the moment when Michael Hussey, having saved his Test career, bat-padded Graeme Swann to short-leg to return The Ashes back home is impossible to look past. But as a moment which made you stand up and go "…………… wooooooooowwwwwwwwwwwwweeeeeeeeeeeeeeeeeee" I can't look past Jerome Taylor's dislodging of Kevin Pietersen in the ultimate manner.
I'm sure you all had your own personal favourite, let's hope 2010 is similarly packed full of special cricketing moments. Mind you, from a personal point of view I hope there are no more like that last one – I had spent ten months working hard to remove that day from memory!