Taking on Lindwall, Miller and Thatcher
Martin Chandler |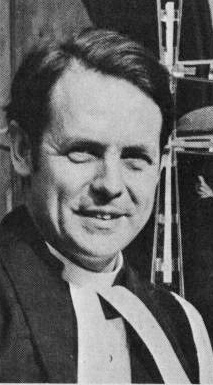 Links between cricket and Christianity have always been strong, some of the oldest of them having their roots in a particular church. Many clergymen have played the game, perhaps fewer of them and at a generally lower level in the modern era, but the relationship remains. There are at least two books on the subject of cricketing clergymen generally. Admittedly both are written by the same man, clearly an enthusiast, but as his books records there are a considerable number in Holy Orders who have played the First Class game.
The most famous name is that of David Sheppard, the only man to have played Test cricket after being ordained. There have been others who were capped before later joining the church. One was the Middlesex opening batsman Tom Killick (not to be confused with EH 'Tim' Killick of Sussex who was the main victim of Ted Alletson's famous innings in 1911), who played twice for England in the year Sheppard was born, 1929. A rather more famous example is the great West Indian fast bowler, Wes Hall. Killick joined the church the year after his two Tests and played little cricket after. Hall waited for more than twenty years before he was ordained in the Christian Pentecostal Church.
Sheppard was born in London and was fortunate enough to be shielded from the negative effects of the Depression. His was a middle class family and upbringing, although one struck by tragedy when Sheppard was just eight years old when his father, a solicitor, died. The family relocated to Sussex, the county with which Sheppard was to make his name as a cricketer.
As a youngster Sheppard was primarily a bowler. He bowled orthodox left arm spin with sufficient skill that his prep school headmaster predicted great things for a young man who, at that stage, was such an inconsequential batsman that he was often last man in. But despite that early success with the ball in his First Class career Sheppard only ever bowled 20 overs in seventeen years. A mere brace of batsmen succumbed to his wiles, both at Fenner's whilst he was playing for Cambridge in games which were drifting towards a draw. In 1950 he came on as seventh change and took the wicket of Hampshire's Alan 'Punchy' Rayment. A year later, on as early as fourth change this time, he snared Warwickshire's Bert Wolton.
Progress towards becoming a batsman began when Sheppard moved on to Sherborne School and came under the watchful eye of Somerset batsman Micky Walford. As a youngster Sheppard was not blessed with a powerful physique, so the runs did not flow freely right away, but once he got to 16 and experienced a growth spurt he developed rapidly and by his final year at school the 18 year old made his first appearances at Lord's, for Southern Schools against the Rest, and for the Public Schools against the Combined Services. A magnificent innings in the latter game from Peter May dwarfed everything else, but there were runs enough for Sheppard in the first game to earn him three late season matches in the Championship for Sussex. He started at the bottom with a first ball duck.
In that autumn of 1947 Sheppard started his National Service with the Royal Sussex Regiment and he played only twice in 1948, against the Universities, but with no real success. Available again for the latter part of 1949 he made two early half centuries but still found batting a struggle. He had spent two years playing on poor quality club and army wickets and on returning to good wickets found it difficult to score runs. He became rather defensive and off side dominant in his batting. The tide turned however in a game at Eastbourne against Glamorgan in late August. He scratched around for three hours, at a time when over rates were much higher than they are now, and managed to advance no further than to 43. At that point his partner, the veteran batsman George Cox, imparted a few words of advice as a result of which by the close Sheppard had advanced to 199. Next day he completed his double century and, just to confirm the corner had been turned, he scored further centuries in the next two matches.
Sheppard began his studies at Cambridge University in the autumn of 1949. He studied history in his first year, but at that stage his ambition was to become a barrister, so he intended to switch to Law in his second year. But the course of his life changed after a fellow student persuaded him to attend a sermon by an American Presbyterian preacher, after which Sheppard decided his future lay in the Church and before that in the study of theology.
The 1950 summer was a full one for Sheppard. He played for Cambridge in the first half of the summer and for Sussex in the second. This was the year when the touring West Indians, inspired by Alf Valentine and Sonny Ramadhin, swept all before them to take the Test series 3-1. At Fenner's however 'Ram' and 'Val' went wicketless as the University piled up 595-4 before declaring, Sheppard contributing 227. It was, as Fenner's always was, a beautiful batting surface and the West Indies scored 730-3 in reply but later in the summer, when England were in trouble and looking for inspiration in their side for the final Test, the selectors called up the 21 year old student who had taken a double century from the tourists back in May. The selection of Sheppard didn't do the trick, and he scored just 11 on his first visit to the crease as an international cricketer. England lost the match by an innings, but there would have been a few crumbs of comfort for Sheppard from his top scoring with 29 as England's second innings collapsed for 103.
Having done enough to earn an invitation to tour Australia that winter Sheppard obtained a leave of absence from his studies and travelled to the southern hemisphere with Freddie Brown's side. A high backlift caused him to struggle against pace bowling and Keith Miller and Ray Lindwall in particular and the success he had enjoyed on English wickets eluded him. He only made the Test side for the final two matches. He batted doggedly in the fourth Test for 9 and 41 in the context of a defeat by 274 runs, but could contribute no more than a single to England's consolation victory in the final Test, their first against Australia since the war.
Moving on to New Zealand Sheppard was no more successful in his single Test there and although he scored more than 2,000 runs at an average of 52 in 1951 he was not called upon in the series against South Africa that summer. In 1952 he carried on where he had left off the previous September and was to end the season at the top of the national averages with 2,262 runs at 64.62, including ten centuries. The selectors could not and did not ignore that sort of form and Sheppard was recalled for the final two Tests. The Indians were not a strong side and lost the series heavily but Sheppard, opening with skipper Len Hutton, scored 34 in the third Test and added his first Test century, 119, in the fourth.
Although Sheppard was only 24 as the 1953 season began he had agreed to accept the Sussex captaincy and, given that he was to be ordained later that year, it was always intended to be his only year in the job. It also proved to be the only full county season he was destined to play. His form continued as he once more scored more than 2,200 runs, albeit his average fell to 45. His captaincy was also well received. Sussex, never winners and as recently as 1948 second to bottom in the Championship, had their best season ever and finished as runners-up. Sheppard's only disappointment would have been that no place could be found for him in the England side that, after 19 long years, finally managed to reclaim the Ashes.
There had never been any question of Sheppard travelling to the West Indies in 1953/54 with Len Hutton but after a trip where the tourists made few friends those at the MCC who had had misgivings about appointing a professional as skipper continued to cast their eyes around the county game for a potential amateur replacement. Sheppard, who had become Cambridge captain ahead of Peter May, and had had such a galvanising effect on Sussex, was sounded out in 1954 as to his availability to lead England in Australia in 1954/55.
Those in charge of Sheppard's theological college agreed a leave of absence and he joined Sussex in June. His call up to the England side came sooner than expected as an injury to Hutton meant that Sheppard replaced him both as captain and opening batsman for the second and third Tests against Pakistan, who were touring England for the first time. Under Sheppard's leadership England comfortably won the second Test, and would have taken the third as well had it not been for rain. Given that on Hutton's return for the fourth and final Test Pakistan squared the series it may appear surprising that Hutton did lead in Australia, but Sheppard was not surprised, the selectors having let him know in the course of the summer that Hutton's critics had reflected on their positions and that he was likely to be reappointed.
Returning to his clerical studies Sheppard was ordained in September 1955, although he still found the time to play ten First Class matches, albeit without quite the same measure of success as in previous summers. His first position after ordination was a curacy in Islington, then a deprived area of London far removed from the fashionable locale it is today.
The Australians were here in 1956, and Sheppard had a few days off in June to play cricket. His second game was against the tourists and he scored a fine 97, but no one expected a recall to the England side. By the end of July the series was poised at 1-1, and England's batting had looked short on quality. In the third Test the selectors had pulled a rabbit out of the hat by recalling one of their own number, Cyril Washbrook, for his first Test in more than five years. Emboldened by the spectacular success of that particular gamble the selectors took another punt for the fourth in recalling Sheppard to bat at first drop.
The Old Trafford Test is quite rightly remembered for Jim Laker's remarkable feat of taking 19-90, but the headlines after the first two days were concerned with the Reverend DS Sheppard who, despite a fearsome greeting from Ray Lindwall, was unbeaten on 59 at the end of the first day, and on the second went on to anchor the England lower order before being ninth out for 113. He contributed innings of 24 and 62 on a difficult wicket in the drawn final Test as well, a third consecutive Test where England's batting was held together by a recallee, this time another veteran, Denis Compton.
In 1957 a disappointing West Indian side came to England. Sheppard's cricketing summer was much like the previous one in that he was recalled for the last two Tests. The series was not however so tight as that of the previous year. England had won the second Test, and might have been three up when Sheppard joined them. With him they won each of the fourth and fifth Tests by an innings. Sheppard's contributions were 68 at Headingley from number six followed by, restored to the top of the order, 40 at the Oval. He had scored just 32 First Class runs prior to this recall, a situation that could surely never arise today.
After 1957 it seemed as if Sheppard's cricket career was slowly drawing to a close. In 1958 he played only three times, albeit in one of the matches he took a century from that season's tourists, a very weak side from New Zealand. The following summer he played just once, taking a century from his alma mater, Cambridge University. In 1960 did play a little more, six times in all. There weren't too many runs that summer, although there was a century against Hampshire in his final appearance of the season. Despite his lack of form Sheppard was however back in the headlines again. There had been some misquoting of him in 1956 when he was asked about his unavailability to tour South Africa following his success in the Ashes, but that wasn't the case this time, Sheppard making it very clear before they arrived that he would not play against the touring South Africans in view of his implacable opposition to apartheid.
First Class cricket did not see Sheppard at all in 1961. By now he was in Canning Town in docklands, long before the transformation the area has subsequently undergone. He helped found the Mayflower Family Centre a facility that thrived under his leadership. But just as it looked like the still only 33 year old Sheppard might be lost to the game everything changed. The catalyst was a visit from the respected journalist and writer EW 'Jim' Swanton. In the past Swanton had not been Sheppard's greatest admirer by any means, but now planted the idea of a comeback in Sheppard's mind, urging him to look towards the 1962/63 Ashes series.
In fact Sheppard had been thinking in terms of an extended period of leave after seven years solid work and the press were soon full of the story. It was one that delighted the selectors as well, and Chairman Walter Robins soon got in touch to ensure that Sheppard knew that not only was a place in the touring party available, but potentially the captaincy as well.
The comeback began at the end of June and had the best possible start with a century. The opposition was not the strongest, Oxford University, and other than a pair of half centuries against Northamptonshire Sheppard struggled for runs in the Championship before, a month later, he scored his second century of the summer. This time there could be no question marks over the opposition. The match in question was the last ever Gentlemen v Players fixture at Lord's, and the professionals attack included Fred Trueman, Derek Shackleton, Fred Titmus and Norman Gifford. The game was drawn, with Sheppard scoring 112 and 34.
As far as the press were concerned those innings secured the captaincy for Sheppard ahead of the claims of Ted Dexter and Colin Cowdrey. In fact the announcement, when it came later in the day, was to the effect that Dexter had got the job. There was still a place in the England side for Sheppard for the fourth and fifth Tests against the visiting Pakistanis, and he scored a half century in each. Another three figure score against Middlesex between the Tests confirmed he was back in form and he was duly selected for the touring party.
Sheppard was never going to be a long term candidate for the England captaincy, and it may have been felt that as he was on the MCC committee to make him captain might have put him in a difficult position. It has also been suggested that there was concern as to his likely reaction if asked about Australia's whites only immigration policy given his well-publicised views on South Africa. Whatever the reason, and there may simply have been fears over whether his form would be robust enough. As it turned out being 'in the ranks' suited Sheppard who, with the blessing of both captain and tour manager, took every opportunity on the tour to preach and did so in all of Australia's major population centres.
With the bat Sheppard met with mixed fortunes. He contributed a couple of half centuries and in the second Test, won by England to level the series at 1-1, he led from the front in the pursuit of 237 to win, falling only when he was run out whilst going for what would have been the winning run. His 113 was the last of his three Test centuries. He achieved little in the third and fourth Tests, but made 68 in the second innings of the fifth Test, an innings the man himself considered to be as good as any he had played.
One aspect of Sheppard's cricket in Australia that did disappoint him was his catching. He had had one or two lapses in the past, but by and large was an excellent fielder whether as a close catcher or further out. There can be no doubt that on this tour the fiery Trueman, in exasperation at yet another chance going begging, did make a crack about the irony of a man of God being unable to put his hands together correctly. Exactly which of the many versions of the story was actually said in the heat of battle there is no consensus on.
After a creditable 330 runs at 33.00 in the five Australian Tests Sheppard played in all three Tests in New Zealand as well. He had rather less success there, a high score of 42 and an average of 21.75 being all he had to show for his efforts in the Shaky Isles. It was his last First Class cricket. Over a career spanning 16 seasons, only one of which amounted to a full English season, Sheppard scored almost 16,000 runs at an average of 43.51 with 45 centuries. His 22 Tests brought him 1,172 runs at 37.80. Bearing in mind that he played in an era when conditions generally favoured the bowler they are impressive statistics. Had Sheppard been able to commit himself to the game in the way of the professionals of his era it seems likely that his batting would be much more readily remembered than it is.
Rather than return from New Zealand immediately with the rest of the touring party Sheppard stopped off in Sydney to do some pastoral work for two months before returning to the East End to continue his calling. He next made the headlines five years later, and alienated a few of his friends in cricket in doing so. The subject was that of South Africa and the omission of Basil D'Oliveira from the 1968/69 touring party. It was Sheppard who took the MCC to task over D'Oliveira's non-selection on racial grounds, and to the surprise of no one two years later Sheppard was a leading figure in the successful campaign to stop the 1970 South Africans visiting England.
Between those two episodes, in 1969, Sheppard was appointed Bishop of Woolwich. He could, as most of his predecessors did, have chosen to live in leafy Surrey, but man of the people Sheppard chose to live in Peckham. His reputation continued to grow and in 1974 he published a book, Built as a City, dealing with the church's role in urban settings. Two of his more controversial ideas were to take steps to bring all development land under state control, and to bring the public schools into the state system.
Despite the significance of his work with the under privileged in London Sheppard's most important work was done after 1975, following his appointment as Bishop of Liverpool, then a fallen giant of a city riddled with poverty and unemployment. He worked tirelessly until his retirement in 1997 to improve the lives of his congregation. In a city that was no stranger to sectarian problems he formed a partnership with his Roman Catholic counterpart, Derek Worlock. Only a tiny percentage of those the pair set out to help ever went near a church, but the two Bishops did an enormous amount to improve the lives of ordinary Liverpudlians.
In the corridors of power Sheppard made few friends for taking Margaret Thatcher to task over many of her policies, but amongst anyone with a humane and unselfish outlook he was a man who commanded huge respect. There were a number of occasions when the Iron Lady tore into Sheppard but he didn't mind. After all whenever they clashed he could do so safe in the knowledge he was always right.
Almost as soon as Sheppard retired from the church Tony Blair made him a life peer as Lord Sheppard of Liverpool. In the Lords Bishops are traditionally neutral, but Sheppard took the Labour whip and continued to fight for the causes he believed in whenever the opportunity arose. He may not have been quite a good enough cricketer to achieve greatness, but as a man he most certainly did. When he died in 2005 at the age of 75 he was much mourned, and those who fight for social justice lost a much respected champion.