Sashti Poorthi (Sixty Complete) : Sunil Gavaskar
Swaranjeet Singh |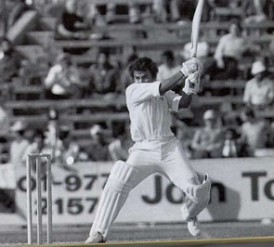 Sunil Gavaskar turned sixty today. I too will turn sixty in seven months time and that, perhaps, makes it easier to accept Sunil Gavaskar as an old man (if sixty is old) and not the same youngster who so very suddenly burst upon the collective psyche of Indian cricket fans thirty-nine winters ago. The impact that Sunil Gavaskar's 774 runs on that West Indian tour had on us was far greater, trust me, than the impact Sachin Tendulkar had when he burst so incandescently on cricket's horizon some twenty years later. It was massive. It was completely unbelievable. It was magic. It was fiction. It was all that for reasons beyond the fact that 774 runs in four Tests by a twenty one year old in his debut series is all of those things.
First and foremost, we were the cricketing third world, the team to beat and score lots of runs against after one of the bigger guns had mauled you. We were the country you didn't send your mothers-in-law to. Instead, rather condescendingly, you sent us a second or maybe third eleven and when we went visiting you walloped us and talked down to us as those 'nice guys on and off the field'. We were not exactly the Bangladesh of today but more like the Zimbabwe of the pre-Mughabe-madness days minus the spunk Zimbabwe showed under Andy Flower and Heath Streak. Its not as if we had no heroes. We did, but they came visiting once in a while and always one at a time. With the result that all our heroes, like Hazare with his hundred in each innings at Adelaide, or Mankad with that amazing all-round performance at Lord's, never ended up on the winning side. We had got used to taking pride in the gallantry of our cricketing soldiers in those heroic skirmishes in the wars that we were resigned to losing.
Not that it deterred us. We did not think of ourselves as the 'minnows' (what a horrid word) of the cricketing world. We found better ways to handle our blues. We started making wickets that just wouldn't let the best bowlers of the world (not that the best ever turned up) take twenty Indian wickets. We started taking pride in our drawn Tests and sometimes in an 'all-drawn' series. That became our ultimate cricketing goal. It did not bother us that the sides England chose to send us while not exactly full of Boycott's mom and aunts but certainly containing some players who had about the same chance of playing in the next Ashes series as those geriatric ladies. Batsmen like Hutton, Compton and May skipped Indian tours. More importantly, bowlers like Trueman, Bedser and Laker never came visiting to the Indian shores. But such minor details were not for us. In any event we had our own bunnies too or so we thought. We liked to feel superior to a couple of sides viz. the Pakistani's and the New Zealanders. We thought we ought to beat them every single time. Not that we always managed to do that but we won against them more often and, at least, were rarely humiliated as we were by fast bowling Test debutants in England and fire breathing black giants from the West Indies. It also helped the spread of unpalatable stories about some of our heroes refusing to go out to bat and when finally at the crease preferring to step backwards towards the square leg umpire rather forward towards the bowler.
Lets face it. We were really starved of heroes of the type we wanted. We were fed up of being the good guys who were happy to come second. Players who had long been playing for their batting averages than for the side. Players who knew that if they scored enough runs on dead tracks against weak opposition then their helplessness against better opposition on even mildly bowler friendly conditions would not stand against them come selection time. Players who were always individuals and never members of a 'Team India' that never existed. And finally, players most of who were widely accepted as being uncomfortable (to put it mildly) against the quicker stuff.
Sunil Gavaskar circa 1971 changed all that.
West Indies stood for everything that we feared and admired in our rivals and their cricketers did everything our heroes showed themselves incapable of doing consistently. While our batsmen belonged in the security minded age of the fifties, theirs showed the restless and free spirit of the Golden Ages. While theirs relished the faster stuff and found the short fast ball ideal for their aggressive attacking batting style, ours were petrified by it. Anything faster than military medium almost appeared like an infringement on the spirit of the game and we felt justified in our indignation for did we not confront them with the friendlier pace of the Dattu Phadkars and Ramesh Divechas?
On the field, our senior players preferred to retire to the less demanding environs of the slip cordon while others lumbered along escorting the ball on its way to the boundary. The West Indians, young and old, lurked like wild cats in the outfield and dived like acrobats in the close in positions. Whereas the advent of one black captain had managed to bind them from a disparate combine of brilliant but individual performers, from a dozen different island-nations, into a team that would take on the world together, we were fighting amongst ourselves in the 30's and the 40's and even the tumultuous events that split our nation into two failed to bring home to us the concept of team-spirit. We continued to be North Indians or South Indians, Bombay-wallahs, Dilliwallahs and Madraswallahs. It must be mentioned here that the Junior Nawab of Pataudi, in the sixties, had done quite a fair bit to rectify the situation with regards to forging a 'team'. He also led us to our first Test and series win abroad even if it was against the 'lowly' Kiwis.
However, more than the fearless batting and the spectacular fielding, much more than the admirable team spirit among these people of different nationalities, what we admired, envied and feared most about the West Indians was their fast bowling. The sight of Hall screaming in from almost the adjoining ground was too much for the quaking Indian batsman who, perhaps, died many a times before Wes took that final leap culminating into the explosive delivery and follow through. Accounts of Indian batsmen (exposed so violently by that burst by Trueman in that Headingley second innings in the summer of 1952) refusing to agree to open the innings were legion. The story of my namesake losing his turban to a bouncer (or beamer) bowled at him by a belligerent Gilchrist added to the legend. And they were at their most lethal at home. Hadn't they demolished us with a black-wash the last time we came visiting exactly ten years ago.
Sunil Manohar Gavaskar slayed all those demons in six sparkling weeks in the winter of 1971.
Lot of people ask those of us who were lucky enough or, sadly, old enough to have watched both throughout their careers as to how do they compare – Gavaskar and Tendulkar. This is a disease the cricket fans are stuck with. I think it is genetic – this need for the cricket lover to conclusively establish the superiority of one cricketing great over another. So I am not going to help resolve this issue for anyone – not that there is even the remotest possibility of any such issue ever being conclusively resolved – but let me try and give you a flavour of the impact SMG had on us four decades ago.
I think, with me, Gavaskar started with a distinct disadvantage. To start with he was my age. I went to school the same time that he did. In fact, I first heard of him when he started playing for the Indian Schoolboys. I do not recall exactly but it might have been the team in which Kirmani was the captain or the 1966-67 series at home against the visiting English schoolboys. Whichever it was, I wasn't impressed!
How could I be. I was a teenager like him. I too had ambitions to play cricket – starting with playing for my college and then the University. After my graduation I was planning to dump all my parents plans for me – to send me to the Indian Civil Services, failing which to get me to become an Engineer or a doctor or, at the very least, an architect. No. I wasn't planning on doing any of that. Straight after my graduation I was going to become a clerk in the State Bank of India. All great Indian players seemed to play for the State Bank for India in those days – Wadekar, Bedi, Vishwanath, you name them. Yes Sir. I had it all worked out. I would join up as a clerk, which was the junior most level at which the bank hired cricketers, then I would play well enough to get into first class cricket and then, naturally, Test cricket was just one more inevitable step. I had it all chalked out.
No. Gavaskar playing for the Indian schoolboys team certainly did not impress me. Why, even, Ashok Gandotra, just one year my senior at school and from the same club that I played for had already been to England with the Indian schoolboys and was a big star and this with the big handicap of not being from Bombay. I was going to get into that Indian team and Gavaskar wasn't even going to be in contention for that job let alone being a hero. Not that I did not have my own cricketing heroes. I had two – Jaisimha and Kanhai. I came to know later that Kanhai was also Gavaskar's hero. Well I told you he was just like me, another budding cricketer.
No. I wasn't too taken up with Sunil Gavaskar the upcoming star before that West Indies tour. Why, of the youngsters who went on that tour, I thought Jayanthilal was the real young star. I had seen him bat and he looked very good. It did not make Jayanthilal a hero for me but I thought he would play for India soon and he did and Gavaskar didn't, in that first test match. I wont say I told myself, ?I knew it' when Gavaskar did not make that first test side. I just did not think of him. He didn't seem to figure in my cricketing pantheon.
The Indian Little Master (with due deference to Hanif Mohammad) was going to change all that and pretty soon.
What Gavaskar did on that tour is the stuff of legends. I would say it is a legend by itself except that it is not even remotely apocryphal. If Hugh de Selincourt had written a cricket novel called The Test Series instead of The Cricket Match, I doubt if he would have made his hero do what Gavaskar did on that tour. No one would have read Selincourt's book if he dared his imagination run that wild. It would have been a bit too much to swallow even in fiction. That's how unbelievable his run of scores on that tour was.
For those who are not aware, it may be important to recall that Gavaskar suffered a finger injury just days before leaving for that tour. The whitlow on his middle finger became so bad that the doctor in New York who finally operated upon him told him if he had been a bit late gangarene would have set in and the finger would have had to be amputated. The result was that Gavaskar missed the first three tour games including the first Test match. He came back for the match against Leeward Island, scored 82 and 32 not out, played against Trinidad, scored 125 (runout) and 63 and he was in the Test side for Port of Spain. The rest is history.
What most people, who are not old enough to be following the game at that time, fail to realize is that the miracle of West Indies 1970-71 was not just the feat of a youngster on his debut series scoring 774 runs at an average of 150 something. For us it was much more than that. For the first time, ever, we had won a Test match outside the Indian sub-continent against one of the big three and that wasn't all. For the first time ever we had beaten the West Indies in a Test match but it wasn't even that. For the first time we had beaten West Indies, for us the unwritten champion team of the world, in a Test series and believe me it wasn't even that though that was huge.
For us it was the washing away of our complexes.
It was being able to say, without the slightest of doubt in the remotest recesses of our overjoyed hearts, that India had arrived. It was putting behind us the painful memories of Pankaj Roy facing Trueman, Umrigar facing Gilchrist and Contractor being felled by Griffith. An Indian batsman had stood up to the tall, bad, black West Indian fast bowler and thrashed him to all corners of the cricket fields of the Caribbean and, most importantly, he had not done it in vain; he had come back triumphant. It did not matter to us one bit, then as now after forty years, that there were no tall, bad, fearsome fast bowlers that season in the West Indies. The less than fiery pace of Holder, Shillingford, Dowe and Boyce confronted the Indian openers. The bulk of the bowling for West Indies in that series was by off spinner Noreiga, leg spinner Barrett and the ageing Sobers. Spinners bowled 60% of the overs for West Indies and the pace men of dubious vintage as listed above bowled most of the rest.
However, the fact that the tall, bad and fearsome fast bowlers of the West Indies were not that fast anymore and clearly not fearsome by any stretch of imagination never registered with us. The fact that Dilip Sardesai, that ageing war-horse scored 642 runs in the five Test series and only 1359 in the other 25 of his career didn't matter then and it still doesn't. Our young David had slain the giant and we were not about to quibble over the arthritis in Goliath's knees or the asthma that seemed to make him short of breath. Our Sunny had gone, he had seen and he had conquered – and how?
We were over the moon.
The cavalcade that carried the team from the airport in Bombay had hundreds of thousands lining the streets and tens of millions of others present in spirit. Trust me, what we felt after beating West Indies in 1970-71 was no less than that win at Lord's by Kapil's Devils. When India went on to win, a few months later, the very next series as well, in England no less, we were happy, very happy, but we were not stunned. That win in the West Indies had made us believe we could do it again and again and again.
That's what Sunil Manohar Gavaskar did for us. He gave us belief that we could do it.
In the two decades that followed, Gavaskar had his lows and lots of highs but it was an absolute high for us to see him master the best in the world with that calm presence at the crease, that motionless stance, that precise and economic footwork, that ever so slight tilting of the head to let the most vicious of bouncers sail harmlessly past and that amazing gift to let not a single bad delivery go unpunished with the widest possible array of strokes each executed with text book finesse. The fact that while doing this he kept piling up runs after thousands of runs and hundreds after magnificent hundreds was just the icing on the cake. We had not just lost our complexes, we had amidst us a super star who was a super star and the best opening batsman in the world not because we said so but because the entire world agreed.
I understand, from this morning's papers, that he is going to spend the day at the Sai Baba's Ashram with his entire family. I always knew SMG was a Sai Baba devotee and while I am not a religious man myself lets all wish the Little Master a happy, healthy and joyful life and may he continue to guide Indian cricket and cricketers and may he continue to speak out his mind with that tongue firmly entrenched in that dimpled cheek, as he is wont to do, and hopefully he wont put those nimble feet too often in that mouth, as too, he is sometimes, wont to.
Thank you Sunny for those wonderful memories right from Port of Spain March 1971 to Bangalore March 1987.