Ranchi
Gulu Ezekiel |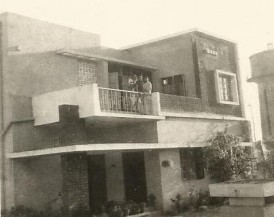 Watching Ranchi bask in the glory of its most famous son, Mahendra Singh Dhoni (even though his family roots lie in Almora district in present-day Uttaranchal) with the first international cricket match having been staged there on Saturday, gave me a tinge of pride too and reminded me of the year I spent with my family in Ranchi in 1973.
My late father was with Hindustan Steel Limited (HSL) back then, now known as Steel Authority of India Limited (SAIL) and we lived in HSL Colony. Later it was renamed MECON Colony (Metallurgical and Engineering Consultants Ltd) and this is where Dhoni was born and grew up.
It was at the MECON stadium where first-class matches had been held at Ranchi till now and where Mahi's father Paan Singh worked as a pump operator.
I was 13 going on 14 at the time and we reached Ranchi after spending five wonderful cricket-filled years in another steel township, Durgapur in West Bengal.
My brother Jawahar, two years older, was a talented medium pacer/batsman and became the first captain of the local neighborhood club I helped found.
It was the "freaky" name of the club that caught the attention of other cricket clubs in Ranchi – plus the fact that we were the only team of youngsters which had its own wicket-keeping gloves (costing the princely sum of Rs. 65 back then) thanks to our father who was the chief sponsor of our club.
It was me who came up with that catchy name – the K5 Club with K5 being Krazy Kool Kats Kricket Klub!
Our bedroom window overlooked the steel plant's tennis court which, sadly, was for HSL officers only, with us kids being barred, and just adjacent to the court was the cricket ground.
Years later I was delighted to learn that the flat had earlier been occupied by my good friend, the eminent tennis historian Mr. PK Datta, who lives in New Delhi and approaching 90 years of age is still immersed in tennis research. In fact it was Mr. Datta who in the 1960s had supervised the construction of the colony's tennis and badminton courts.
When I got down to write the first biography of Dhoni in 2008 (an update is out next month) it gave me special pleasure to recall my brief cricket connection with his birthplace and that we lived in the same colony, though years apart.
In February 2004 before Dhoni hit the big time, I had a brief chat with him in Amritsar while reporting East Zone's Duleep Trophy match against the visiting England "A" side which had Kevin Pietersen among other future stars in its ranks.
Dhoni's eyes lit up when I told him of the year I spent in Ranchi and we swapped yarns about our locality and the schools we attended. He called me uncle but I can forgive him for that!
By the end of the year he had made it to the national team.
Back before it became the capital of the newly formed Jharkhand state in 2000, Ranchi with its pleasant hill-station climate was the summer capital of Bihar and had a quaint small-town feel to it.
Till now Ranchi has been known as the home of one of India's largest mental asylums. Hopefully that will change now, thanks to the stadium that Dhoni built.
Photo courtesy of Mr PK Datta