Outshining Cricket
Peter McGlashan |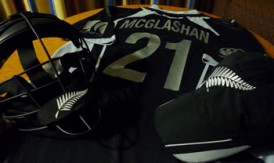 It's been a busy week for me including my ODI debut and being thrust into the media scrum that follows the Indian Cricket side. Thanks for your patience and I hope you enjoy this insight into my experiences.
Cricket is a funny game.
Occasionally funny 'ha ha', but more often than not, funny 'strange'.
It wasn't much more than a week ago I sat in the crowd at the Westpac Stadium in Wellington and watched the Black Caps beat India on the last ball in the Twenty20 match. It was a tight game throughout and Brendon McCullum's Man of the Match performance was an example of one of our stars outshining theirs. Within three days of heading home I'd received a phone call from the selectors to say I was required to be back in Wellington to keep, with Baz out through injury. Wow…
I was watching the first one-dayer on the television up in Whangarei while preparing for the Knights next four-day game when I saw him get hit on the thumb. I thought immediately that it looked pretty nasty but also knew how tough Baz was and didn't think much more of it.
But then I got 'that' phone call.
So a week to the day, I returned to Westpac Stadium, not as a spectator but as a player, about to face some of the biggest names in world cricket.
As a Keeper it is an important skill to be able to filter out the batsman and to focus purely on the ball coming towards you. You can imagine how difficult this becomes when it is one of the best players ever, that is standing in front of you waving the willow.
Sachin, Sehwag, Yuvraj, Dhoni, Harbhajan, and Zaheer are legends of the game. I met and got a photo with Sachin 13 years ago, when I was a schoolboy touring the UK playing cricket, and have thoroughly enjoyed watching him play some of the most amazing innings ever seen. So it is fair to say, it was a thrilling experience having him say 'Thanks Pete' after the game and shaking his hand as an opponent, and not just a fan.
It has been a great experience and very humbling. To have the opportunity to compete against your heroes is something that most people dream of, and is one I will look back on with fond memories at the completion of the series.
Tendulkar's innings in Christchurch was sublime and while the booming lofted drives were exciting, it was the deft touches of class that showed the little master at work and on top of his game.
Naturally, I was disappointed with missing a stumping to get Dhoni, but overall I was happy with my efforts on a difficult wicket that was a little up and down. It was pleasing to pick up three catches. I didn't want to be remembered for 'that' missed chance.
It is so difficult in that regard as a wicketkeeper. A fielder can fumble a ball, it go through their legs, but be forgiven. A bowler can bowl a half volley and get smashed for 6, yet not be scalded. Keepers have some of the highest standards expected in sport where any error (regardless of magnitude), is regarded as a failure and defines your performance for the day.
Keepers just cannot make an error. They are expected to be almost superhuman, from another world.
Watching the Indian cricket team tour the country, from this close, has given me an insight into the other world they live in. These guys are treated like Gods, people camp outside the hotel to get a glimpse of them and the entourage of media is immense.
The paradox is they are human. They grew up playing in the backyard or street like the rest of us, they have two arms and two legs, they still make mistakes and as we saw the other night, can be put under pressure.
Christchurch gave us a lot of confidence as a unit. We knew we bowled poorly with limited resources, but we fought well with the bat and sent a message to the Indian side.
We will not roll over.
We will not be overawed.
And we will not settle for being the support act…


KudoSurf Me!