Meeting a Hero
Gulu Ezekiel |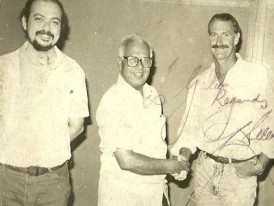 It has been 25 years since Australian pace legend Dennis Lillee first set foot on Chennai (then Madras) soil after being appointed head of the MRF Pace Foundation.
Now as "Dennis the Menace" retires and hands over charge to fellow Australian pace great Glenn McGrath, my mind goes back to Lillee's first press conference which I attended as a young sports reporter.
I can vividly recall how jam-packed the hotel was as the city's media fraternity turned out in force to get a glimpse of arguably the greatest fast bowler in cricket history.
Normally a reserved and professional lot, we jostled for space to get Lillee's autograph and our photos snapped with him.
Lillee after all had never played on Indian soil. Australia toured India just once during his glittering career that extended from 1971 to 1984 and that was in 1979 when he was banned from official cricket as he was with Kerry Packer's breakaway WSC.
The biggest surprise for us was the snarling, spitting fast bowler on the field was so cordial and friendly off it.
His arrival was shortly before the start of the 1987 Reliance World Cup (which Australia went onto win).
It was also shortly after Australian wicket-keeper Rod Marsh's revelation in his book that the two had bet on an England win in the 1981 Headingley "Ashes" Test when the odds against England were 1,000?1.
Led by heroics from Ian Botham and Bob Willis, England sensationally came back to win after following on and Marsh and Lillee made a fortune betting against their own country.
The revelation created a minor storm – remember this was a good two decades before the match-fixing scandal in world cricket had hit the headlines.
When asked who his favourite was to win the World Cup, Lillee, with a wicked smile across his face began: "As you know, I am a betting man?"
The rest of his answer was drowned out in roars of laughter from the assembled media.
There was another amusing incident. A young reporter from a news magazine kept badgering Lillee as to why he had never played in India.
I still recall being stunned a week later when I read in his report that Indian cricket fans "resented" the fact that Lillee had never toured this country!