Lawrence Rowe : What could have been?
Ganeshbabu Venkat |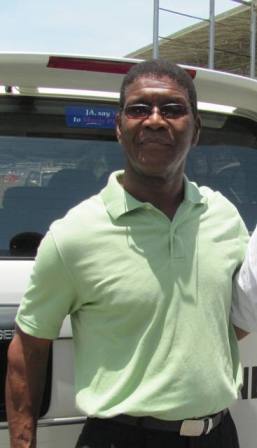 "From Tony Cozier, through the cab driver in Barbados to the man in the stands at Sabina Park, they all said the same – "The maan could bat". Another guy in the stands said "Yagga plays the on-drive – not a man move!!".
For a good 28 years since he made the decision to tour South Africa, Lawrence Rowe was considered a pariah and was ostracized from West Indies cricket – that was until on the first day of the recent Test match between India and West Indies, when Rowe, Michael Holding and Courtney Walsh were honored in Sabina Park, in his hometown of Kingston, Jamaica. The George Headley stand end was named after Holding, the Northern stand end named after Walsh and, to show that all was forgiven, they named the player's pavilion after Lawrence Rowe.
"Yagga", as he is fondly called in these parts, after unveiling the player's pavilion went on to make a prepared press statement in which he apologized for the rebel South African tour all those years ago. Heralded in his early career as a most elegant batsman, Rowe could play any stroke and was even dubbed as the "Right-handed Gary Sobers". He had a spectacular debut when he scored 214 and 100 against New Zealand at Sabina Park during the first Test of the 1972-73 series.
His watershed moment came during the third Test between England and West Indies at Bridgetown, My cab driver from Bridgetown said that there was a sparse crowd in Bridgetown at close of play on day two with Rowe unbeaten on 48. After the rest day, people were scrambling to get into the ground as early as six AM for the next two days, and there were no seats left vacant when he reached his triple hundred. Rowe himself recalled that he had to be escorted in to the ground because of the commotion.
However it is a surprise that he does not rate any of those knocks as his best but rated the 175 in the Packer series as his most dominant knock, and a 67 in a losing cause against Dennis Lillee , Max Walker and Jeff Thompson as his best Test knock. Since that 67 things went downhill for him, he was troubled by eye-problems and could only score just one hundred during the rest of his career; then came the rebel south African tour which changed the lives of not only Rowe but also the 17 other West Indians who made history for the wrong reasons. Following the rebel tour to to "Apartheid" South Africa to play a series Rowe was banned for life from all forms of cricket. People back home loathed him for being an "Honorary white" and he decided to migrate to the united States – it was certainly tough times after that tour, but with 28 years passing since the tour he feels accepted now.
To an interview question from me asking if he was still playing cricket in the States, pat came the reply "Yeah Maan!! I even scored a 22 not out last week" amidst laughter from everyone. In hindsight it was sad to see the case of a cricketer who could have scaled greater heights but reduced to a Villain because of making the wrong choice at the wrong time. It was a personal decision made by those 18 cricketers to ensure their future – they went to South Africa and were frowned upon.
I personally felt all the more happy for I have heard stories about Rowe from my dad. As a cricket lover it was pleasing to see Rowe honored for what he had done for West Indies cricket and not being judged just for that ill-fated tour. From being the darling of the crowd, To becoming a pariah in his own land and then being accepted and honored in the land he loved, life had indeed come a full circle for Yagga in every sense of the word."