Junior Partner: The Story Of Bill Voce
Martin Chandler |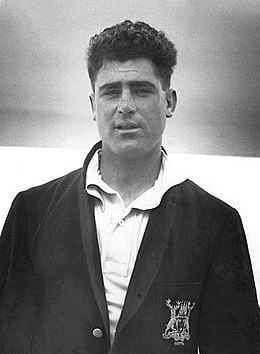 Left armer Bill Voce was the junior partner in what remains one of England's best known fast bowling firms, Larwood and Voce. It is more than eighty years since they struck fear into the minds of the world's batsmen, but the series that cemented their place in the annals of cricket history is still discussed today. 'Bodyline' is as emotive a word as ever.
Born in Annesley Woodhouse, a few miles north of Nottingham, Voce was brought up no more than half a mile from Larwood, who came from Nuncargate. Both villages were mining communities, and both men were sons of miners with little option other than to follow in their fathers' footsteps, had it not been for their talent on the cricket field.
The similarities continued. Both came from large families. Larwood was the fourth of five sons, Voce the eldest of six, but there was a difference. Voce's life was touched by tragedy when he was 14, his father dying of tuberculosis. Having to watch his deterioration and having the financial responsibility of his mother and younger siblings thrust on him at such an early age shaped Voce's character.
The young Voce, like Larwood, would walk miles for a game of cricket, and he practised whenever he could. He was rewarded, as a 16 year old, with an offer of a professional contract with Nottinghamshire. The initial proposal was that he would be paid the same as his wage in the mine. Voce had the courage to decline that one, but the committee realised that he was worth more, and by the time he finally left their room that day he had reached an agreement.
In his first summer on the Notts staff, 1926, Voce did not play for the first eleven, but enjoyed some successful outings with the seconds in the Minor Counties Championship including a match haul of 11-158 against Yorkshire. The following summer, with Larwood away at the Test Trial, he was given his first team debut. In those days he was, according to The Cricketer, a left arm medium paced bowler and he made a conspicuous bow, taking 5-36 as Gloucestershire were dismissed for 149.
Even at 17 The Cricketer correspondent described Voce as having a splendid physique. Tall, slim and athletic as he grew older hard training turned him into an immensely powerful man whose party piece was to tear a telephone directory in two. Looking every inch a fast bowler it did not take Voce long to change style and by 1929, now usually bowling at fast medium, he had done enough to earn a place in the Test trial. Having done so he did not manage to force his way into the England side for the summer's series against South Africa, but he helped his county to their first title for more than twenty years. The selectors did not forget him and, still only 20, he was invited to tour the West Indies that winter. It is interesting to note, in view of the conspiracy theories that were to come, that those criticisms that Voce did attract were in relation to his usual line of attack, on leg stump with a gathering of short legs.
Selected for all four Tests in the Caribbean Voce was England's leading wicket taker with 17 at 34.35. The series was drawn 1-1 when the deciding Test, which was supposed to be played to a finish, was left drawn after nine days so the Englishmen could get their ship home. Voce's performances were a little uneven. He bowled with considerable speed in three of the Tests, without a great deal of success. In the fourth, at Port of Spain in Trinidad he was instrumental in England's sole victory with 4-79 and 7-70, figures destined to remain his best in Tests. This was the only one of the Tests to be played on a matting wicket, and Voce reverted to bowling medium paced spin.
A young man in an aging team Voce worked hard in the West Indies and may have been a little jaded on his return. In any event he had a disappointing summer in 1930 and was not selected for any of the Tests against Australia. He still made that winter's trip to South Africa and took 23 wickets at 24.39 in the five Tests. It was a series won by the home side who took the first Test and drew the other four. It is unfortunate for anyone wanting to learn more about Voce that there is such a paucity of writing on his first two series, neither of them having been written up in book form.
In 1931 Voce played for England in England for the first time. It was the first Test played in England against New Zealand but, as the visitors emerged with great credit from a drawn match Voce did nothing to enhance his reputation, failing to take even a single wicket. He did rather better in India's inaugural Test the following summer, but it probably mattered little. Voce was always going to make the trip to Australia in 1932/33 as soon as Douglas Jardine decided that leg theory was his best answer to the phenomenon that was Donald Bradman.
Measured in terms of figures alone Voce's performance in the famous 'Bodyline' series was not out of the ordinary. He missed the fourth Test through illness and in the other four took 15 wickets at 27.14 with a best of 4-110 in the first innings of the first Test. His was nonetheless a vital role in making leg theory the success that it was. In truth he was, the second Test apart when Bill Bowes was selected for the only time in the series, the only bowler other than Larwood to bowl to the Bodyline field it and, being no stranger to the tactics, he was more than proficient at it. The writers and commentators may have talked and written ad nauseam about Larwood, but the Australian batsmen were no less apprehensive about facing Voce.
Larwood and Voce were much more than teammates. They were the best of friends and Voce happily accepted the role of something akin to Larwood's minder. There were plenty of Australians who would like to have had a go at the short and wiry Larwood, but very few who would have even considered crossing swords with a powerful man like Voce.
In terms of generating column inches and pages in books there has never been a tour like that of 1932/33. Not only was a huge amount written about it at the time but its fiftieth anniversary in 1983 was the catalyst for more books and the library of writing on 'Bodyline' has been added to at regular intervals ever since. Then and now the headline acts were Larwood, Jardine and Bradman. The pressure on those three men was immense and in different ways the series broke the cricket careers of Larwood and Jardine. Voce certainly never stood back from the eye of the storm, but he was carried along in the slipstream rather than being buffeted furiously by each new development.
When the Englishmen returned they found the corridors of power in the game rather less supportive of their tactics than they had been when the famous cables had been exchanged during the series itself. Both Larwood and Voce found themselves persona non grata at Lord's. Both were unrepentant, and both made it clear that thereafter their only interest was in playing for Nottinghamshire.
The Australians were back in England in 1934. Jardine, after leading England in India in 1933/34 had spared the selectors the task of sacking him by leaving the game and moving into the press box. Larwood was still a fine bowler but, thanks to the foot injury he suffered in the final Test in 1932/33 had lost the extra speed that made him unique. He also made it clear to those in authority that, despite their invitations to him to do so, he would not be apologising for his leg theory bowling. In that one Voce supported him wholeheartedly.
The Australians exhibited something resembling paranoia about Bodyline in 1934, any hint of leg theory bowling being met with fierce protests. The best example was when, in the run up to the final Test of the series, the Australians visited Trent Bridge to play Notts. The county were still led by Arthur Carr, supposedly one of those who helped Jardine to plan his tactics for 1932/33. In the tour match however Carr wasn't playing and a Notts attack without Larwood, but with Voce, bowled first. The Australians were bowled out on the first day for 237, with Voce taking 8-66 whilst bowling to a leg side field.
On a curtailed second day Notts were dismissed for 183 and there was just time for Voce to bowl a couple of overs before the close. The next day he did not appear and the Australians took the opportunity of taking some batting practice. The initial announcement was that Voce was suffering from 'sore shins' and was unfit to take the field. The reality seems to be that the Australians were complaining and acting skipper Ben Lilley, a professional, allowed himself to be dictated to by the county committee.
It was Carr who published articles in the press suggesting that the 'sore shins' were simply a cover story and he was not amused by Voce's continued omission from the side for the final Test. He chose a few ripe words when in that match, once the Australians were well on the road to victory, the Northamptonshire left armer EW 'Nobby' Clark, was permitted by the England captain Bob Wyatt to bowl what looked to Carr very much like 'Bodyline'. For a variety of reasons Carr, county captain since 1919, might well not have been Notts captain for 1935 anyway, but the bitter departure that the row over his comments led to would certainly not have happened.
Voce had a good season in 1935, without any suggestion he might want to make himself available to play the touring South Africans coming his way. Larwood also did well. In the following summer a team had to be selected to return to Australia, and the selectors were extremely worried about the lack of bowling. As if to mock them Larwood, bridges well and truly burnt by now, bowled magnificently all summer and topped the national averages for the fifth and final time. Voce too enjoyed a fine summer and it was quite clear to all concerned that the side in Australia would be much stronger for his presence.
What happened over the course of the 1936 summer caused the Larwood and Voce friendship to fracture spectacularly, albeit temporarily. The MCC played a clever game with Voce in order to persuade him to make himself available for the tour. They knew that, like Larwood, Voce would not apologise for bowling as he had in 1932/33, but at the same time his situation was not the same. Voce was a cautious man and whilst he had always stuck to his guns over 'Bodyline' and supported his great friend he had not written a book, and when he had spoken to the press he had stated his views firmly enough, but had deliberately chosen to avoid dogma or inflammatory language.
As far as Voce was concerned as a professional cricketer he was there to carry out his captain's orders. The 1936/37 captain was to be Gubby Allen, the fast bowler who refused to follow Jardine's instructions in 1932/33. There was no way that Allen would be using any sort of leg theory in 1936/37, so if Voce could be persuaded to commit to carrying out his captain's orders the problem was solved.
At the beginning of August Voce was in London, playing against Surrey. Allen took time away from his commitments to Middlesex in order to seek Voce out and to, in effect, offer him a place in the touring party provided he would bowl as instructed by Allen. It was as well that Voce did not know that in his letters home in 1932/33 Allen had described the two Notts pacemen as gutless, swollen headed miners. For Voce the decision proved straightforward. He knew Larwood would be upset, and he would never have criticised him, Jardine or leg theory. At the end of the day however Voce had no difficulty in following team orders and, work in winter being difficult to find, the tour fees would help a married man with a young daughter very much.
A somewhat wooly announcement was made that Voce had given the MCC an entirely satisfactory statement to them and his name was announced. Larwood was incandescent with rage at what he viewed as almost treachery by his great friend. For a short time the pair barely spoke but Larwood, who had his own business to sustain him in the off season, came to accept that Voce had a point, and the pair were friends again by the time Voce made his way to Australia for the second time.
In the run up to the first Test Allen's men rarely showed what they were capable of, and they went into the match as big underdogs. In the event however they won a comfortable victory by 322 runs. It is true that Allen and Voce ran through the Australians for just 58 in their second innings on a sticky dog of a fifth day wicket, but the real damage had been done earlier in the match when, thanks to 6-41 from Voce, England claimed a first innings lead of 124. There was nothing wrong with the wicket then, and Voce gained his success by bowling to a strictly orthodox field and, something he couldn't do in the early part of his career, moving the ball away from the right handers. He took 4-16 in the second innings debacle
England went two up in the second Test. Again they had the best of the conditions as Australia once more, this time in their first innings, capitulated on a rain affected pitch. Voce took 4-10 in the all out total of 80. The final two deliveries of Voce's first over saw him dismiss Leo O'Brien followed by Bradman and when he got Stan McCabe two deliveries later he had three wickets in four balls. He claimed the wicket of Jack Fingleton before ending his only spell after eight overs, and he should have had a fifth, Arthur Fagg failing to hold on to a catch offered by Arthur Chipperfield. In the follow on Voce took 3-66 when, although the Australians found the pitch in a condition rather more to their liking, they could still not quite manage to make England bat again.
Unfortunately for England Australia then became the first side to battle back from a 2-0 deficit to win a series. There were three main reasons. The weather gods chose to even things up as far as the pitches were concerned, and then there was the captaincy and batting of Bradman who, after scoring 120 runs in his first four innings of the series managed 690 in the other five. Lastly, Voce was not fully fit in the latter part of the series, in particular in the fourth Test which, had he had his way, skipper Allen would have left him out of in the hope of getting him fully fit for the final Test. Even so over the series as a whole Voce was the pick of England's bowlers, taking 26 wickets at 21.53, and Wisden describing him as definitely the outstanding bowler of the tour.
In 1937 Voce had knee problems and eventually had to have surgery on a cartilage and his season ended in July. He was available for only one of the Tests against New Zealand, and although he was fit in 1938 and 1939 he did not do enough with the ball to get back into the England side again before the war. By now Voce was something of an all-rounder. He had started his professional career as a genuine number eleven, but as time wore on he gained a reputation as a hard hitting batsman. He scored the first of his four centuries in 1931, the fourth fastest of all time. In 1933, for the only time, he exceeded 1,000 runs and with nine fifties and an average of 35 showed some consistency, but he never repeated that, although there was a century in each of those two immediate pre-war summers.
During the Second Word War Voce served in the Army, latterly as a Corporal. He was discharged late in 1946 and did not begin his season until the end of June. A fortnight after his first Championship fixture Voce was bowling in the second Test against India, his fifth and final home Test – never did he play in more than one match in a home series and he never played against Australia in a home Test.
Despite being 36 and out of the First Class game for seven years Voce started his season taking wickets and, against Derbyshire in the match that followed the Test, he scored an unbeaten century. The MCC having been persuaded against their better judgment to send a side to Australia as soon as that winter Voce found himself selected for a third tour of Australia, a decade after his last trip.
The selection of Voce proved to be a mistake and on Australian wickets he, as his Wisden obituary rather aptly put it, now bowled batsmen in rather than bowled them out. He played in just two of the Tests, the first and third, and failed to take a wicket in either thus ending his Test career two short of a hundred wickets. That at least might have been different as he was at the heart of the tour's most controversial moment when, shortly before lunch on the first day of the first Test, he had Bradman caught by Ikin at second slip for 28 only for the umpire to decide the catch was not good. A woefully out of touch Bradman suddenly found his form and went on to 187 and another couple of years in the Test arena.
Back in England in 1947 Voce begun the season with Notts but was palpably no longer the bowler he had been. He had for some years reverted on occasion to bowling his old slower style but in 1947 found he had double trouble. First of all the knee injury and associated synovitis stopped him bowling fast, and then a finger injury stopped him bowling spin and in early June it was announced that he would be retiring from the playing staff with immediate effect and would become the assistant to Tom Reddick, the County coach. When Reddick subsequently left for South Africa Voce replaced him and stayed with the county until the end of the 1952 season.
In days when county staffs were rather more streamlined than they are now there was the occasional injury crisis at Trent Bridge that necessitated the coach selecting himself, and Voce turned out twice in 1948 and once in each of the 1950, 1951 and 1952 summers. He rolled back the years in 1951 against Sussex when, on his 42nd birthday, he took 5-81 and then went on to score a brisk 45.
In 1952 Voce left Notts and went to work for the successor organisation to his first employer, the National Coal Board, where he remained until retiring in the 1970s. He did have the opportunity, in 1950, to emigrate to Australia at the same time the Larwood family did. Former opponent Fingleton, with the assistance of former Prime Minister Ben Chifley, put together the Larwood plan and it was felt he might find his offer more attractive if his old friend went as well. For Larwood leaving the country of his birth was not a problem, but those emotional bonds were something Voce could not sever.
There were a few occasions when Larwood and Voce met up again, most notably at the MCG in 1977 for the centenary Test. The depth of the bond between the pair never faltered, and during the match the old campaigners walked out to the middle during an interval. Larwood appears a little uncomfortable and even diffident at the reception the pair received. Voce seemed rather more at home and delighted the crowd by taking off his jacket, handing it to Larwood and marking out his run.
Bill Voce died in hospital in Nottingham in 1984 at the age of 74. Eight months earlier he had been one of the (un)fortunate few to have read his own obituary, a local newspaper clearly being a little premature. In Sydney Harold Larwood, who would live on until his 91st year mourned the loss and, according to his biographer Duncan Hamilton, became convinced that a pigeon that started to visit him daily contained the spirit of his old friend, dropping round to say goodbye.