Johnny Wardle; Hero, Villain and Joker
Martin Chandler |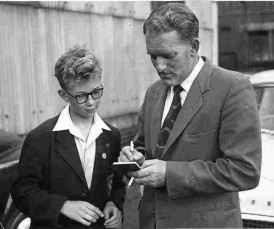 Since the resumption of Test cricket after the Great War no spin bowler with more than 100 wickets has taken his wickets at a lower cost than the 20.39 that Johnny Wardle paid for each of his 102 wickets. Despite that irrefutable evidence of his quality, and he was a decent lower order batsman and more than capable fielder as well, of the 80 Tests that England played over the duration of Wardle's international career he was selected for only 28, so barely a third of them. The injustice of that was felt acutely by Wardle, and doubtless contributed to the controversies that litter his career.
When the Yorkshire side first gathered after the Second World War Hedley Verity was gone, killed in action in Italy, and his left arm spinner's berth was vacant. In 1946 the job went to 43 year old Arthur Booth who had appeared occasionally before the war. Booth had a superb season and even topped the national averages, but rheumatic fever prevented his building on that in 1947 and Yorkshire had to look elsewhere. They had two choices, Alan Mason and Wardle, both of whom they decided to give an extended trial to. Mason had the first opportunity, but found the going tough on wickets that were not particularly helpful. Wardle was rather more fortunate with the conditions he encountered and won that particular battle.
In a vintage summer for batsmen Wardle's 85 wickets at 25.46 were a creditable performance and enough to earn the 24 year old a place in the MCC party that played four Tests in the West Indies in early 1948. Most of England's leading players were rested from the trip, and the West Indies punished the MCC for their temerity. Wardle did make his debut in the second Test, but he bowled just three wicketless overs and did not have a successful tour at all clearly not relishing the matting wickets.
On his return to familiar pitches Wardle enjoyed a fine 1948, but was less successful in 1949 and for a time he lost his place, Mason being given what turned out to be a final chance to stake a claim. At least part of the reason was a desire on the part of the club to modify Wardle's action. The club's concern was that his delivery was too 'chest on', and there was a perception that he should cultivate the classic sideways on 'cartwheel' action of Wilfred Rhodes. Wardle was unusual in that in addition to being a fine bowler in an orthodox style he was also a skilful purveyor of wrist spin, and the left arm bowler's googly and chinaman. The chest on approach helped the wrist spin, and in Yorkshire manner wrist spin had never been trusted and was frowned upon.
It seems that Wardle might have tried to modify his action, but probably not very hard, and once again he saw off Mason's challenge and was allowed to keep his wrist spin, even if he was seldom allowed to use it for his county. Wardle's career figures are an impressive 1,846 wickets at 18.97. His own estimate was that no more than 200 of those were in his unorthodox style.
From 1949 onwards Wardle never looked back as far as Yorkshire were concerned and his entitlement to a place in the white Rose's strongest eleven was never again in doubt. In 1950 he earned another Test against West Indies. He took a wicket with his first delivery and scored some useful runs, but he was picked to bowl and did not do enough to keep his place. Even so with a season's haul of 174 wickets at 16.70, not to mention more than 700 runs, Wardle had expected to be selected for Freddie Brown's Ashes party that winter. As it was in one of the more bizarre selectorial decisions England have produced down the years the left arm spinner given to Brown was Lancashire's Bob Berry who, by the end of the summer, was not even his county's first choice in that role. A disgruntled Wardle seriously considered turning his back on the First Class game in search of more lucrative and less demanding duties in the leagues.
So disappointing was Berry's tour that he played not a single Test, so for Wardle it was much the same the next year as it had been in 1950. He earned a place in the first two Tests against South Africa, but did not do enough to stay in the side. The selectors preferred to play two off spinners in the third and fifth Tests, and in the fourth it was Berry's Lancashire teammate Malcolm Hilton who was selected as the left arm spinner.
In 1952 Wardle was the leading wicket taker in the country but still unable to get a game against the Indians where, like his county colleague Fred Trueman, he would have enjoyed the opportunity to pick up a few cheap wickets. He was back in 1953 against Australia however when he played in each of the first three Tests. There was but a solitary wicket in the first Test, and based on past experience Wardle doubtless feared the axe, but the selectors persisted with him and four wickets at Lord's kept him in the side for the third Test at Old Trafford. As with the first two matches the third was drawn but after taking 3-70 in the Australian first innings in their second, by which time the match should have been dead and buried as a contest, Wardle took 4-7 as the Australians slipped to 35-8 before the end came.
The Australians laughed off the procession, claiming it was as a result of loss of concentration in a match that was going nowhere. Wardle wasn't so sure and was warming to his task and looking forward to the fourth Test when, to general amazement, he lost his place.  If being left out was not bad enough the venue for the fourth Test was Headingley, and his replacement  Surrey's Tony Lock. The man who was to become Wardle's bête noire achieved little in the series' fourth draw, but was picked again for England's historic win at the Oval, and to make it worse Lock's was one of the match winning performances.
There is no doubt that before 1959 Lock threw his quicker delivery and many, Wardle included, believed that he threw just about everything. Perhaps understandably Wardle's frustration at losing his place turned into an intense personal dislike of Lock. Despite Lock's successes however he was never guaranteed a place in the Test side and Wardle did get the whole of the 1954 series against Pakistan where, with 20 wickets at just 8.80, he prospered. In Australia in 1954/55 like his county teammate Bob Appleyard he played an important supporting role to Frank Tyson and Brian Statham as Len Hutton's side retained the Ashes.
In 1955 however it was again a case of Wardle losing his place to Lock and the fact that he had taken 15 wickets at 18.20 in the first three Tests doubtless reopened old wounds.  The following summer was, of course, Jim Laker's year and in four of the five Tests his Surrey teammate partnered him. Wardle would doubtless still have been unhappy, but he did have a chance in the second Test and took just a single wicket. Had Wardle played at Old Trafford it seems unlikely that on that strange wicket he would not have managed rather more than a single wicket, and cricket history would not be the same without Laker's 19-90.
Wardle's finest hour came in South Africa in 1956/57 when it was his turn then to keep Lock out of the side. Injury cost him the chance to complete what would have been his first complete five Test series but his haul for the four Tests in which he did play amounted to 26 wickets at 13.30. On the tour as a whole he took 90 wickets at 12.25, almost all of them with his wrist spin thus demonstrating his versatility beyond any doubt.
It might have been expected that his heroics in South Africa would have guaranteed a place for Wardle in England's team for the first Test against West Indies in 1957. In fact he wasn't chosen and Lock, who had taken his place when he missed the final Test in South Africa, without notable success, was the man who started. Wardle then got a chance in the second Test after Lock performed disappointingly, but all Wardle could manage in a comfortable innings victory was the wicket of Nyron Asgarali. It turned out to be the 102nd and last of Wardle's Test career. Lock was back.
Wardle was a complex character. His irascibility at times could be the scourge of the young and impressionable, and youth alone would not save those who Wardle felt had underperformed from being harangued, yet there was another side to him. Heaven help anyone who dropped a catch off his bowling, or who fielded badly in any way. For a man who could be so difficult with his teammates the contradiction was that Wardle was known to fans up and down the country as one of the game's comedians.
There are many stories of Wardle's antics, some of which are all but priceless. Foremost amongst them is an incident when Wardle was bowling and a batsman struck the ball back at him with great force. Wardle immediately swivelled and looked at his mid off, Fred Trueman, and with the batsmen running enjoined the great fast bowler to get after the ball. Trueman hared off and was most of the way to the boundary before he realised he couldn't see the ball. The batsmen had just about completed their third run when Wardle produced the ball himself, having completed a very smart catch whilst selling the dummy to everyone else.
On another occasion Wardle did the exact opposite. This time he was fielding at deep square leg during a tour match in Bermuda. A full blooded hook came his way and Wardle covered yards before diving full length and coming up as if he had made a spectacular catch. The disappointed batsmen made his way back to the pavilion and Wardle sauntered up to the umpire to ask permission to leave the ground and go to an adjoining field. On being asked why he explained he needed to retrieve the ball, so the new batsman was in fact the old batsman, and perhaps not surprisingly on resuming his innings he was immediately dismissed.
The occasional humorous aside would often emerge from Wardle as well, as he was quite able to tell a tale against himself, one in particular concerning the first time he had the dubious pleasure of facing up to the bowling of Ray Lindwall. The game was at Bradford in 1948, and in very poor batting conditions the Australians came as close to defeat as they did at any time on that tour. When Wardle's turn to bat came he was so nervous he couldn't keep his bat still as he took guard. Eventually the exasperated umpire demanded to know what Wardle wanted, and was asked for a slow full toss down the leg side please. The scorecard shows he didn't get one but nor did Lindwall disturb his castle. Keith Miller and Bill Johnston did though as he was bowled for a duck in both innings.
Not that Wardle was a bad batsman by any means. He was a powerful hitter who, had he needed to do so might well have become a genuine all-rounder. As it was he generally contented himself with the sort of aggressive cameos that tend to suggest that the limited overs and T20 formats that he was born far too soon for would have been something he would have taken to very successfully indeed. His highest score was 79 in a Roses match of all settings, scored at more than a run a minute. He particularly enjoyed batting at Bramall Lane in Sheffield. In 1954 he scored 70 there in 50 minutes against the touring Pakistanis. A year later and it was the South Africans who felt the weight of Wardle's bat 74 coming in just half an hour, and that against an attack that included the great Hugh Tayfield.
Yorkshire won the County Championship seven times in the 1930s, and were champions again in the first post war summer of 1946. By 1958 however they only had a shared title in 1949 to show for their efforts despite a star studded line-up that included names like Hutton, Trueman, Close, Illingworth and Wardle as well as a number of other men good enough to win Test caps for England. Part of the problem was that Surrey, who won the title on seven consecutive occasions, were equally strong, but their run of success served only to heap more pressure on Yorkshire.
The leadership was a problem too, and perceived to be more so as the barren period extended. In 1946 the county's pre-war leader, Brian Sellers, was still at the helm. Sellers was followed by Norman Yardley. Yorkshire skippers had to be amateurs in those days. Yardley was a good enough cricketer to play for and lead England as well, but he is widely said to have been too nice a man to make a successful captain, and he couldn't bring the title to the Broadacres. He was succeeded by William Herbert Hobbs Sutcliffe, son of the mighty opener of the dominant side of the 1930s. Billy Sutcliffe was nothing like as good a batsman as his father, but he was still proficient enough to justify his place in the team. His captaincy however was no more successful than Yardley's had been.
For 1958 a new leader was required. The abolition of the distinction between amateur and professional was just five years away, and the old traditions were fading through most of the country. Professional skippers were no longer unusual. Wardle was the stand out candidate at Yorkshire and desperately wanted the job. In the end however the unwieldy Yorkshire committee chose to appoint a 39 year old amateur who had yet to make his First Class debut. Ronnie Burnet had done a good job skippering the second eleven in the early 1950s, and that got him the job. In 1959, his second and final season, Burnet did bring home the title, but even his most fervent admirers would concede that his batting was never up to First Class standard.
Burnet got his way with the appointment of Wardle to the then important post of senior professional. The committee asked Wardle to support and advise Burnet whenever he felt necessary, but Wardle soon decided Burnet didn't want to listen. The unhappy Wardle's pastoral role as senior professional was only ever partially fulfilled. He was capable of supporting and coaching the youngsters, but too often undid all the good work by his regularly lambasting them about their fielding lapses. He was generally intolerant of any behaviour he viewed as being other than what was to be expected of anyone who shared what he considered to be a pre-requisite of the job, a single minded devotion to Yorkshire cricket.
On 27 July 1958 Wardle was, as per all expectations, issued with an invitation to tour Australia and New Zealand the following winter. Three days later, during the first day of Yorkshire's game against Somerset at his spiritual home at Bramall Lane, Wardle was told he would not be playing for the county the following season. He had apparently had plenty of warnings, although he himself did not accept that. He was devastated by the blow, and very angry. Despite his own views of the lack of warnings Wardle must however have been able to see the writing on the wall after the match against Derbyshire at Sheffield three weeks earlier, even if he had chosen not to read it. Burnet had suggested to Wardle he change his length, and the bowler had reacted badly, telling Burnet exactly what he thought of him. Perhaps it was not wise of Burnet to then switch Wardle to the end he did not favour, and an over of deliberate long hops followed. Wardle was not called upon again in that match.
Foolishly, as he himself was to acknowledge within weeks, Wardle spoke to the press after the Somerset game and a series of articles appeared under his name in the Daily Mail blasting the committee and Burnet. The flavour of them can be summed up in one small quotation; Yorkshire sacked me because I refused to accept the authority of a quite hopeless old man appointed captain. He knew nothing about First Class cricket and was quite incompetent.
Despite the announcement Wardle played out the Somerset game. Unsurprisingly given it was Bramall Lane the crowd gave their man a rousing reception when he took the field on the second day after the news broke. Wardle proceeded to bowl superbly, 6-46 and 2-29 helping the county to an innings victory. But then the articles appeared, and on 12 August the decision became a true sacking as the committee decided to terminate Wardle's contract with immediate effect. A week later there was a special meeting at Lord's, and the MCC decided to withdraw the invitation to tour.
Wardle only ever played one more First Class match, a flood relief game in India ten years later. That at the end he was still at the top of his game is amply demonstrated by his figures for his truncated 1958 season, 91 wickets at 15.39. Wardle was 35 and might well, in those days, have had another decade at the top.
Within hours of his suspension Wardle had secured a handsome offer to accept the role of professional for Nelson in the Lancashire League. Had the Daily Mail articles not appeared it might have been the case that he would have accepted an equally lucrative offer to play for Nottinghamshire, but once that happened he knew his First Class career was over and he signed for Nelson.
There were ten successful years for Wardle in the Lancashire League, first at Nelson and then for Rishton. In all he took over 1,000 wickets with remarkable consistency, his worst season's average being 13.55. As he was generally only required for Lancashire League duties at the weekends between 1963 and 1969 he also played professionally for Cambridgeshire in the Minor Counties Championship, and he took plenty of inexpensive wickets for them as well.
For 1969 Wardle returned to South Yorkshire and a club called Barnby Dun in the Doncaster League. Eighteen matches brought him 107 wickets at 5.34. His final professional engagement came in 1972, at 49, when Wardle guested for Rishton, appropriately enough against Nelson. He took 5-45 as Nelson were dismissed for 112. Rishton looked in trouble as they slipped to 46-6, before Wardle steadied the ship with an unbeaten 32 to make sure they got home without further loss.
His career as a professional over Wardle invested in his own business, buying some land that contained a number of fishponds and a few derelict buildings. The site was developed to provide facilities for anglers. In the early 1970s the Yorkshire club invited Wardle to remodel the action of off spinner Geoff Cope whose action was the subject of much criticism. Cope was enormously impressed by a man he described as his second father, and although in 1980 further questions over his actions caused him to leave the game Wardle's initial efforts were such as to be a major factor in Cope's winning an England cap in 1977. For Wardle that same year brought an honorary life membership of Yorkshire, thus completing a reconciliation. As far as Burnet was concerned that particular hatchet had been buried back in 1959 when Wardle congratulated his much maligned former skipper on his new team's Championship triumph.
In his fifties Wardle's main sporting activity was golf, and he got down to a handicap of just two and was twice winner of the Yorkshire County Seniors Amateur Championship. Wardle's was a full life but sadly he did not enjoy a long retirement. A brain tumour claimed him in 1985 at the age of just 62. He had been due to take up the post of Yorkshire's bowling coach in the March, but sadly the illness prevented him ever starting his duties.