Herbert Sutcliffe – The Iron Duke of the North
Martin Chandler |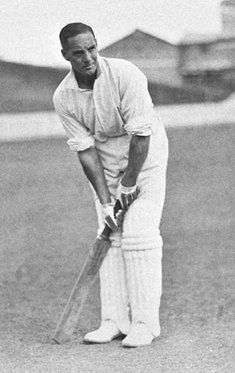 Herbert Sutcliffe is one of the more interesting figures from cricket's past. His numbers are remarkable, standing as he does at the top of the table of high England batting averages with 60.73. He even holds one batting record that Sir Donald Bradman cannot claim a share of, that being to have averaged more than 60 throughout his Test career. And there were as many as 54 Test appearances as well, so Sutcliffe was no flash in the pan.
Despite those figures in my formative years as a cricket lover Sutcliffe's was not a name that was revered above all others from the inter-war period. The iconic pair at the top seemed to be Sir Jack Hobbs and Walter Hammond, neither of whom, statistically, are quite as good as Sutcliffe, Hammond averaging 58.45 and Hobbs 56.94. When Sutcliffe was mentioned he tended to be bracketed with the likes of Patsy Hendren and Frank Woolley, fine players both, but neither had a Test record comparable to the Yorkshire opener.
In the early years of the 21st century Hendren and Woolley are seldom talked about at all. Hobbs and Hammond still stir conversations as increasingly, fuelled no doubt by the statistics that are his legacy, does Sutcliffe. In my youth it was rare for anyone to isolate a batsman's figures against individual opponents, but minnow-bashing is often used these days as a factor in how batsmen are rated, and of course there have always been minnows, and past players have had their records re-examined as well. Between the wars South Africa in particular, and latterly West Indies had useful sides, but the severe Test was Australia. Hendren's average against the traditional enemy was fully seven points below his overall figure. Woolley dropped three, although his overall average of 36.07 over 64 Tests does not sit very comfortably with the concept of greatness anyway. Hobbs too drops a couple of points, and Hammond six, so a slipping in standards against the best is to be expected. Even the mighty Bradman average drops from the iconic 99.94 to 89.78 if his record against England is viewed in isolation. Sutcliffe however bucks that trend, and by a distance, as against Australia his average rises to 66.85.
So the rub is that in days when there people around who had watched Test cricket between the wars, and therefore seen Sutcliffe in his pomp, his standing was somewhat less lofty than it is now. A curious contradiction.
There can be no doubt that Sutcliffe was not a stylish player. His stance was unorthodox, the blade of his bat facing the covers, and he looked vulnerable to spinners, although in truth that was only in the context of the imperious manner in which he dealt with pace. Australian writer and pre-war Sheffield Shield batsman AG "Johnny" Moyes wrote of him It is no disparagement to Herbert Sutcliffe to say that he was a far greater batsman than he looked. His early dismissal was repeatedly forecast. Time and again he seemed doomed when spin bowlers were operating , yet he would grope his way through calmly and unconcernedly. It has often been said that the British muddle through wars, losing all but the last battle. If that is true then Sutcliffe was typically British.
England teammate Ian Peebles described Sutcliffe as having a clear-cut functional aspect rather like a ferro-concrete building. As a batsman, physically and mentally, he might well have been fashioned out of that enduring material. If he had his superiors in stroke play, he had none in shrewdness, courage and determination. He also had an unerring judgment of length. An Australian perspective comes from Bill "Tiger" O'Reilly, the great leg spinner, who wrote of Sutcliffe that he …. epitomised, for me, the long hard struggles which marked almost every Test contest between England and Australia in my time.
Sutcliffe was certainly not alone amongst opening batsmen, particularly those from the Broad Acres, in eschewing all risk, and athough he had all the shots in the coaching book there were several that rarely saw the light of day. He was generally content to accumulate, which he did easily, being a superb judge of a run. The only exception to his usual caution was his willingness to hook the quick men. He didn't always try and keep the ball down either, but he must have been convinced the shot was worth playing, and he certainly enjoyed a reputation as one of the greatest exponents of that most spectacular of strokes. Australians like Tim Wall and Jack Gregory repeatedly bounced him, but he always took them on, and in his 27 Tests against Australia he was only caught on the leg side four times.
Another factor with Sutcliffe was his imperturbability, allied to a tendency to enjoy a bit of luck, on several occasions surviving deliveries that somehow managed to end up hitting his stumps but not dislodging the bail. The best known example of that occurred in the first Test in 1932/33 when, on 43, he tried to steer a delivery from O'Reilly down to third man. He got a thick under-edge and the ball cannoned on to his thigh from where it rolled onto the stumps. Most who were there thought the ball hit the stumps very hard indeed, and were astonished that the bails were not disturbed. It was all beyond Sutcliffe though, who just wanted to get on with the game. England colleague Bob Wyatt wrote of him; If he was bested it did not have the slightest effect on him. He was just as confident after a slice of luck as he was before it happened.
Another story that illustrates Sutcliffe's unflappable nature was related by former Surrey captain Stuart Surridge to Sutcliffe's biographer, Alan Hill*, illustrates the point. In a county game Alf Gover, a very good fast bowler, bowled a succession of superb outswingers at Sutcliffe but couldn't take the edge. "I've got you today, Herbert." was the bowler's comment. Sutcliffe's impassive response was "No, you've had your chance Alf, I'm here for a hundred now", and he was.
Jim Kilburn was the cricket correspondent of the Yorkshire Post for many years and saw the last few seasons of Sutcliffe's career and he clearly took the point as well writing, To be morally out is a conception beyond Sutcliffe's ken when applied to himself, and of all cricketers he is the most unlikely to end his innings through worry.
Sutcliffe was also not averse to getting his name in the record books. In 1932 he and his long-standing Yorkshire opening partner Percy Holmes put on 555 for the first wicket against Essex, beating by a single run a record that had been set by two more Yorkshiremen, Jack Brown and John Tunnicliffe, more than 30 years previously. As the landmark neared Holmes played a loose shot and Sutcliffe is said to have fixed his stare on his partner, and said slowly and deliberately "Percy, do you, or do you not, want to go for this record?"
The greatest attribute that history tells us that Sutcliffe had was his skill on poor wickets and, more particularly, the sort of drying wickets that would, in those days, be encountered after overnight rain was met by a drying morning sun. The so-called "sticky dogs" were the nightmare of all batsmen and while there were certainly some factors in the batsman's favour in those days, the size of the wicket and the pre-1935 lbw law being the most obvious, there were also some spectacular collapses on rain-affected wickets. As Moyes wrote; On a bad wicket he was superb, his courage magnificent, his certainty in choosing the ball to leave alone amazing. There are two classic examples of Sutcliffe's skill on such surfaces.
First is the final Test of the 1926 Ashes series. The old enemies were locked at 0-0 going into the game. Thus England needed to win at the Oval to reclaim the Ashes for the first time since the Great War, after three series in which they had been easily beaten. This deciding Test saw England with a new captain, the dashing young left handed batsman Percy Chapman. There was a debut for a young pace bowler named Harold Larwood, and a recall for a 48 year old Yorkshireman, Wilfred Rhodes. England batted first and scored 280, Sutcliffe top-scoring with 76. After collapsing to 122-6 Australia recovered to secure a first innings lead of 22 and Hobbs and Sutcliffe, by the close of the second day, had scored 49. That night it rained heavily in London, but the sun broke out in time for play to resume at 11am. There were real fears that the game would, to all intents and purposes, be lost by lunchtime. In the event England were 161-0. Hobbs went for exactly 100 soon after lunch but it was the last act of the final session before Sutcliffe went for 161, with England on 375-6. Unlike some of Sutcliffe's big innings this one was chanceless. He was eventually bowled by a leg break from Arthur Mailey, seemingly misjudging its pace off the pitch. According to John Marchant, who wrote a book about the game entitled The Greatest Test Match, he looked back in disbelief, and then allowed himself a rare display of frustration by hitting the pitch with his bat, before realising that he had better start running for the pavilion before he was engulfed by the crowd that was swarming onto the ground.
Next day England's tail added another 61 to leave Australia a distant target of 415. They got nowhere near it, capitulating for just 125. Larwood and Rhodes took seven wickets between them, including the first six to fall, to add to the five they took in the first innings. But it was not their bowling that was the key factor in England at last winning back the Ashes, nor Chapman's captaincy. England won as a consequence of the way in which Sutcliffe and Hobbs batted on the third day.
The second occasion was the third Test of the next Ashes series, in 1928/29, at the MCG. England were 2-0 up and the fifth day of this timeless Test ended with Australia on 347-8 in their second innings, giving them a lead of 327. Overnight there was rain and the sides were left with, when play started late the next morning, a wicket that Bradman considered the worst sticky he had ever seen. Australia's last two wickets added just four, so England's target was 332. No one on the ground gave them a chance, but Hobbs and Sutcliffe opened up with 105 before Hobbs was out. Douglas Jardine stayed with Sutcliffe to the closure at 175-1, out of which Sutcliffe had 83. By the time he was dismissed next day England were just 14 runs short and went on to win by three wickets to retain the Ashes. Again Sutcliffe was praised by all and sundry, but his favourite comment might well have been that of Bradman, who in his 1950 autobiography, Farewell to Cricket, wrote Even now I think Sutcliffe's exhibition that day was the nearest approach to mastery on a sticky wicket I saw throughout my career ….. his uncanny ability to let the ball go when it jumped or turned was simply amazing.
I did wonder whether there might be something in Sutcliffe's personality that made him unpopular with his peers, and hence his seemingly unjust relegation to the second tier of English batsmanship. He certainly wasn't easy to work out, as Sir Neville Cardus immediately deduced from his appearance; Immaculately flannelled from his first match onwards; glossy and dark of hair, he was utterly unlike any Yorkshire professional we had ever seen. He was also supremely self-confident, and while he did much to enhance the reputation of the professional in many ways he was more like an amateur. There is however no doubt but that he was revered by his fellow pros in the Yorkshire side. A large part of the reason for that would have been because of the way he stuck by them, and while the one snook he cocked at convention was to address amateurs by their christian names, he didn't find himself in difficulty as a result. In 1925 he established a sportswear business, which was very successful, so he could have changed his status had he wished to do so. He chose not to, and a move to appoint him captain of Yorkshire in 1927 was badly handled by the club, so although he would have liked the job he never did do it.
But Sutcliffe might well have seemed aloof, distant and conceited to some who didn't know him. "Crusoe" Robertson-Glasgow, a good enough quick bowler to take 464 First Class wickets at under 26, and later a distinguished cricket writer, described him as being megalo-psychic. For the many of us who do not have the benefit of having studied the works of Aristotle at Oxford "Crusoe" helpfully went on to describe that as the sort of man who would rather miss a train than run for it, and so be seen in disorder and heard breathing heavily.
One interesting measure of the character of any of those involved is how they reacted to the Bodyline furore of 1932/33 generally, and more specifically to Jardine himself. As far as the tactics themselves are concerned there seems, amongst those who played in the series, to be unanimity that Sutcliffe was in complete agreement with Jardine. That he should show unswerving loyalty to his team, captain and country is entirely in keeping with his character, but from all his teammates comments his support went far beyond mere loyalty. Sutcliffe believed that the way to deal with Bodyline was to take it on, as Stan McCabe did with such conspicuous success in the first Test. Being such a good hooker himself his attitude is hardly surprising.
In Hill's biography of Sutcliffe he refers to conversations that he had with an old friend of his subject, and also his son Billy, as indicating that privately Sutcliffe had misgivings about Jardinian leg theory. In truth however I doubt that there is any real contradiction there. Sutcliffe was an intelligent man and, as his being offered the captaincy of his county clearly demonstrates, a great thinker about the game of cricket. Such a man would inevitably have thought long and hard about his decisions and continued to reflect on them from time to time afterwards. But if he did have doubts at any time an interesting little booklet, English Cricket – What's Wrong and Why! that appeared in Sutcliffe's name in 1951 confirmed that, after Lindwall and Miller's peppering of England's batsmen in 1948, his views on Jardine's tactics were as firm as ever.
As for Jardine the man it would seem that in many ways he and Sutcliffe were cut from the same cloth. In his pre-war autobiography Sutcliffe confirmed that he was none too impressed with Jardine when they toured in 1928/29; Did I get to know Jardine? Not one scrap. I thought he was a queer devil. But in 1932/33 he changed his mind; I learned that Jardine was one of the greatest men I have met. Hill quotes a story from Bob Wyatt as showing that, despite some suggestions to the contrary, Jardine was still very much "in charge" of his senior professional. It relates to the first Test of the 1932/33 series when England had to go out for their second innings requiring just a single for victory. "I don't suppose, skipper, you will want me to go in now" was Sutcliffe's aside to Jardine. The captain's reply, after drawing himself up to his full height, was "Sutcliffe, when I want to alter the batting order, I will inform you". It does sound like the admonishment Hill interprets it as, and Wyatt was there and I wasn't, and I have only ever read about about Jardine and Sutcliffe rather than met them, but my suspicion is that it is rather more likely that during that exchange two tongues were very firmly planted in two cheeks.
In making judgments on Sutcliffe it is also necessary to bear in mind where he came from. His father died when he was just four years of age, and his mother five years later. He was brought up by a maiden aunt. He left school at 13 and, in 1907, worked in a shoe factory attaching uppers to soles. From such humble beginnings he managed to earn himself a commission in the Great War, and then become a First Class cricketer. He strove for success in all things, lost, or rather discarded his broad Yorkshire accent, and built a business the measure of the success of which was that it enabled him to bring up his own family in a mansion house assisted by a coterie of servants. In the words of Cardus He was not born to greatness, he achieved greatness. His was not a triumph of skill only, it was a finer triumph, a triumph of character, application and will-power.