Hanif Mohammad
Stuart Wark |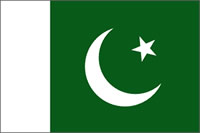 The Mohammad brothers' contribution to Pakistan's cricket is undeniable. In the first one hundred and one tests that the country played, at least one brother was selected. Four of the Mohammads played a total of one hundred and seventy tests, with a fifth brother being named 12th man as well. Whilst this is undeniably an amazing achievement by the family, it has unfortunately meant that the individual achievements of the brothers has tended to be overlooked by this unique accomplishment. The brother probably worst affected is Hanif, who was recognized by his peers in the cricketing world as Pakistan's first truly great batsman, and one worthy of a place in any international team throughout the history of the game.
Hanif was born on the 21st of December, 1934 in Junagadh in India. He was the middle of the five living children in the family, with another son and a daughter both sadly dying in their early years. As with many children in India, he grew up playing cricket, and at an early age his determination never to get out became apparent even in social games. Hanif grew up in turbulent times, and his father, a Muslim, made the decision to move the family to Karachi in Pakistan, following the Partition from India in 1947. Hanif played cricket for his new high school, Sind Madressah Tul-Islam, with games being conducted on matting pitches. He highlighted his ability to convert a good start into a big score with an inter-school record score of 305 not out, scored over seven and a half hours. Hanif's desire to be part of the game at all times was also clear, taking on the wicket-keeping duties whenever possible. He excelled at all ball sports, also winning the inter-school badminton championship.
Hanif was a batting prodigy, and quickly came under the guidance of Abdul Aziz, a wicket-keeper who had played an unofficial test match for All India against the touring Australian team in 1936. Hanif's father had died shortly after the family's move to Pakistan in 1948, and it appears that Aziz may have been somewhat of a father figure for Hanif. Aziz provided the thirteen year old youth with coaching every morning. Initially, Hanif's technique was very back foot orientated, and Aziz spent a considerably amount of time assisting Hanif to adapt his batting to all conditions. This transition was successful, and Hanif's performances in Karachi were so impressive that he was selected to make his first class debut at the age of sixteen against the touring English team. Interestingly, his first class debut was for his national team, Pakistan, who in 1950 was still two years off being granted test match status.
Hanif was selected for these two games against the English team as both an opening batsman and the team's wicket-keeper, an onerous dual role that has since proven to be beyond the capabilities of most test players. Whilst this English team was not at full strength, their attack still featured a number of fast bowlers such as Brian Statham and Derek Shackleton, whose pace Hanif would not have encountered before. His first game was made even more difficult for him, as it was played on the unfamiliar turf pitch at Lahore. Most games that Hanif had played in were on matting, however he coped well with the strange situation, scoring 26 out of a partnership of nearly 100. Hanif also performed his keeping duties to a satisfactory level, with his first dismissal being the stumping of the English opening batsman Jack Robertson. The second game was played at Karachi, and on the more accustomed matting pitch, Pakistan recorded their first ever victory over another country, defeating England by four wickets. In the final innings Pakistan required two hundred and eight five runs to win, and Hanif's top score of 64 saw them through to victory. More importantly, this success served as one of the catalysts for Pakistan's admittance by the Imperial Cricket Council as a test playing member.
With a great deal of foresight, Pakistan saw the need to acquaint their young players with different conditions. Hanif was one of a number of players sponsored to attend the Alf Glover's famous cricket school in England for fifteen days in 1951. Glover spent the time looking at Hanif's batting, however he insisted that no-one make any changes to it. The only advice Glover gave was mental, guiding him on how to best capitalize on his excellent technique. Hanif showed the benefit of this stay in England soon afterwards on a tour of India in 1952. In the first game, Hanif became the youngest player to ever make a century in each innings of a first class match, scoring 121 and 109 against North Zone at Amritsar. This tour of India followed the ratification of Pakistan as a test playing nation, and Hanif's form ensured his selection in Pakistan's inaugural match against India in Delhi.
Hanif was still only seventeen at the time of his test debut, however he had established himself as one of Pakistan's premier batsmen. The team's captain, Abdul Hafeez Kardar, had a number of discussion with Hanif about his role in the team. The batting order had a number of stroke makers in it, so Kardar asked Hanif to limit his shots and assume the sheet anchor role. Hanif fulfilled this role to perfection in Pakistan's opening test, scoring the first fifty for his country. Unfortunately, his 51 came out of a team total of only 150, with Vinoo Mankad taking eight wickets. Hanif's good form at the top of the order continued throughout the five match series, scoring a total of 287 runs at an average of 35.87. His highest score was an unlucky 96 in the third test. Looking to avoid defeat in their second innings, Hanif batted for over six hours in his near century, however he was caught at silly mid-off from the bowling of Mankad in the last thirty minutes of the day. With their major barrier now gone, India swept through the remainder of the Pakistan team to win. Hanif's other major success on the tour of India occurred in a tour game against Bombay at the magnificent Brabourne Stadium. He scored Pakistan's first ever double century, finishing with 203 not out.
Hanif was selected to return to England in 1954, this time with the national team. Still only nineteen, Hanif was very slight in physique, and only stood five foot three inches tall. He struggled to score freely, totaling only 181 runs in the eight innings he batting in at an average of 22.62. However, his value to the team was still immense, as he managed to bat for long periods of time. Over the next two years, Hanif played further series against India and New Zealand at home. His position as opener was secure, however as yet he had dominated test bowling attacks in the manner he could. Against India in 1954/55 he surpassed his test best of 96 with his first test hundred, finishing with 142. The remainder of the five test series was a disappointment though, with a next best score of only 41. The three tests against New Zealand followed a similar pattern, with 103 of the 151 series runs coming in the one innings.
Hanif played a disastrous one-off test against Australia in 1956, only managing scores of 5 and 0, however his most successful period of his test career was about to commence. Pakistan's next test series was their first tour of the West Indies in 1957/58. Hanif confirmed his place as one of the best batsmen in the world, scoring 628 runs in the five tests at an average of 69.77. This series was scene to the first ever triple century from an Asian player, when Hanif scored 337 in the Bridgetown test match, attempting to help Pakistan bat for three days to hold on for a draw. The innings took sixteen hours and thirty nine minutes to complete, and during that time Hanif managed century partnerships with four different players, including his brother Wazir. Hanif's score remains the test record for any player from India or Pakistan, however Sanath Jayasuriya from Sri Lanka has since surpassed it with a score of 340 against India in Colombo in 1997/98. In a similar manner to Brian Lara many years later, Hanif managed to maintain this rich vein of form, returning home to Pakistan whereby he scored the then first class record highest score of 499 for Karachi against Bahawalpur in 1958/59. Ironically, he was run out in the final over of the game, searching for his 500th run.
Hanif was now seen as Pakistan's leading batsman, and he confirmed this opinion over the next four series. Against the one off test against the West Indies in Pakistan in 1958/59, Hanif scored 103 and 5 not out. He followed this up with 304 runs at an average of 60.80 against Australia in Pakistan in 1959/60, and 410 runs at 51.25 against India in India in 1960/61. When England toured in 1961/62, Hanif scored a century in each innings of a test match for the first time, with 111 and 104 at Dacca. He finished the series with 407 runs at an average of 67.83, however the responsibility of being the mainstay of the Pakistan batting line-up was telling in Hanif's unwillingness to take risks. Hanif's twin centuries took a total of 893 minutes, a scoring rate of less than fifteen runs an hour.
Hanif then encountered his first real set-back at test level. His 1962 tour of England was very disappointing, scoring only 177 runs at an average of 17.70. His highest score in the five tests was only 47. He followed this with another relative failure in the home game of the two test series against Australia in 1964/65, scoring 42 runs in the two innings. He recovered his form quickly however, and nearly managed to repeat his effort of twin test centuries against England, with scores of 104 and 93 in the second leg of the Australian series played at Melbourne Cricket Ground in Australia. Pakistan then moved across the Tasman Sea to New Zealand, where in the three match series Hanif produced 194 runs at an average of 38.80, managing to score his tenth test century in the process. The 1964/65 season finished with a return tour of Pakistan by New Zealand. Hanif scored his second test match double century, 203 not out, and he finished the series with an average of 110.00. Interestingly, Hanif 203 not out was scored at no. 6, a position that he batted in for most of the 1964/65 series, with the goal of strengthening the middle order.
There was then a gap in test cricket for Pakistan until the 1967 tour of England. Hanif spent this time playing very successfully for his local team, Pakistan International Airlines, an organization that he was also employed by. Hanif was desperate to turn around the poor form that plagued his 1962 tour, and a knock of 187 not out helped him to a series total of 228 runs at an average of 57.00. Hanif was nearing the end of his career, and he had dropped down the order from opening to no. 4 for this innings. The English fast bowlers thought that with slowing reflexes, he was becoming vulnerable to the short ball. John Snow in particular tested him out repeatedly with bouncers, but after Hanif felt set, he responded by hooking them easily to the fence. It was one of Hanif's best ever innings, and drew the praise of commentator John Arlott, who considered it the knock of the summer. His form throughout the season was sufficient to see him be named as one of Wisden's Five Players of the Year.
Hanif had been the backbone of the Pakistan team for almost fifteen years, but by now his form was starting to slide. Whilst he was still able to produce the great innings, such as his 187 not out against England, a greater number of failures were also occurring. In his next four tests, three against England and one against New Zealand all at home, Hanif only managed to score just over 100 runs at an average that was under half his normal figure. Hanif decided that the time was right, and he retired from test cricket at that point. He finished with the excellent figures of 3915 runs at an average of 43.98, with twelve centuries and fifteen fifties. He continued playing first class cricket on a less regular basis until 1976, totaling over 17,000 runs with an average of over 50. Whilst a test average of 43.98 may not appear as impressive as other players who have averages in excess of fifty, not many batsmen have responded anywhere near as well to the pressure of carrying a fledgling nation from its first test onwards. He was often forced to bat under the pressure of knowing that if he got out, the team would collapse. Hanif coped admirably with the added difficulty of not having a reliable partner to carry some of the workload.
Hanif had been selected as the wicket-keeper in the first three tests of his career against India in the 1952/53 series, but it was obvious that it would be difficult to him to maintain his position as opener and also keep. He was never again selected as the team's first choice wicket-keeper for test matches, however he did still fulfill the role on occasions in tour games. Whilst Hanif made no claims towards being a test quality bowler, he did have two career bowling highlights. Firstly, his only test wicket was opening batsman P.H. Punjabi, whom he bowled for 6 in the fourth test against India in Peshawar in 1955. Secondly, and probably more importantly, he was the bowler that Gary Sobers hit a single from to pass Len Hutton's test record score of 364. Interestingly, Hanif was able to bowl both right and left handed. In the over that Sobers scored in 365 run, Hanif bowled the first two balls as a right armed off spinner, from which Sobers and his batting partner Clyde Walcott each hit singles. Sobers was on strike on 364, and Hanif asked the umpire if he could switch to bowling left handed. The umpire asked Sobers if that was OK, Sobers replied that Hanif could bowl with both hands at the same time if he wanted to, so Hanif proceeded to bowl the third ball as a left arm off spinner, Sobers stroked it into the covers for a single, and Hutton's record was broken.
Following his retirement from cricket, Hanif continued his associated with Pakistan International Airlines, both in terms of employment and with their cricket team. Hanif ran the PIA Colts Scheme, and this coaching and talent identification program has gone on to produce a number of test cricketers under his guidance. One of the success stories of this coaching program was Hanif's son, Shoaib, who played 45 test matches for Pakistan, scoring 2705 runs at an average of 44.34. Hanif founded and acted as chief editor of a magazine, The Cricketer Pakistan, from its inception in 1972 and it would be an association that continued for decades afterwards. Hanif has also served a number of roles with the Pakistan cricket, including a recent appointment in 2002 as the Pakistan batting consultant, coaching young players at regional academies in both Karachi and Muridke, and was entrusted in 1999 to set up the National Cricket Academy.
Career Statistics
Test Matches
Hanif played in 55 test matches, scoring a total of 3915 runs at an average of 43.98. He hit 12 centuries, with a highest score of 337, and also took 40 catches.
You can view his Stats Spider profile here.
First Class Games
In his 238 first class games, Hanif scored 17059 runs at an average of 52.32, with 55 centuries and a highest score of 499. He took 178 catches and also managed 53 wickets at an average of 28.49 with his occasional spin bowling.
As it is basically impossible not to make mention of Hanif's four cricketing brothers when talking about his exploits, it is only appropriate to provide a very brief summary of their careers as well.
Wazir Mohammad was born on the 22nd of December, 1929. He made his test debut against India in Bombay in the third game of Pakistan's inaugural test series. He played a total of 20 tests for Pakistan, scoring 801 runs at an average of 27.62. The highlight of his career was his 189 in the final test of tour of the West Indies in 1958/59. His final test was against Australia at Dacca in 1959/60.
Raees Mohammad was born on the 25th of December, 1932. He was the only living brother who did not play test cricket, however he was named as the twelfth man in the test against India in Dacca in 1955. The team captain Abdul Kardar informed Raees the night before the game he would be playing, but on the morning of the match the selectors changed their minds and Raees missed out. In first class cricket, Raees scored 1344 runs at an average of 32.78 with a highest score of 118 not out. He took 33 wickets at an average of 31.27 with his right arm leg spin, with a best bowling performance of 4 for 82.
Mustaq Mohammad was born on the 22nd of November, 1943. He was first selected to play for Pakistan in the third test against the West Indies in 1958/59, making his debut as a fifteen year old leg spinning allrounder. He continued playing test cricket until 1978/79, when he retired after the 2nd test against Australia in Perth. In his 57 matches, Mustaq scored 3643 runs at an average of 39.17, with a highest score of 201. He took 79 wickets at an average of 29.22 with his leg spin, with 5 for 28 his best test figures. Mustaq captained Pakistan to eight wins, four losses and seven draws. Mustaq also played 10 one day internationals, scoring 209 runs with a highest score of 55
Sadiq Mohammad was born on the 3rd of May, 1945. Originally a right handed batsman, Hanif persuaded him to switch to left handed as he was felt there were too many right handed batsmen in Pakistan. Sadiq originally batted in the middle order, but he converted to opening when his brother Wazir, who was a selector at the time, informed him that this would be the only way he could break into the national team. Sadiq made his test debut against New Zealand in Karachi in 1969. In all he played a total of 41 tests for Pakistan, scoring 2579 runs at an average of 35.81 with five centuries. He also played in 19 one day internationals for Pakistan, scoring 383 runs at an average of 21.27, and took 2 wickets with his leg spin.