Cricket 2002 Review
EA finally hits the nail on the head this time with Cricket 2002
First it were Beam Software & Melbourne House who started it all with Cricket96. The game which took cricket to a new level with in-game commentary, 3D graphics, action replays, motion captured players, variety of tournaments, and all things revolutionary. EA's name in cricket became household with Cricket97/97ATE and their love for Beam and Melbourne House continued, until their own FIFA 98 got released, after which people started demanding better graphics, all the official licences, world stadias, realism, etc.. But perhaps Beam couldn't deliver it all. They released Cricket Ashes Tour in 1998(Same as C97ATE, just name change) and this was their end. EA started the search for a new developer.
Then it was Creative Assembly. The people behind the hit Shogun : Total War and old EA rugby games somehow managed to create a cricket game called "Cricket World Cup 99". A game with eye-bleeding graphics and the official ICC license but no left handers, test matches, england-only stadias, wrong stats, and a lot more. EA tried to release the game on Playstation under the label of Cricket 2000 and they hired Krisalis this time. But the game was even a bigger flop than CWC99. Both of them were dropped.
This time EA has tried a third developer, being the Canada based HB Studios(lead by BLC/SWC producer Jeremy Wellard), with nearly zero experience in gaming. But inexperience couldn't stop them from making a game worth the contender for "Game of the year".
The game starts off with an excellent presentation, which is simply the best I have ever seen in a Cricket game, and even better than many games around. It is created using actual in-game graphics(unlike Cricket 2000 which used cut-scenes from the 1999 World Cup), showing the power of the game and its extensive feature list. If you look carefully, the presentation tells it all.
After coming to the main menu, I went straight at the net practise, and was amazed seeing how helpful it is. When batting it shows a bar which helps you time a shot perfectly. You can know a lot about a particular shot like if this shot is best played delayed or late, what does this shot do on bouncers, etc.. Just practice for 15 minutes, and you will definitely gain a lot. If you haven't tried it yet, do try it. Especially in bowling, otherwise you will end up giving away 20 no-balls and wides before actually bowling a ball!
After all the practicing I went on to play an exhibition match. And I don't know how, but India and Pakistan teams were already picked up. I took India, and selected Calcutta as the venue. Strangely enough Kolkata is still written as Calcutta. Anyway a lot of varieties of pitches are there like hard, damp, green, etc., and the ball plays differently on every pitch, so be careful in your selection especially if you have a lot of spinners on your side. There are stadiums from 11 nations all over the world including Harare, Lords, Calcutta, Barbados, etc..Some like Sharjah are locked by default. All of them are very well rendered and resemble closely to their real-life counterparts. After the selection came the turn of the coin toss. The coin toss took place without going to the field, thus saving a lot of time(You can also turn the animation off for instant results). The computer took Heads. I won. And selected to bowl.
The match began with an excellent introduction by Ritchie followed by Pitch report from Jim, and it was in the same way as seen on TV. The TV-style presentation has been done well, and can be seen in every aspect of the game. From the walking of the players to the pitch until the umpire takes off the bails, all beautifully captured and recapitulated. You will surely jump out from your chair a lot.
The net practice did helped, as I didn't faced much difficulty and my first over conceeded very little runs. I didn't bowled much no-balls and wides. In case if you are one of the batting buffs, the Autoplay is there for you. You can autoplay for 5 overs, the fall of a wicket, the end of innings, even the whole match! There were two balls I enjoyed most. One was when I bowled a batsman out, and the replay was shown from the stumps also. The wickets shaked as they fell down. Second was when I LBWed a batsman. It showed the replay and also the sky line. After the fall of a wicket all the players celebrate and a replay is shown from different angles. The third unpire sees a decision a lot of times before giving the verdict, and it can become a tense situation.
Batting wise the game is sheer fun. It is a hybrid of the BLC's batting type, with more functionality added. As in BLC, you can select the direction and hit whenever required, but this is somewhat different. There are three types of shots – Back foot, Front foot, and Advance. You can also duck if you want. There is a "Power" button, using which you can add power to a shot. Combining all that, you have more that 50 ways to play a shot!
After the match is over the umpires takes out the wickets and the players walk back. The Man of the Match award is given. There are a variety of statistics for stat buffs including worm, manhatten, run rate graph, spider, etc. and you can go nuts seeing them all.
Graphically the game is beautiful. Most of the players resemble like their real-life counterparts, and here you will jump out of your chair seeing the high degree of realism in the player's bodies as well. As said earlier the stadias are well modeled and some of them worth noting are The Oval, Johannesburg, Lords, etc.. You will be amazed if you notice the player's hands, gloves, pads, etc.. The animated crowd is well done. But as this is a PS2 port, there are minor graphical problems. The interface has streched graphics and the font can often become unreadable at times. And some of the faces are garbage, e.g. Harbhajan Singh, Virender Sehwag, etc.(But you can download some improved ones from the net).
The game's sound is OK and in some aspects much below my expectations. While the commentators have done a good job to make the commentry as realistic and continous as possible, Ritchie has done a poor job in voice recordings and speaks like a robot i.e. emotionlessly. You will hear the same sounds in all the stadiums, unlike BLC where sounds were different in India, Australia, West Indies, etc.. Otherwise the sound is good and the atmosphere created is worth praising and you will enjoy the way the commentators keep the match going on.
The best part of the game is its longivity. There are 12 teams to choose from, plus 5 bonus teams(All Time England, World XI, etc.) which you can select by winning tournaments. Speaking of tournaments, there are lots of them.These include the World Cup, Knockout, Sharjah(locked by default), world series, etc., so that you don't get bored quickly. The game is highly editable and you can change the banners, bats, logos, etc. if you have the tools. Though the player editor only allows you to change player names, lots of editors are available on the net which allow you to edit teams, players, match conditions, and even strokes! Tutorials on editing are also available.
The biggest problem with the game are the bugs. They are present everywhere, and can be noticed the moment the match starts. Ritchie will call Jim, but he will be silent sometimes. The crowd sound stops in-between and the commentators repeat themselves a lot and many times speak wrong lines. The pitch type and weather doesn't change in tournaments, and there is no rain.
Overall I have liked the game mainly because of its batting and the editable options. This is the best Cricket game around, though it won't become memorable as was BLC. HB will have to put in more useful options and correct many irritating bugs. Lets hope that Cricket 2004 does what Cricket 2002 couldn't.
Gameplay – 9/10. A perfect balance of batting, bowling, and fun.
Graphics – 8/10. Very well made and even better than many sports games around.
Sound – 7/10. Fine commentory and great atmosphere created but marred by bugs.
Life – 9/10. A variety of tournaments and teams should keep you busy.
Overall – 8.5/10. Simply the best cricket game around. Go get it now!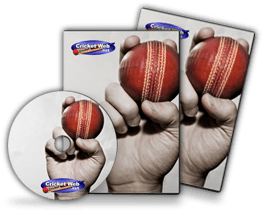 VISIT OUR ONLINE STORE >>