Brian Lara / Ricky Ponting International Cricket 2007 Review
At the age of nine, my primary school class played a game called "Adventure Island" on the BBC Micro. It's probably best described as a very early version of the role-playing game. In several parties, we had to navigate ourselves off an uninhabited island without dying in the process.
One of the ways we found to avoid dying was to eat sweet potatoes, and in the spirit of extra-curricular education, our teacher brought in some sweet potatoes for us to try for real. The first tastes delighted everybody… but the next half-hour involved the entirety of 5N making repeated return trips to the toilets.
Brian Lara International Cricket 2007 has had much the same affect on my sensibilities.
I've owned every single incarnation of the Brian Lara series, ever since Jason Gallian starred for England on the Mega Drive twelve years ago, and I never recall feeling quite so unfulfilled by a new release. That isn't to say that the game is all bad; it just could be so much better.
We'll start with the plus points. Lara's 2005 outing, whilst undoubtedly the best Codemasters had offered to date, wasn't without its faults. Fast men charged in off a full run and sent down deliveries at speeds that Under 13s wouldn't hesitate about getting on the front foot against, and AI run-chases progressed as if modelled on Sunil Gavaskar (1975 version).
My first games of 2007 told me that both of these issues were no longer a problem. The computer takes singles wherever you give it the chance: no longer can you rely on deep fine leg to save one. Nor can you sit back and strangle a run-chase without giving serious consideration to wherabouts your fielders are, as well as ensuring that you bowl to them. A moment's lapse and a leg stump half volley to a 7-2 field, and you're retrieving the ball from the boundary boards.
There's more to be said about fielding, too. You now have the option of a choice of ends to target with your return throws, rather than hurling it mindlessly to the wicketkeeper when you're a yard and a half from the non-striker's end. You can also change your field settings on the fly, cycling through the presets at the touch of a button. That's not all that's new, either.
Batsmen can unleash a full array of sweep shots – conventional, reverse, slog and paddle – and also "dance down the wicket" to throw the bowlers off their line and length. However…
Shimmy down the track and miss, and the process of returning to your crease takes an amount of time that makes Dwayne Leverock look like a candidate for a part in Swan Lake. The only thing comparable to a stranded batsman's lethargy is the slow motion with which the wicketkeeper removes the bails. This makes up for the original flaw to a certain extent, but it's a clumsy way to do it, and still leads to the ridiculous situation of stumpings being effected by wicketkeepers standing back.
The amount of time you have to react as the ball shoots towards you in the field is, on the other hand, dramatically reduced. It isn't, contrary to some online opinion, impossible to hold your chances – all that is required is reasonably sharp reactions, or the selection of a strong fielding team. I've held three chances in an over with Ireland: it is challenging, but workable.
Unfortunately, holding three chances in an over with Ireland also points to the fact that the game is just not difficult enough. Playing on the hardest difficulty level, I have the Irish in the World Cup final on the back of eight straight wins, and if I held on to more than half of my catches on a regular basis I'd be rolling sides for sub-50. Sorry, Codemasters, but that's just wrong.
On the subject of wrong, the AI bowling order appears to work based upon the bowlers' ability and nothing more. Never mind the pitch, never mind the situation, never mind the ball. Got two decent spinners? Chuck them the new cherry. How did that possibly get through the testing? Probably in the same way that badly researched, desperately inaccurate and hopelessly outdated player information for the associate nations managed to…
The AI-versus-AI matches I've seen during this tournament have also flown in the face of established cricketing logic. All but one game during Ireland's World Cup campaign was won by the side batting second. The Super Eight was made up of Australia, Sri Lanka, Ireland, Zimbabwe, Holland, Canada, Kenya and Bermuda – and that's on "realistic" mode, rather than "balanced".
"Balanced" mode is a new creation, ostensibly to level out the inequities of online play, but it has the added feature of being the only place you can play with your custom sides. The benefits to the user of that decision are beyond me – however, you're not that likely to actually want to bother with your custom sides, anyway. All of your custom players (you now have the scope for 16) must now be created as world-beaters – the career development and improvement mode is no more – which means that unless you want to bowl your batsmen and bat your bowlers, you'll win with your eyes shut.
Career Player isn't the only feature purged from the last version. The option of playing a "World Cup warm-up" does avoid the spectre of MacGrith to Callangwode, but it's now an inescapable part of Test cricket. Classic players and challenge matches have also been given the umpire's finger, and the much-longed-for statistical tracking is only apparent with a record of your record prerformances.
Lara 2007 is still fun to play if you can create a challenge: several wickets down with your struggling tailenders chasing a target is, like in reality, nerve-wracking… but the rest of the time, it feels like little more than simply going through the motions.
I can't help but wonder, when I look at a release date timed to coincide with the beginning of the Super Eight, whether this game's really finished. Had we not been amidst a World Cup, would it have found its way onto the market in a state where I can put together seven paragraphs of criticism against three of praise?
If you already own Lara 2005, this latest upgrade is only worth buying if you are particularly desperate to play as either Ireland, Scotland or Dwayne Leverock. If you don't own Lara 2005, then you should be able to find it in a bargain bin somewhere for about a fiver.
CricketWeb Verdict – 57%
Two steps forward, beaten in flight and stumped long before getting back to the crease.
Note: This is a review of the Playstation 2 release which does not include online play.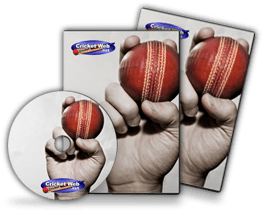 VISIT OUR ONLINE STORE >>