I'm aware as I write this post that over-rates are seen as dull. It's something older players moan about and most of my cricket watching friends really aren't interested. Yet I think it's hugely important to the future of cricket - test cricket in particular.
What brought it to a head, was watching a T20 international with my son. The match was heading towards a thrilling conclusion and finally I'd got him interested. Then there was a pause that lasted nearly 5 minutes as the fielding team conferred; then another few minutes went past as we watched a review. Now if you know the sport, because you understand the nuances, these lengthy spells of piddling about are just something you get on with. However, to my son, relatively new to the game, they were so boring. In the end he just went up to his room to watch something more interesting. I'd be telling him how exciting it was and I felt embarrassed for the game.
20/20 was supposed to last a maximum of 3 hours including breaks, but that sort of over-rate is now pretty much unheard of. It's rare in test cricket, unless the match is in India with the dominance of spin, that we see 90 overs in 6 hours.
Cricket can do so much better. 100 years ago the average number of overs in a day was between 120 -140.
Here's the average over-rate per decade.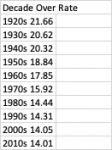 I think there is a solution that could take us up to 16+ overs per hour. It wouldn't involve changing the rules, would bring money into the game through increased sponsorship, increase the over-all excitement and not irritate the players with meaningless and frustrating fines. And yes the day would only last 7 hours including breaks and not involve the faster bowlers cutting back their run-ups. But before I share, I thought I'd ask if anyone else has any ideas? Or if you in my cricket mate's camp, of actually not being that interested??