England's Second Indian Prince
Martin Chandler |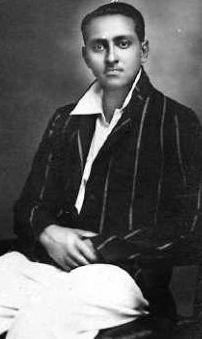 Until antibiotic medicine became widely available in the years after the Second World War tuberculosis was a major cause of death, and fit and athletic young men were as susceptible as anyone. The disease took the life of the remarkable Australian talent Archie Jackson at the age of 23, after eight Test matches in which he had delighted all who saw him bat. George Lohmann, 112 Test wickets at 10.75 contracted the disease in 1892 when he was 27 and died nine years later. The son of Ranji's brother, Kumar Shri Duleepsinhji was rather more fortunate, as he lived to be 54, but the disease first affected him at 22 and, by the time he was 27, it's insidious presence in his body meant that he had already played his last First Class match.
Ranji spotted his nephew's talent early on, and coached him extensively as a child. He also made sure that when the 14 year old Duleep was sent to England after the Great War that he had an equally illustrious mentor there, his old Sussex and England teammate CB Fry. Duleep's own judgment was that he got his technique from his uncle, but in addition to that many felt that his straight hitting in particular had more than a hint of Fry about it.
It is interesting to watch Duleep's progress at Cheltenham, the famous old school that he attended. He first appeared in 1921 and was third in both the bowling and batting averages. He did enough to be selected for Lord's Schools in their prestigious fixture against The Rest, although the only specific feat of his mentioned in the School's cricket orientated Ayres' Cricket Companion was the 7-35 he took with his leg spin as local rivals Marlborough were routed. The following year his batting was still his less impressive suit, and he was third again, but with 50 wickets at 13.66 he was by a distance Cheltenham's leading bowler, Ayres' saying when in form he proved most destructive with his leg breaks
In 1924 Duleep took over the captaincy and finally shone as a batsman comfortably topping the college's averages. He was still a major wicket taker, but had slipped to fourth in the bowling. There are numerous examples of effective young leg spinners who lose their potency as they enter adulthood and grow taller. Douglas Jardine, Len Hutton and Colin Cowdrey are but three examples – in his First Class career Duleep took just 28 wickets, and 11 of those came in 1925, his first full season. Ayres' verdict this time was A first rate bat, useful bowler, and splendid field to which the editor added somewhat cryptically he was no square peg in a round hole. After leaving school that summer Duleep also made his First Class debut, playing twice for MCC, once for Sussex and once for a scratch XI at the Hastings Festival. Against a team that contained eight Test cricketers he accomplished little at Hastings, nor in two of the other games, but against a decent Cambridge University side for the MCC he scored the first of his fifty centuries.
In 1925 Duleep played for Cambridge in the first half of the summer and made an impression early on when, with 53 and 70, he top scored in both innings against Yorkshire. The by then veteran Wilfred Rhodes, from whom the most effusive comment most youngsters could expect was he'll do, described him as the best batsman to have emerged since the Great War. Duleep also earned many plaudits for his 75 in the Varsity Match, in those days one of the season's major fixtures. A Country Vicar, writing in The Cricketer described the point at which he went to the crease as a moment for nerve and temperament, as well as for skill and resolution. He went on; We saw all these attributes. In my opinion we saw a great innings, played at a very critical time, adding that Duleep showed himself as master of the bowling; he showed us all the strokes, as well as an impregnable defence.
Despite those highlights Duleep's record in 1925 was inconsistent, and he averaged less than 40. That average slipped to 34 in 1926 when, his residential qualification for Sussex having been obtained, he had an extended run in the County Championship, although if anything his form improved when he became embroiled in the hard bitten world of the professional game.
The 1927 season dawned with Duleep looking like he had finally arrived, much like in his last year at Cheltenham. His first innings of the summer brought a century against Yorkshire, and in the next game, against Middlesex, he scored 254, his first double century. The four hours he spent at the crease in that innings, which he began feeling far from his best, then laid him low with what was initially believed to be pleurisy and later confirmed as tuberculosis. He missed the rest of the season and then wintered in a sanatorium in Switzerland, by no means a cure, but in those days considered the best treatment for the disease.
A rather heavier and certainly weakened Duleep returned to Cambridge in time for the spring term of 1928 and took some tentative steps back to the game. He came back into the University side at the end of May, although it was a month before he got past fifty. Once that was done however his touch returned, as did his strength and in his first game back in Sussex, in mid-July, he recorded his first century of the season, and there were five more to come. It was unfortunate that the England party that toured Australia with such success under Percy Chapman that winter was announced as early as 30 July. If it had been selected in the modern fashion, after the close of the season, then Duleep would surely have been given a place.
Instead of travelling to Australia Duleep returned to India for the first time in a decade, where he was courted by the newly formed BCCI with a view to becoming All India's first Test captain, but he wasn't persuaded. He didn't play much cricket, getting some rest after his exertions in July and August being high on his agenda, but he batted with success in the one First Class match in which he played, for the Hindus against the Parsis in the Quadrangular Tournment.
In 1929 Duleep was, for the first time, available to play a full season for Sussex and he started the summer in style, performing well against the touring South Africans for the MCC and in the Test Trial. Duly selected for the first Test he did not make an impression, dismissed for 12 in the first innings and sacrificing his wicket for 1 in a search for quick runs in the second. After that amidst much disquiet he was left out of the other four Tests. When pressed MCC suggested that the South Africans had objected to him being picked, but Duleep later established that the pressure to omit him came from rather closer to home. Instead he played superbly for Sussex, at one stage scoring six centuries in a month and ending up with 2,545 runs at 53.02.
His treatment at the hands of the selectors appalled Duleep. He seriously considered retiring, and it was only as a result of Ranji's advice that he decided not to, and to travel with an MCC side to Australasia that was to play New Zealand's inaugural Tests. Duleep was the tourists' leading batsman, in both the Tests and on the tour as a whole, and he delighted the crowds wherever he went. It was an entirely appropriate preliminary to the 1930 home season, Duleeps's greatest summer.
In only the second match of the1930 season Duleep produced a triple century, 333. There were twin hundreds twice at Lord's, first for Sussex against Middlesex and then for the Gentlemen against the Players. There were four other centuries as well and despite his looking distinctly jaded and failing to get beyond 58 in any of the last nine games of the season he still ended up with more than 2,500 runs at an average of 56. In the Ashes series he was left out of the twelve on the morning of the first Test and, had it not been for an injury forcing Herbert Sutcliffe to pull out just before the second Test began he wouldn't have played in that either. England lost the match after Australia piled up the small matter of 729-6 in their first innings. Things had looked rather more promising after Duleep's 173 had lit up England's first innings of 425. He didn't scale those heights again in the series but two more half-centuries meant that his average was all but 60.
Whether or not Duleep was invited to join the MCC side that went to South Africa in 1930/31 is not known, but if he was he either made the decision to turn down the opportunity or, perhaps, had that decision made for him by his loss of stamina and form towards the end of the season. There must have been some concerns about his health as he spent the winter in Switzerland and France, although it is not clear whether the Swiss visit was to the sanitorium previously attended or simply a vacation in the clear Alpine air. What he certainly was able to do was deal with his correpondence as he was offered and accepted the Sussex captaincy, a position that had been filled for a number of years by one or other of the brothers Gilligan, Arthur and Harold.
Both county and captain had a fairly sedate start to 1931, mainly due to some fairly miserable late spring weather, but once the sun came out the fortunes of both blossomed and at one stage Duleep skippered the county to ten wins in eleven matches. The season finished with them in fifth place in the table and with nine games remaining their captain, who at that stage had eleven centuries to his name, had Jack Hobbs record of sixteen in a season in view. Sadly however like the previous summer his form tailed off and there was just one more three figure score. It does seem ridiculous that a return of 2,684 runs at almost 55 for a season with a dozen centuries should seem disappointing, but such was the charisma of Duleep, and the expectations that gave rise to, that there were some who felt that.
Duleep spent the winter of 1931/32 in India, in part to enable him to spend some time with Ranji who had been in poor health when he had been in Europe in 1931. Whilst there Duleep found himself co-opted onto the committee who were tasked with selecting the players to tour England in 1932, when India was to play its inaugural Test. There were further attempts to persuade Duleep to accept the captaincy but he declined, still seeing his future with England. He did however take time to play in one of the trial matches that were arranged for the selectors, in which he shared a partnership of 189 with Pataudi, another to make himself unavailable for the tour, before going on to finish with 173. Both men received criticism for their decisions.
Having skippered his county so successfully the previous summer, and with a young side still maturing Sussex were, with good reason, looking to break the northern stranglehold on the County Championship in 1932. Their captain was not so prolific in terms of runs scored as he had been in recent summers, but he still averaged more than 52 and on his best days looked as good as ever. For the Gentlemen against the Players at Lord's he shared a big partnership with his countryman Pataudi, and his 132 was scored against an attack of the highest quality, comprising Harold Larwood, Bill Voce, Maurice Tate and 'Tich' Freeman. At the end of the game Duleep's name was one of the six announced as members of the side that was to go to Australia that winter under Douglas Jardine.
As the summer wore on Sussex kept on winning, although their captain's performances began to tail off as the return of the symptoms of his tuberculosis became more apparent. With half a dozen games still to play the county were second, but Duleep's doctors told him that he needed to rest. He thought about it but, at around the same time, he heard from Ranji. His uncle was a long way away, in Aix-Les-Bains in South Eastern France. He had kept up with the cricket scores, but not with just how much his nephew's health was failing. Desperate for Sussex to lift the title Ranji urged Duleep to continue. His medical advisers were ignored, and Duleep played on.
The next match was at Taunton, and Sussex won again, Duleep top scoring with 90. He looked fluent enough, but by the end of the innings was in a state of some distress, exhausted and haemorrhaging. He collapsed following his return to the pavilion. Duleep missed the last five matches of the season and the county were not the same side without him. They did end up as runners-up, but were a long way short of champions Yorkshire, and the title race was already over by the time that the Yorkshiremen rocked up at Hove for what had been eagerly anticipated as a potential decider. Duleep's career had ended at Taunton and he was forced to pull out of Jardine's side, his place being taken by Lancashire's Eddie Paynter. There was a moving tribute in Wisden, whose editor had clearly read the writing on the wall:-
One of the ablest of cricketers and one of the most charming of men, after all too brief a sojourn amongst us, passed from the game he had adorned with such conspicuous grace and success, one of the most beautiful batsmen of recent years. English cricket in general and that of Sussex in particular will be all the poorer for his enforced absence.
It wasn't long before Duleep was back in Switzerland at his sanatorium although he wasn't completely lost to the game, a Sunday newspaper running a regular column with his views on the 'Bodyline' series. Of course he didn't see the play, and his comments were based purely on the accounts of others and, like everyone else in the same position he would have struggled to get to grips with exactly what was going on. It is well known that Duleep's fellow Indian Pataudi did not approve of Jardinian leg theory and clashed with his skipper as a result. Duleep's considered comment however was half the joy of cricket is derived from the element of personal danger involved.
Surviving correspondence that passed between Duleep and Sussex shows that, on the part of the club at least, there was some hope that their captain would play some part in the 1933 season. If there was any possibility it disappeared in April after Ranji's death. Duleep had great fondness and respect for his famous uncle and was hit hard by the news, and later that year an announcement confirmed his cricket career was over.
As soon as he was well enough Duleep returned to India where, save for occasional visits overseas, he remained for the rest of his days. He had always intended to devote his life after the game to the good of his country and assisting his older brother, who had succeeded to Ranji's title, became the main focus of his life. He remained involved with cricket as he took to coaching and was also a selector. Despite his personal charm and affable nature Duleep was no pushover and he did on occasion clash with the more difficult personalities he had to deal with, notably Lala Amarnath and Syed Mushtaq Ali. As a coach he had a fine eye for talent and was involved in the emergence of that fine pace bowler Amar Singh, and top class all-rounder Vinoo Mankad not to mention, although it did not benefit India, championing the cause of Fazal Mahmood.
Following his return to India Duleep married, a match arranged by Ranji that seems not to have been a particularly happy one. There were no children so Duleep's line ended with him. No member of the extended family subsequently rose to the same heights as either Ranji or Duleep, but two nephews of Duleep did play for India. Kumar Shri Indrajitsinhji was a wicketkeeper who played four Tests in the 1960s, and in the same era Hanumant Singh, a batsman, was capped fourteen times.
Duleep never did manage to shake off the tuberculosis that ended his career, and there were relapses from time to time and in 1959 it claimed him at 54. He was deeply mourned by his countrymen and cricketers everywhere, and the long running zonal competition in India that is named after him began two years after his death. His batting record has the stamp of greatness about it, even without taking into account the brevity of his career and the health problems that he had for much of it. His First Class average was just a fraction under 50 and his twelve Tests saw him score 995 runs at 58.52, a mark exceeded amongst contemporary England players only by Herbert Sutcliffe and Paynter, and subsequently just by Kenny Barrington.
The one man in the history of the game who was unarguably a greater batsman than Duleep was, of course, the Don. Given that he saw plenty of Duleep, and in particular every single delivery of his greatest innings, his views on that effort, expressed in 1959, are an appropriate way to close this feature; It was a thrilling exhibition of batsmanship of the kind so rarely seen nowadays and for which cricket today would be all the better. He was one of the greatest batsmen I ever saw, and no finer gentleman or ambassador trod the turf