England's Finest Leg Spinner
Martin Chandler |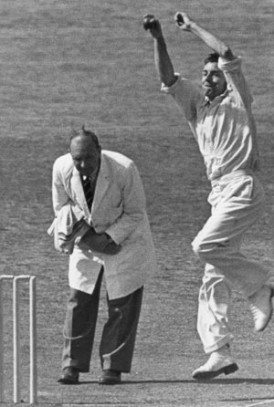 A Test record of 108 wickets at 39.11 is not the mark of greatness. In truth some pretty ordinary bowlers can look back on careers with better numbers than those, so perhaps the fact that those statistics belong to the man who was undoubtedly the finest leg spinner England has produced says rather more about English cricket's ability to produce bowlers of that style than about the man concerned, Douglas Wright.
Despite those unremarkable figures Wright had many admirers however, not least amongst them Sir Donald Bradman who always considered Wright the outstanding English spin bowler of his time. In 1950 the Don wrote; He always seemed capable of producing an unplayable ball which completely shattered one's defence, not by guile or deception, but by sheer skill. It was a mutual admiration society. Former teammate Colin Cowdrey would tell a story of asking Wright about the best over he ever bowled. He nominated one he bowled to Bradman at Lord's; Every ball came out of my hand the way I wanted and pitched where I wanted. I beat him twice. It went for sixteen.
Pillar of the establishment Plum Warner considered Wright to be a great bowler who on his day can win a match on his own. In 1950 journalist Lyn Wellings summed up the problems future generations would face; When posterity settles to determine the status of Doug Wright amongst bowlers the task will indeed be confusing and difficult. There have been few more controversial subjects than Wright's bowling, and historians of the future will be confronted with contradictory evidence. Very few batting opponents are willing to dismiss him lightly, and his doughtiest opponents, the Australians, are usually loudest in his praise. The adverse critics are generally to be found in armchairs and among statisticians who judge from afar by reference to their books of records.
Wright was born in Sidcup in 1914, a mere 17 days after the start of the Great War. A quarter of a century later Wright would serve in the next war, losing six of what would have been the best years of his cricket career. He eventually became a Lieutenant in the Royal Artillery. Almost inevitably for an international cricketer Wright was an outstanding sportsman at school, but when he left education at the age of 15 it was to a solicitor's office that he first turned, travelling up to the Temple every day as a junior clerk.
In those far off days the legal profession was not the graduate entry only occupation it was later to become, and many solicitors began their careers in humble positions, just like Wright, but it suited the young cricketer for just three months. He soon moved on to another office based job, but one with infinitely better prospects for a man with his skills – his employer was the great South African leg spinning all-rounder Aubrey Faulkner, who in those days ran a highly thought of indoor cricket school in London.
That second employment didn't last for too long either, as Faulkner very soon took an interest in his young clerk and helped him to develop the natural talent that Wright undoubtedly possessed. Within a year he had come to the attention of the Kent club and in May of 1931 the 16 year old was summoned for a trial and afterwards offered a place on the groundstaff by Lord Harris himself.
At the time he joined Faulkner Wright was already a decent leg spinner with the traditional wrist spinners problem of bowling too many bad balls. In Wright's case he had a tendency to pitch too short. Faulkner helped Wright overcome the problem by increasing his pace and flattening his trajectory and the young man who joined the Kent staff was a genuinely unique bowler. I was told as a youngster that the great Indian Bhagwat Chandrasekhar was a little like Wright, and later I suppose a comparison with Anil Kumble might be apt, but I suspect in truth all the three had in common was the fact that notwithstanding all were spin bowlers, none were slow.
Wright's run up consisted of as many as eighteen paces, a figure rather more than some speed merchants. Unlike some of them however Wright's action was not a thing of beauty. His approach was bounding and somewhat ungainly before his final stride heralded a high, windmill-like delivery. Despite being rather more than medium pace (Trevor Bailey described him as not far short of medium fast through the air) Wright had no difficulty in getting the ball to turn, his googly particularly sharply.
There were inevitably some poor deliveries that came with the gems, and in that respect (and no other) Wright had something in common with the Australian Arthur Mailey. There were occasions when he bowled poorly, and his long run and speed meant that, unusually for a spinner, he occasionally had problems with front foot no balls, but one thing is almost certain in cricket, and that is that poor bowling will be punished.
On the other hand good bowling will generally get its reward, luck having a tendency to even itself up in the long term. For Wright however it seems there was no such evening up, and most of his teammates make the observation that he was, for once, a man who often suffered grievously from the slings and arrows of outrageous fortune.
The reason is not, on closer examination, too difficult to discern. Wright's pace meant that his best deliveries often beat everything, 'keeper included, but more importantly the edge of the bat. When he did take the edge he also had to endure more dropped catches than most, again the speed of the ball from the edge and its direction often being too much for even the best of slippers. Bailey tells a story of fielding at first slip to Wright on one of his best days at Perth early on the 1950/51 tour. He was unable to decide whether the ball was more likely to hit the inside or the outside edge, and also how deep to stand. At the end of the innings Wright had figures of 7-60, and that was despite seven catches going to ground from his bowling.
The great advantage that Wright had was that however unhelpful conditions might be, and irrespective of how well set a batsman was, he was always going to produce unplayable deliveries. The speed of his arm alone made it difficult to pick his googly, and that delivery would bounce disconcertingly on hard wickets. It was not unknown in the right conditions for Wright to concentrate on his googlies and bowl to an off spinners field including three short legs. The googly on a Yorker length was another formidable weapon, particularly against less accomplished batsmen.
It is tempting to speculate too as to whether Wright might have been more successful had it not been for his personality. He seems to have been universally liked. Bailey described him as one of the nicest, most unassuming gentlemen the game has ever produced. It was a sentiment echoed by one of the fiercest characters in the English game, Freddie Trueman, whose view was that Wright was one of the nicest men I have ever come across in cricket. I wonder whether Wright might have taken more wickets had he had the deep rooted hatred of batsmen of his Australian contemporary Tiger O'Reilly.
When Wright first joined Kent Tich Freeman was still in the middle of the prodigiously successful phase of his remarkable career so there was no opportunity for the youngster in 1931, and just one unsuccessful debut match in 1932. There were more opportunities in the next three seasons and some progress for Wright and by the end of the 1935 season he had taken 98 wickets in his 43 matches at a cost of 36 runs each. His was not a spectacular apprenticeship however, as his best return was 4-26 – he had not yet run through an opposition at First Class level.
The following summer of 1936 was to be Freeman's last. The 48 year old still got his hundred wickets for the season, but in anticipation of a future without him the county gave Wright more opportunities and he grasped them, the summer bringing him his first three five-fers as well as his first ten wicket match haul. As an added bonus with five of his first nine visits to the crease resulting in half centuries it looked like Wright was going to develop into a genuine all rounder, but in that respect the summer was a one off. Wright was no pushover but six of his sixteen career half centuries came that summer, and it was to remain his best season with the bat by a comfortable margin.
Whilst not farming wickets with the efficiency of his predecessor Wright snared more than a hundred victims in 1937 and did the hat trick for the first two of the record seven occasions on which he was to accomplish that particular feat. He repeated the dose amongst some fine early season performances in 1938 and such was the impression that he created that he found himself in the England side for the summer's first Ashes Test. It had been a rapid rise.
Skipper Wally Hammond won the toss and batted and Wright contributed an unbeaten single to England's impressive 658-8 declared. Coming on at second change in Australia's reply Wright immediately conceded a boundary before, later the same over, removing Jack Fingleton who played on. As usual Bradman came in at first drop, and did not enjoy his first meeting with Wright. First he almost gave a chance to short leg, before Wright stuck out a hand to a straight drive but could not hang on. Minutes later a confident appeal for a stumping was turned down and Wright had had his first brush with ill luck in Test cricket.
In due course Stan McCabe, with one of the great Ashes innings earned Australia a draw, and Wright's contribution, a match haul of 5-238 became merely a bit part in the drama. There were just a couple of wickets for Wright in the drawn second Test and then after a washout at Old Trafford the curse hit him again at Headingley in the fourth Test. In a low scoring match Australia's fourth innings target was 105. When Wright came into the attack he removed Bradman and McCabe straight away to leave Australia on 61-4. Australia's number six was Lindsay Hassett, and he immediately edged Wright to gully where Verity put down a straightforward chance. As a result of that life Hassett was able to put together a crucial 33 that saw his side almost to the line. Wright's match figures were 5-64 and, had it not been for another piece of bad luck when a hand injury kept him out of the final Test, he would doubtless have been to the fore as England bowled Australia out cheaply twice after scoring 903-7 in their first innings.
Despite missing the final Test Wright had done enough to secure his place on what turned out to be the last pre-war England tour, that to South Africa of 1938/39. It was not a series for bowlers, including as it did the infamous 'timeless' test which, despite the intention it should be played to a finish, eventually had to be abandoned as a draw to enable the England side to get the boat back. There was much work for Wright, including 552 deliveries in that final Test. His series figures of 9 wickets at 58.44 were scant reward for his efforts, but for the tour as a whole his 51 wickets at 28.49 were enough to top the tour averages.
The season of 1939, as well as being the end of peace, was also Wright's best ever, his 141 wickets costing him just 16.81 runs each. It was also his second best summer with the bat. There were three more fifties and his highest score, an unbeaten 84 against Hampshire. In a dozen post war years there would only be three more half centuries, and Wright's stock as a batsman never returned to pre war levels. Coincidentally he also recorded what were to remain his best bowling figures in 1939, 9-47 against Gloucestershire that included a hat trick, his fifth in the space of two years. Wright was selected for all three Tests against West Indies but was not greatly used, taking only six wickets at 35.66.
On the First Class game's resumption in 1946 Wright was 32 and demonstrated just how effective he would have been in the intervening years by having another excellent summer in 1946. In all First Class matches he took 125 wickets at 18.08 despite missing two weeks with injury, and having to gingerly play his way back after that. As in 1939 he made little mark in the Tests with just four wickets at 37.50 in his two meetings with the Nawab of Pataudi's Indians. Wright's main contribution to the international summer was to pick up a good deal of criticism in some quarters for choosing to test out his recovery from injury in a County Championship fixture rather than make himself available for the third Test. Those who mattered were not unduly concerned however. There was never any question of Wright not being in the party to tour Australia in 1946/47.
Much is made in histories of the Ashes about the MCC not having wanted to send a side in 1946/47 on the grounds that it was too soon for English cricket to have recovered after the war. A hammering on the scale of that of 1920/21 was feared. Australia duly won the series 3-0, but in truth the teams were not as mismatched as some sought and seek to suggest. The real problem for England was that while they had two top class bowlers in Wright and Alec Bedser that pair had little support. Not unusually for him Wright's figures do not look great, 23 wickets at 43.04, but he was comfortably top of the English bowlers, well ahead of Bedser whose haul was 16 at 54.75, and no Australian took more wickets. Only Bedser, and then just by six, bowled more than the 240 eight ball overs that Wright delivered in the series.
There is no doubt but that Wright was overworked on the tour, as was Bedser, long spells in temperatures that were often over 100 degrees Fahrenheit inevitably reducing the effectiveness of both, but this was the tour when both men established their reputations with the Australians. Wright as ever was slightly unlucky, and nowhere more so than in the final Test at Sydney. First of all he took a superb 7-105 in the Australian first innings, a performance that was to remain his Test best and which earned England a precious lead of 27. In the second innings he added two more victims but had to concede defeat to Australia by five wickets. It could however have been very different had Bill Edrich held on to a straightforward slip catch that Wright coaxed from Bradman when he was on just two. 'The Don' went on to score 63 to lead his side to victory.
Bradman brought his Invincibles to England in 1948. He was doubtless relieved that Wright spent most of the summer on the sidelines. An attack of lumbago ruled Wright out of the first Test. Back for the second at Lord's he took a couple of wickets in a heavy defeat and then found himself dropped for the third, replaced by Middlesex's orthodox slow left armer Jack Young. Young had played in the first Test and on that occasion, as he did in the third, he brought accuracy and control to an England attack that was under great pressure. There was however none of the unpredictability of Wright, and very few unplayable deliveries. If the selectors regretted dropping Wright they did not have the option of selecting him for the final two Tests, a chipped bone in a finger bringing his season to an early end.
Wright recovered in time to take his place in the touring party to South Africa that winter but he started overstepping and played in just three of the Tests with modest success. In 1949 and 1950 he did well for Kent, but played in just one Test each summer. He continued to bowl well for Kent however and such was Wright's reputation in Australia that there was never any doubt that he would get another trip to Australia in 1950/51.
The tour got underway in Perth with the match Bailey referred to when Wright took 7-60. He bowled superbly then but it was the highpoint of his tour. From then on he was troubled by fibrositis and in the third Test could not bowl at all due to a thigh strain. The former Australian opener turned scribe Jack Fingleton wrote; What are we to say about Wright? I have admired Wright since I first played against him in England in 1938, but I am forced to the conclusion now that he can never fulfil expectations because of that long and unbalanced run to the wicket. He could bowl the best batsmen in the world on his day and, indeed, has done so, but when he is not on his day he is hit too freely by some of the worst batsmen. Wright is an appalling tragedy – so much natural ability that is spoilt by such an unnatural action. He will have his rich days again, but for one with such potentialities, this tour could have been nothing but a keen disappointment to him.
The 36 year old's Test career ended on that tour with two Tests in New Zealand. On his return both he and Kent experienced a lean summer, the county slipping to last but one in the Championship and Wright failing to take 100 in a full season for the first time since 1936. He may well have paid close attention to Fingleton's observations as he remodelled his action over the winter of 1951/52, shortening and smoothing out his distinctive run up and cutting his pace. The result, and doubtless at least in part the motivation, was a transformation from shock bowler to the stock bowler of a weak attack.
In 1953 Wright, as senior professional, was elevated to the county captaincy half way through the season. He was probably too pleasant a man to be a successful captain but he grew into the task and certainly led from the front in 1955 when he took 127 wickets, a third of those taken by the county, at the excellent average of 16.88. Effectively it was a last hurrah. The following season was marred by injury and at the end of it he asked not to be considered for the captaincy for 1957. It was to be a low key finale for Wright who struggled once again with his fitness and, after a season ending back injury in mid July he retired. He was 43 and had a career record of 2,056 wickets at 23.98. Amongst leg spinners only Freeman and Eric Hollies have claimed more victims, and his record of seven First Class hat tricks does not look like being challenged any time soon.
Always immensely popular in Kent Wright was given a benefit in 1950 that raised £5,253 (the equivalent of £165,000 in 2015 terms) and, unusually, a second benefit in 1957 that raised another £3,716 (£83,000). For a time Wright owned a sports shop and no doubt much of the money was invested in that. It cannot have been a great success because within a couple of years he took up the post of coach at Charterhouse school and it was not long before the first eleven was one of the strongest in the country. His young charges included Edward Craig, a batsman of immense promise who chose to devote his life to academia rather than cricket, and the future Hampshire captain Richard Gilliat. Wright stayed at Charterhouse for a dozen years and later coached on a part time basis at King's School Canterbury. He died in his native Kent in 1998 at the age of 84.