Warwick Armstrong's Australians
Published: 1971
Pages: 159
Author: Ronald Mason
Publisher: Epworth Press
Rating: 3 stars

By David Taylor
26 Nov 2012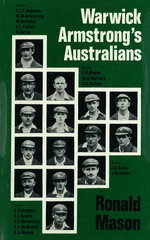 Those who have paid any attention to my scribblings here over the last few years may have noticed that I have an eye for an anniversary, and here we have two: this year is the centenary of the birth of Ronald Mason, the civil servant turned schoolteacher who wrote a number of well-received books on cricket in the post-war years, including biographies of Walter Hammond and Jack Hobbs, and an account of Plum Warner's last season when Middlesex won an exciting race for the Championship. And he, in 1971 was writing exactly fifty years after the Australians had regained the Ashes with an empahatic 3-0 win over an England side in some disarray. As Wisden noted in his 2002 obituary, "there is some poignancy in the fact that the author of 'Warwick Armstrong's Australians' ... died the day after Steve Waugh's successors retained the Ashes 80 years on."
The book begins with a reminder, and a number of readers in 1971 would have been able to remember it, of what happened in the winter of 1920-21 - Australia "whitewashed" England 5-0, and the victors and vanquished then travelled together on the ship back to England for the return series. These were back-to-back series, which have seldom been attempted since, wisely it might be thought. But a public starved of international cricket since 1912 (England played no home Tests in the two seasons before the War) was keen to see the Australians back in England and the MCC, despite what must have been a good deal of pessimism as to England's chances, agreed.
The second chapter is a rundown of the touring side - some of them well-known to English spectators, some less so. The box-office names were the captain, of course, the opening bowlers Gregory and McDonald, leg-spinner Mailey, and batsmen Macartney and Bardsley. Most of the others - Hendry, Pellew, Collins, Taylor, became well-known players during the decade that followed. Only a handful were still alive at the time of the book's publication but they included Jack Ryder, later Australia's captain, and Bert Oldfield - who came in 1921 as second wicket-keeper but was given a deserved Test debut at The Oval (and who receives a heartfelt vote of thanks in the acknowledgements).
England, heavily beaten in the first three Tests, chopped and changed furiously, while the captaincy switched from John Douglas to Lionel Tennyson, who is pictured, in the rather perfunctory four pages of photos, batting one-handed at Headingley, where he somehow managed to score 63 and 36. Mason also has high praise for Woolley's 95 and 93 at Lord's, and Douglas's energy and determination. England, critically, were without Hobbs for the whole series - he played in just one match, in which he was taken ill with appendicitis - while Rhodes was dropped after the first Test. An amateur called AJ Evans was picked for Lord's largely on the strength of an innings of 69 for MCC against the tourists; he seems to have been most notable for escaping from a POW camp during the war - while others also came and went after a single appearance, the unlucky Dipper after a brave innings of 40, also at Lord's. Parker of Gloucestershire plays his one Test and goes back to taking more than 3,000 wickets for his county. Mason shares in what must have been the bewilderment of the English public at these comings and goings. His style is a little old-fashioned, as you might expect from someone who was writing books in the 1930s, but also whimsical, even conversational in places. He is clearly an admirer of Cardus, who he quotes at length, but I would place him as a little closer to AA Thomson or Robertson-Glasgow.
This is something of a period piece but it does a good job of recalling the era in question and if, like me you come across a reasonably priced copy you will find an enjoyable account of a series that was anything but for England supporters.