Cricket Web's World Cup 2011 Predictions
Will Quinn |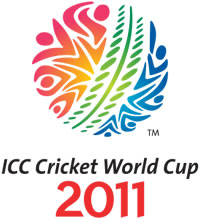 The biggest prize in limited over cricket is finally up for grabs once again, with Australia facing the daunting task of defending their trophy on the subcontinent. With so many of the sides capable of beating each other on their day, it promises to be a particularly difficult tournament to predict… but that hasn't stopped the staff at Cricket Web. Englishmen Martyn Corrin, Martin Chandler, Marcuss Deane and Jake Howe are joined by Indian fans Manjunath Reddlapalli and Ganesh Venkat and New Zealander James Nixon to give their verdict on what's in store for us in the next month…
1. Who's going to win the thing?
Martyn: England – we haven't lost an ODI series against serious opposition since late 2008.
Martin: Sri Lanka- Murali to bow out by administering the coup de grace.
Marcuss: South Africa, somebody has to back them. It's not as fun when they choke if nobody does.
Jake: Bangladesh. They've not only been a force at home this year but have never lost a home World Cup match.
Manjunath: India.
Ganesh: Hard to look past India this time.
James: India
2. Who will they beat in the final?
Martyn: India.
Martin: India.
Marcuss: Other than finally overcoming themselves, India.
Jake: South Africa, who will have won every previous match by at least 5 wickets or 40 runs. They will then run at least four batsmen out in a seemingly facile chase.
Manjunath: South Africa.
Ganesh: Most likely South Africa.
James: Pakistan.
3. Who will be the best batsman and bowler?
Martyn: Sachin Tendulkar, Graeme Swann.
Martin: AB De Villiers and Zaheer Khan.
Marcuss: Amla and Kulasekara.
Jake: Shakib Al Hasan.
Manjunath: Mahela Jayawardene and Dale Steyn.
Ganesh: Sachin Tendulkar and Lasith Malinga.
James: Gautam Gambhir and Piyush Chawla.
4. Who or what will be the tournament's surprise package?
Martyn: Ireland making the quarters.
Martin: Bangladesh.
Marcuss: Sangakkara will have a great tournament with the bat. Bangladesh will make the quarters at least.
Jake: Bangladesh will only surprise those too short-sighted to see them coming.
Manjunath: Zimbabwe will make it to the quarters.
Ganesh:I pick West Indies and Bangladesh to surprise many folks. Not many have given the West Indies a chance, but I'm sure they will put it past England, and Bangladesh will most certainly beat the Poms.
James: Zimbabwe beating New Zealand to qualify for the quarter finals.
5. And who will be the tournament's big disappointment?
Martyn: Australia (disappointment isn't really the word I'd use).
Martin: In terms of results England but who cares- the winter's work has been done and the lads deserve a break before the summer.
Marcuss: Australia will haul themselves through the groups to exit with a damp squib in the quarters. New Zealand too.
Jake: England will surprise no-one by being awful. Australia will pay dearly for selectorial errors.
Manjunath: Sri Lanka.
Ganesh:As usual, the England ODI team. For all the hype about the Ashes they will stink up the joint in the WC. Mark my words a loss against Bangla is a sure thing and a couple of other players will get injured before they get eliminated.
James: New Zealand in going out in the group stage.
6. Anything else?
Martyn: Kevin Pietersen to get more wickets than runs on two occasions.
Martin: There will be new records set for best opening partnership, biggest margin of victory and most catches by a fielder in a match.
Marcuss: A hat-trick and a 390+ score.
Jake: Shane Watson will not make a single score between 30 and 70.
Manjunath: New Zealand to get beaten by Zimbabwe.
Ganesh:West Indies sneaking past one of Australia, SL and Pakistan. Gayle and Pollard to go absolutely Mad in one of the games.
James: Two double centuries to be scored. Ricky Ponting to announce his retirement following a disappointing World Cup.