Cricket Coach v2.03 released
James Nixon |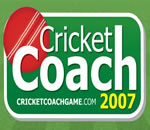 Version v2.03 of Cricket Coach has been released. This patch updates the game to the 2008 season, including updated squads/players and competitions. It also comes complete with a new tour editor and fixes many bugs from the previous version.
The updated digital download version can be downloaded here.
This includes a free one day trial for new users. Those who have already purchased this version of the game should download the above file and install on top of their existing installation. If anyone has problems doing this then people are on the forums who can help.
This patch will update versions 2.00 and 2.02 of the boxed game to version 2.03.