Cricket Coach 2009 – Demo 1 Released
James Nixon |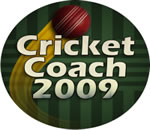 Rockingham Software have released the first demo for Cricket Coach 2009 which features a Twenty20 game between Sri Lanka and Pakistan. The idea being that you can have fun simulating the 2009 World Twenty20 final.
Details from Rockingham are as follows:

The demo was to feature 6 weeks as manager of England. This feature was removed due to an issue with run rates in test matches. Rather than delay the demo we decided to release without this feature. Another demo will be released when this issue is sorted.
The main reason for releasing this demo is to ensure that the game is compatible with all modern PC's, and no obvious flaws are present. If any issues at all are found then these can be cleared so the first full game release is 'perfect'.
If you download the demo then please post your feedback. The more information you can give about your PC specs the better. We have a test team at Rockingham Software but it's fairly small. Hence the need to run what is basically a public beta test.

You can be download the demo here.