Botham's Finest Hour
Gareth Bland |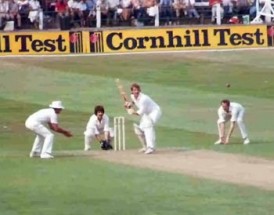 When the great career of Sir Ian Botham is recollected in numerous potted biographies, pub arguments and in today's tabloids, the greatest feats attributed to him usually centre around the legend of 1981. In particular, one game: the dank, overcast Yorkshire magnum opus that took place on Monday, 20th July of that year. His unbeaten 149 alone is seen as enough to cement the legend. It is true that he will always be best remembered for what happened on that bleak, murky Kez like northern day almost 31 years ago. The bare-headed colossus in long-sleeved sweater did, after all, produce an epic and an outcome – however luckily at times – that would change his own and many an adolescent Englishman's life – this writer's included – forever. There will always be those detractors, too, who insist on arguing that the performances which enabled him to move swiftly to the Test double of 1000 runs and 100 wickets came at the time when the cream of international cricket was otherwise engaged in Kerry Packer's "circus" down under: his performances against below par Pakistani, Indian, Australian and New Zealand teams indicative, perhaps, of a "flat track bully" unable to mix it with the genuine heavyweights of Test match cricket.
There are also those who are scornful of the legend of '81, however, and who reject the claims of that summer as evidence of his greatness. Lillee, they argue, was still recovering from viral pneumonia, Alderman and Lawson were bowled to the point of exhaustion by Hughes, and a tighter line would surely have seen "Both" and Graham Dilley removed from the fray at Headingley much earlier. Botham, it is contested, had nothing to lose once he was restored to the ranks and England found themselves in such a parlous position in the follow on. Subsequent wins at Edgbaston and Old Trafford against a shellshocked and fractious Australian team, with DK Lillee and Rodney Marsh openly dissenting against their skipper, merely provides more ammunition to those who insist that the 1981 fairly tale was just that: a fluke against a weakened Australian team still playing out its internal squabbles left over from World Series Cricket. His most vocal critics, Ian Chappell and the late Peter Roebuck among them, also aired the view that the longer Botham stayed in a team the more harm he caused it. Irrespective of individual viewpoints, though, his figures as a Test cricketer from the time of his debut in 1977 through to December 1982 speak volumes. In his 58 Tests spanning this period he scored 3229 runs at an average of 37.11 with 11 centuries and also took 262 wickets at 24.52, including an incredible 20 five wicket hauls.
One innings, though, may just be able to dispel the doubts about Botham's true class. Oddly, it did not come while wearing the crest of the three lions, but while leading the cider men, Somerset. On 17th August 1983 Botham's Somerset were lined up against Middlesex at Lord's for the Nat West semi-final. Meanwhile, Hampshire would fight it out with Kent to decide the other place for the final to be played at headquarters before the autumn set in. Taking over the helm temporarily in place of Brian Rose, Botham was presented with the opportunity of leading his team to a major domestic final. This, though, was to be no easy task. Middlesex had home advantage and furthermore, were led by a Gatting in peerless domestic form, revelling in the responsibility of leading the county after Brearley's retirement. The Middlesex skipper's aggressive strokeplay was matched by a Test match standard bowling attack, led by the "Black Diamond" Wayne Daniel, a bowler whom Geoffrey Boycott had described as one of the six fastest in the world in his 1980 book Opening Up and who, three years later in 1983, had formed part of the West Indian world cup squad and would also go on to successfully tour India with Clive Lloyd's men at the end of that season. Daniel was backed up by Norman Cowans. England's rookie fast man, "Flash" had toured Australia the previous winter and had shaken up Greg Chappell on his way to a 6-77 return in the victorious Melbourne Test. Cowans had a beautifully rhythmic action, and though occasionally wayward, there was no doubting his pace. Taking up the final spot in the speed triumvirate was the wiry and lissome Neil Williams – a prototype Chris Lewis – who was surprisingly sharp and slippery on to the bat. Williams, then only 21, would have to wait for this chance to represent England, although he was respected around the county circuit even in 1983.
Backing up the fire of the speed men were England's spin twins, Edmonds and Emburey. Edmonds, as singular a man as the title of his biography would suggest, was England's first choice slow left armer and despite having his difficulties with Brearley at both county and Test match level seemed to respond to Gatting's more bullish, less overtly cerebral form of leadership. Edmonds was supplemented by England's number one off-spinner in exile, John Emburey. Many in the game, Boycott included, felt that Emburey was the world's finest purveyor of off-spin and as great a loss to the national team as Gooch, both of whom were serving the second of their three year bans resulting from the "Rebel" tour to South Africa in 1981-82. To appreciate Botham's performance on that sun-kissed August day in 1983 it is necessary to place it within the context of its time and the twists and turns that had taken place in the recent career of this remarkable cricketer. Prior to the middle of that summer's Test series, England's star performer was at a particularly low ebb making this return to form a remarkable feat, even by his own standards.
At the end of the English summer of 1981 Ian Botham had attained the kind of national status that few sportspeople ever achieve. At this particular juncture of the national game he had attained a stellar stardom that transcended his sport and he was, in Mike Brearley's view, the greatest and most famous cricketer his country had produced since WG Grace. Still only 25, his performances that summer meant that, even if he never set foot on a cricket field ever again, his immortality was assured. Perhaps only Paul Gascoigne after Italia '90 and David Beckham – though in his case as much for off the field reasons as for his ability on it – are the comparable English sporting figures who have transcended their game in the modern era. For Botham, a cricketer however, his level of fame and the media interest he attracted was unique in his sport.
The winter tour of India following the Ashes series was followed with an unusual level of interest in both India and back home in England. India's eventual 1-0 series victory in a high scoring six Test series was perhaps less important than the chance for the Indian crowds to see the great slayer of the Australians in action. His popularity in India – evident since the 1979-80 Jubilee Test – was further enhanced on this tour. Off the field his movements and activities, such as hunting trips were followed with avid interest among cricket followers and non-initiates. Scyld Berry memorably documents Botham's impact in India on that tour in his book chronicling the '81-82 series Cricket Wallah. Back home for the split summer of internationals with India and Pakistan and the love-in between media and all-rounder continued. Looking back, however, a discernible physical change had taken place over the winter and ahead of the '82 home series. Gone was the Henry Tudor beard which will forever be associated with 1981. In its place was a hairstyle that can best be described as his early mullet phase. Apparent, too, was an extra layer of padding around the midriff. Botham's physique, always strong, was prone to weight gain and this was clearly not helped by his debilitating back problems. Magnificently strong, yet trim the previous summer, he now appeared to be carrying a few extra pounds. Still, his 128 at Old Trafford and his magnificent Test best 208 at the Oval in the final game of the Indian series, together with England's series win meant that everyone went away happy and ready for the second half of the summer, the series with Pakistan.
Other changes had taken place in the English game since the glories of the previous summer, of course. The bans imposed on the 16 players who had decided to tour South Africa at the end of Indian tour meant that Botham, along with Gower and new captain Willis, was one the three stars of the team and one of the new skipper's senior lieutenants, although Gower was official vice-captain. A rejigged line-up meant that Botham would now bat at number 5 rather than his traditional berth at 7. After the home three Test series with India, England took on Pakistan and again won the series, this time 2-1. This was a quite different encounter, however. England were pushed all the way and Botham palpably lost the battle of the all-rounders with Imran Khan. Imran was made man of the series and came away with 212 runs at 53 and 21 wickets at 18.57. Botham, although batting responsibly with 69 at Lord's and 57 on a tricky pitch at Headingley, averaged 27.16 over the course of the three Tests. He had bowled with fire at Headingley, however, taking 9 wickets in the match and 18 in the series at 26.55. His run up and action definitely appeared more laboured, though. Bob Willis, speaking on the twentieth anniversary of the Headingley '81 Test said that he always preferred Botham to really run in hard rather than "lolloping" in to the crease.
With the series won, England prepared for the 1982-83 series with Australia. Greg Chappell returned as captain, Kim Hughes was restored to the ranks, performed quite brilliantly and England lost the series 2-1 in what was anything but a re-run of the previous home series. For Botham, the series was a disaster. In its overview of the Australian tour, Wisden noted In 32 innings, in all kinds of cricket, his top score was 65. He left behind in Australia many past cricketers and present judges who have yet to be convinced that he is a great all-rounder. England's shortcomings were exposed away from home, with an experienced Australian team still containing Chappell and Marsh, able to go 2-0 up after three Tests. England's fight back in the legendary Melbourne Test made it 2-1, but the home side easily negotiated the final game in Sydney to draw the match, take the rubber and reclaim the urn. After the first Test injuries to Lillee and Alderman, Australia recalled Thomson and Hogg and, along with a peak Lawson, formed a formidable pace attack.
The added pressures of being world cricket's superstar, together with a dip in form and an inexperienced touring squad meant that Botham was vilified. His return of 270 runs at 27, with a Test best 58 and 18 wickets costing 40.50 a piece hardly merited his pre-tour billing. However, he was in great pain throughout, with his back problems and weight gain affecting his posture. He had been wearing a protective corset on and off since the West Indies tour two years previously and the pain would continue to dog him throughout his career. He managed to take more catches than any other England player, however, and was at the centre of the action as Jeff Thomson edged him to Miller via Tavare at Melbourne to claw back a Test win. He was clearly unhappy on tour, though, and his nadir appeared to come at Brisbane in a one day match against the Australians when a pig daubed with the nickname Botham was set loose by a spectator and ran on to the field.
When England returned home for the 1983 domestic season they faced the 3rd World Cup on home soil in June followed by a four Test series against Geoff Howarth's New Zealanders. The world cup, where England perished to India in an Old Trafford semi-final seemed to prove that the all-rounder was out of luck and form. He was run out without facing a ball against Sri Lanka on his home ground, Taunton. Then, in the semi-final, a Kirti Azad grubber shot across the floor to take his leg stump. In the first Test against the New Zealanders at The Oval he was run out again, this time by his old pal, Allan Lamb, in England's second innings. England won that first match but were not so lucky in the second at Headingley where, in "Lance Cairns' match", New Zealand achieved their first Test victory on English soil. A first innings failure in the 3rd Test at Lord's, pinned back on his stumps to be plumb LBW to Cairns for 8, meant that for the first time since he was captain serious doubts were raised about the Somerset man's place in the team. Then, not for the first time in his career, the great entertainer staged his comeback.
Prior to the 3rd Test Bob Willis found himself in the unlikely position of having to fend off questions about Botham's suitability for inclusion in the Test team. Willis, refusing to doubt his star man and team's fulcrum, spat back "so, which two players would you replace him with?". "Goose" who had arrived at the captaincy late in his career at 33, was of the "form is temporary, class is permanent" school of selection. Even so, following his glorious summer in 1982 and his continued good form in early 1983, the claims of Hampshire's Trevor Jesty were becoming increasingly difficult to ignore. Just how close Botham came to getting the elbow is difficult to say. However, bearing in mind how trigger happy the Peter May selection committee came to be in the late eighties, reaching its twitchy peak in 1988 with the "summer of four captains", it is safe to assume that his place in the side would have been discussed.
On the Saturday of the Lord's Test, 13th August, Botham walked out to bat looking edgy and determined as England stood at 119-4. In New Zealand's first innings he had bowled with genuine zip at times, clean bowling a settled Martin Crowe and polishing off the tail. The old swagger appeared to be on its way back. His 61, achieved on this sunny Saturday will hardly go down as a classic, but it confirmed that the great man had dug deep and was on his back. The removal of his sunhat and elaborate bow upon reaching his fifty was a pointed nod to the press box. The roar from the crowd, many no doubt inebriated, on reaching his half-century was proof that he had never left their affections. England's eventual 127 run victory set them up nicely for the final Test of the summer at Trent Bridge. Botham, however, would remain at Lord's for that week's Nat West semi-final against the home team, Middlesex.
Wednesday, 17th August dawned at Lord's. Team mates two days previously, Botham and Gatting tossed up and the Somerset skipper, deputising for Brian Rose, put the home team in to bat. The 222-9 established by Middlesex centred around a dashing 57 from Wilf Slack, a typically aggressive 49 from Gatting and an impressive 58 from Keith Tomlins who nimbly worked the ball around Lord's. Somerset's three star men, Botham, Garner and Richards proved almost irresistible and impossible to get away. The trio went for a combined total of 79 runs from their 35 overs. With the track proving helpful to the bowlers it was clear that Somerset would have their work cut out reaching the Nat West final against a strong and balanced Middlesex attack. What they needed, against Daniel and Cowans, was a steady, uneventful start to the innings with the hope that the quality of Botham and Richards could swing the balance later on. This was to be last thing that would happen.
When Botham strolled to the crease Somerset were already 43-4. Nine runs later and Neil Williams induced the great Richards into spooning a leading edge to Wayne Daniel and Somerset were in tatters at 52-5. Incredibly, with half the side back in the pavillion, Richards gone and Daniel, Cowans and Williams on the rampage Somerset still needed a further 171 to win. It looked impossible. Earlier, they had just about the worst start possible when Cowans removed Peter Denning, clean bowled, without scoring as the visitors stumbled to 13-2. What was needed now was a captain's innings. Nigel Popplewell, Somerset's last real recognised batsman joined Botham in what looked like a hopeless task. Steadily at first, the two began to made inroads into the deficit. Botham became more assured and Popplewell's support was intelligent and brave. No mere second fiddle, Popplewell's 46 in a partnership of 104 was invaluable in inching Somerset closer to the total. His look of anguish, almost in tears, when he edged Daniel to Downton showed how much work the pair had put in to the task of rescuing Somerset.
Vic Marks, fellow winter traveller, joined Botham and nudged the team still closer. However, Daniel kept steaming in. A scorching yorker narrowly missed off stump as Botham was beaten for speed. In the commentary box, a tittering Ray Illingworth joked as Botham rehydrated out on the field at drinks break. Surely nothing could go wrong now as the hero guided his side to certain victory. With the overs running out, Vic Marks then succumbed to Wilf Slack's medium pace and then the Big Bird, Garner, was run out for a duck. Trevor Gard strode to the crease with Somerset needing 1 for victory. Then at the beginning of the 60th over, about to be bowled by John Emburey, the scores were level. Botham was on strike and Somerset had lost 8 wickets as opposed to Middlesex's 9. The rule book now came into play. Although needing just 1 run to win, Somerset could theoretically clinch victory by virtue of having lost fewer wickets if the scores were level. Therefore, all "Both" had to do was stay put at the strikers end and see out "Ernie" Emburey's final over.
In an atmosphere of unbearable, clammy tension, Emburey began his short, dancing run up, floating the ball towards Botham's pads. Incredibly, the Somerset captain padded away each successive delivery so that at the sixth and final delivery the scores were still level. As the final delivery was delivered in an almost deathly hush, Botham padded the ball away one last time. The tension was released and the ground erupted, Somerset had won in the most unlikely circumstances by just about the most unlikely mode of result possible. Botham had finished on 96 and Somerset were in the final. His sprint from the ground towards the Members' End at Lord's saw him beam with the kind of elation maybe not seen since the Sunday of the Edgbaston Ashes Test two years earlier.
With his unbeaten 96 at Lord's that sunny Wednesday almost 29 years ago, Ian Botham once again confounded his critics. Those naysayers, Imran Khan among them, who insisted that he was at his best when there was nothing for his side to lose, were briefly silenced. Furthermore, he had performed his deed while captain and when his side really needed leadership. Moreover, it had been achieved against a bowling attack whose principal members, bar one, were all international performers. The other, Neil Williams, would subsequently go on to represent England in 1990. Perhaps most importantly it had been an innings for the team above all. With 96 to his name going into the final over, it may have been tempting to smack the ball over the top to reach a hundred. However, in the most uncharacteristically Botham fashion he chose to ignore all such blandishments and simply padded the ball away. Real heroism is ultimately selfless and Botham's knock at Lord's on 17th August 1983 was carved out with the team's goal in mind. Botham's return to hero status in 1983 was achieved thanks to a late summer triptych of 61 at Lord's in the 3rd Test, this rescue act in the Nat West semi-final and a virtuoso 103 in the final Test at Trent Bridge the following week.
Still only 27 years old, the all rounder had seen many peaks and troughs in his career already and, little did he know it, would see more in the future. Two years ahead of his reinvention as the bleached-blonde monster of Tim Hudson's Dr Frankenstein, the nation's cricket superstar had risen again when he had been most doubted. Although he will always be synonymous with that summer of 1981, a time which has entered the common consciousness as English cricket's 1966 and is now, it seems, as much a part of our social and cultural history as it is cricketing legend, Botham's captain's innings for Somerset that August afternoon in 1983 must rank among his very greatest.